Jane Alexander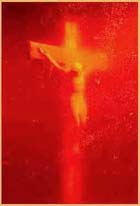 Andres Serrano
Piss Christ
1987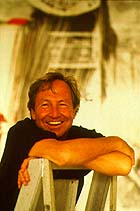 Robert Rauschenberg
Photo Ed Chappell







Jasper Johns
Flag
1954-55








P. S. 1



































Jerry Saltz




Cindy Sherman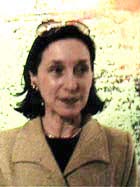 Barbara Gladstone



Julian Schnabel
Pollock flying through the air,
Gorky kicks away the chair,
Kline goes tumbling from the ladder,
Rothko reaches for the adder,
But who survived the greatest horror?
Shooting victim Andy Warhol!!

Outgoing National Endowment for the Arts boss Jane Alexander showed off a splendid pair of gams to casting directors everywhere (she's going back to acting), as she mildly flirted with Ted Koppel on a Hirshhorn Sculpture Garden bench during a Nightline taping.

Some excerpts:
TK: I'm thinking about Mr. Serrano's beaker of urine.
JA: That was before I arrived. Those were museum grants, not grants to individual artists, but it stuck, it stuck to this day.
TK: Does the support of companies like R. J. Reynolds bother you?
JA: Not really. Artists will always take money from whomever gives it....Business is how art is funded in the U.S.
TK: What is art? [!!!]
JA: This is what we've been struggling with at the endowment. People want the definition of art to include everything.
TK: There are obscene things masquerading as art!!
JA: Sometimes we don't fund the best.


The dark horse to succeed Calamity Jane? Another actor, Ron Silver.

One suspects that several private jokes are embedded in the collage [Should Love Come First?] The next word in the song from which the title is taken is Boys, but instead of boys the canvas features numbers. Phone numbers? Military numbers? Meaningless numbers?
-- James Fenton, writing on Robert Rauschenberg in The New York Review of Books

No, you obfuscating dweeb, numbers, as in gay, homoerotic, tricks, hustlers, pickups, Hershey bar whores, i.e. numbers.

One dopey consequence of all the veiling euphemisms shielding Rauschenberg's gayness, or Jasper Johns' homosexuality, is that they shield us from the raw humor of their work.

When Johns made Flag, for example, he was punning on "fag" -- using the most public American object as a metaphor for the most hidden Americans.

Johns' semen-like smearing of the surface made the conceit all the more obvious, even richer. And Johns pushes the joke's possibilities in Three F(l)ags, one atop another!!

Do you think you'll ever read this anywhere? No!! Gay content in the older generation of same sexers is omerta!!

It is better to understand, than to be understood.
-- Boston Celtics legend Bill Russell

Longtime Mary Boone Cerebus Ron Warren will be leaving the gallery after 10 years with deep pockets to command his own space somewhere uptown. Look for a fall 1998 opening date.

The big question at the P.S.1 opening out in Queens last weekend: Who put up the $8.5 million to finance the new, not-so-improved space? Word on the street is that five young arbitrageurs, all in their 20s, associated with Michael Milken, came to art-center diva Alanna Heiss looking to get into the art world. They are Alannna's Angels.

Here's a thought: plenty of bright children of New York's gorgeous mosaic are studying in hallways and Quonset huts this fall, due to an unanticipated surge in enrollment.

Yet a public school facility sits largely empty and unused in the middle of Queens. It's name? P.S. 1.

After the initial hoopla from its grand reopening on Oct. 26, only German tourists will be going there, per usual. Wouldn't it be the perfect fit for New York's Annenberg Project on the Arts to turn P.S.1 back into a school, with a heavy arts emphasis?

Short takes: The FBI busted a Florida man who allegedly made the largest armored car heist in U.S. history -- $18.8 million. His name? Philip Johnson.

Art Newspaper editrix Anne Summers Cox allegedly pulled her punches by refusing to print inside info on Thomas Krens' visits to Hong Kong and Shanghai -- fortunately, you read about it in "The Royal Flush."

Frank Stella gave the game away in a Cooper Union speech when he read his text about "today's current recession" -- the lazy lecturer admitted he was reading something that he wrote in 1992. Here's hoping the business cycle doesn't prove him right.

Frank thinks he's an architect, even though he's yet to build a building.
-- Charles Gwathmey, introducing Stella

Pushing his comedic identity to the limit, jumpin' Jerry Saltz has come up with something called "The Law of Five."

Codifying it in the October Flash Art (with cover-girl Roberta!!), Saltzy pretzel dictates that the labor necessary to make a work of art nowadays merits a minimum grade of 5 on the Jerry scale of 10.

OK, we'll play along -- The law of five meets the lists of five:

5 hyped artists: Koons, Barney, Hirst, Sherman and Smith
5 contenders: Nicole Eisenman, Mariko Mori, Charlie Ray, David Hammons, Mona Hatoum
5 dealers of MoMA: Deitch, Marks, Glimcher, Goodman and Gladstone (a law firm!!)
5 Brits who flopped: Sarah Lucas, Gary Hume, Tracy Emin, Nick Waplington, Georgina Starr
5 auction values: Rosenquist, Judd, Morley, Mangold, Hesse
5 curator critics: Rob Storr, Charles Stuckey, Dan Cameron, Rob Rosenblum, Francis Naumann
5 poor, but talented, abstractos: Charles Spurrier, Alan Uglow, Andrew Masullo, David Row, Matthew Abbott
5 underrated galleries: P.P.O.W., I-20, Alexander + Bonin, Caren Golden, Paul Kasmin
5 worst video artists: Diana Thater, TJ Wilcox, Lorna Simpson, Johann Grimaperz, Willie Doherty
5 "filmmakers" rejected by Hollywood, movie critics, the public, et al.: Barney, Sherman, Longo, Salle, Holzer
5 things Julian Schnabel lacks: socks, underwear, clean pajamas, drawing skills and buyers.

Get-well wishes to Howard Reid of Cheim and Reid who was rushed to the hospital last Thursday for emergency heart surgery after complaining of indigestion.

Sources at Sperone Westwater tell us that some mysterious person is spreading false rumors about Susan Rothenberg, specifically that she (a) did not care for her new work and (b) was canceling her opening last weekend. We'll let you know if we find out who this sneak is.


CHARLIE FINCH is the New York editor of Coagula Art Journal and has coauthored the forthcoming Most Art Sucks from Smart Art Press.