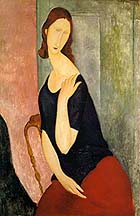 Amedeo Modigliani
Portrait de Jeanne Hebuterne
1919
$15.1 million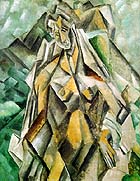 Pablo Picasso
Femme Nue
1909
$11 million






Brice Marden
Yellows
1972
$1.49 million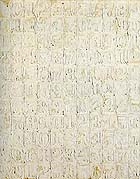 Jasper Johns
White Numbers
1958
bought in






Alberto Giacometti
La Foret: Sept Figures et une Tete
1950
$7.5 million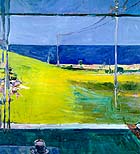 Richard Diebenkorn
Horizon -- Ocean View
1959
$3.96 million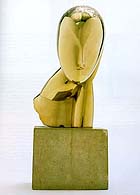 Constantin Brancusi
La Muse
1953
passed






Odilon Redon
Le Monde des Chimeres
ca. 1895
$1,322,500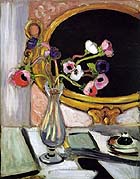 Henri Matisse
Anemones aux mirroir noir
1918-19
$3.74 million






Charles Ray
Rotating Circle
1988
$189,500





Jeff Koons
String of Puppies
1988
$288,500
Sotheby's New York knocked down a $15-million Modigliani, a $9.9-million Cubist Picasso and a whopping $166 million total in its back-to-back evening auctions of Impressionist and modern art on Nov. 16 and contemporary art on Nov. 17. Auction records were set for Modigliani, Diebenkorn, Giacometti and Marden, among others. And beyond that, Sotheby's cashed in on post-auction private sales of unsold works to the tune of around $15 million.

The top of the market -- which means what people are willing to pay for exemplary art by any particular artist -- is thriving.

Marden's Yellows (1972), a terrific Minimalist painting in good shape (unlike the one that went unsold at Christie's last week), carried a presale estimate of $1.5 million to $2 million, more than any Marden had ever sold for at auction. The painting brought $1.49 million, going to Jennifer Vorbach of C&M Arts in New York, with an unidentified, frustrated private collector the dogged underbidder. The price didn't meet the low estimate, but that was a stretch and Sotheby's and bidders knew it, even if the consignor didn't.

As noted last week, Jasper Johns's 28 by 22 inch White Numbers (1958) was overestimated at $7 million-$9 million, and it was bought in. Still, C&M principal Robert Mnuchin put in a bid at $5 million to remind Sotheby's and the sellers that people want the painting, if not at a goofy price.

The action in the contemporary sale on these paintings underscore the sanity of the market. Who can complain when great works sell well? Given the uncertainty of the past few months, people welcomed the results.

The long-awaited consignment of works from the Morton Neumann Family Collection, sold on Nov. 17, did surprisingly well. The works are controlled by the late collector's son, Hubert, who is by all accounts difficult and trying to hang on to as much of his family's great 20th-century collection as he can. (Now and then he sells something to buy a Koons, trying to continue the family tradition.) Both Sotheby's and Christie's went after the trove (and still hope to get more of it), and the coy Neumann fitfully disgorged some of the more difficult art at his disposal. It was a trial balloon that could easily have gone down in a flash of fire.

The centerpiece was Picasso's Femme Nue, a 1909 figurative Cubist work that is rare, important and easy to overestimate. Sotheby's kept the estimate within reason ($10 million-$15 million) and the work went to New York dealer Richard L. Feigen at $11 million. His probable client -- though there are other possibilities -- is New York arbitrageur Leon Black, who likes important, tough paintings and who has bought at auction through Feigen before.

Feigen says he could have sold the painting privately for more than the $17.6 million total brought by all 22 works in the Neumann collection, and he's probably right. It's the kind of painting that has no sex appeal. "Cubism is a very intellectual area of imagery," Feigen notes, rightly. He does admit, however, that no dealer could have asked for prices notched in the Reader's Digest auction by the Modigliani, the Bonnard ($3.2 million) and the Diebenkorn ($3,962,500).

But Sotheby's auction demonstrated the weak side of the market as well. In its Nov. 16 "various owners" Impressionist and Modern auction, which immediately followed the Reader's Digest sale, over half the works of art offered went unsold -- a record for a '90s Imp & Mod evening auction in New York. What happened?

Back in July, when Sotheby's was assembling the sale, it was coming off a giddy, strong season when so-so works sold well enough and the financial markets had no hint of their present indigestion. At the same time, the firm hadn't yet landed the collections that in the end made the sale -- Reader's Digest or Neumann -- and was looking toward a fall that could be fairly barren. So Sotheby's stretched by taking in weak works with strong estimates.

Is it fair to hammer the house for such a mistake? No. What is fair is to to complain about the auctioneer, who made things worse.

When the wonderful but overestimated Constantin Brancusi bronze, La Muse, came up, auctioneer Henry Wyndham faced no bids from the floor. Not one. Still, he ran the bidding up from $6 million to $7.6 million, a step (or "foot" in auction parlance) shy of the reserve. Then he said, "Seven million six-hundred thousand. Seven million six-hundred thousand. Seven million six-hundred thousand. Seven million six-hundred thousand. Seven million six-hundred thousand. Seven million six-hundred thousand. Seven million six-hundred thousand. Seven million six-hundred thousand. Seven million six-hundred thousand. Seven million six-hundred thousand. Seven million six-hundred thousand. Seven million six-hundred thousand…. Pass."

To be certain, it wasn't Wyndham's fault that the firm's specialists had saddled him with some unsalable works. But by the time the auctioneer mounts the podium, he or she has a pretty good sense of whether there's any interest for a particular work of art. The best way to kill the mood of a sale is to run the bidding up to the bid below the reserve in the faint hope that someone will stick up their paddle. Doing so, as Wyndham did time and again, is like trying to catch a breeze when your anchor is foot deep in muck.

The feeling of the room was cool and unwelcoming, according to one source at Sotheby's, but Wyndham churlishly helped set the tone. When he offered Odilon Redon's Le Monde des Chimeres and called a bid of $1.1 million, a telephone bidder offered $1.15 million. The reserve for the work was $1.2 million, and Wyndham countered with a questioning $1.2 million. Not receiving a response, he said, "One million two hundred thousand!" and brought the hammer down at once. Does Sotheby's take a loss of $50,000 on the painting, or does the firm try to convince the collector that he or she had actually bid the extra $50,000?

In the Nov. 16 Impressionist and modern sale, a heavy bidder was Rory Howard, the New York representative of London's James Roundell, Ltd., who was the underbidder for Alfred Sisley's Les Lavandieres, which sold to an unidentified bidder for $772,500. Howard also underbid Pierre Bonnard's Etude pur un décor de theatre: 'Le bourgeois Gentilhomme' de Moliere: Triptyque. Howard won Picasso's bronze, Tete de Fou at $552,500.

New York private dealer and advisor (and Christie's alumna) Nancy Whyte bid up to $9 million for Paul Cezanne's L'Estaque vu a Travers Les Pins, which ultimately sold to an anonymous buyer for $11 million. White was the underbidder for Modigliani's Portrait de Jeanne Hebuterne, which set the record at $15.1 million and sold to an anonymous bidder over the phone. Whyte consoled her anonymous client by buying the second Modigliani portrait of his wife for $9.9 million. She was the only bidder for the painting.

Paris dealer Harry Krampf paid $189,500 for Maurice de Vlaminck's Vase de Fleurs. Simon de Pury, a Sotheby's alum who is now an independent art adisor, paid $7.5 million for the record-breaking Giacometti, La Foret: Sept Figures et une Tete. Underbidders included Paine-Webber chairman Donald Marron at $6 million, Andrew Fabricant of the Richard Gray Gallery at $6.2 million, and GAF chairman Samuel Heyman at $6.6 million.

Citibank art advisor Jon Bourassa paid $3.74 million for Henri Matisse's Anemones au miroir noir, and his colleague Ann Yaffe Phillips underbid Renoir's Mademoiselle Grimprel au ruban bleu, which sold for $5.39 million to an anonymous buyer. Abigail Asher, partner in art consultants Guggenheim, Asher Associates, paid $1.21 million for Redon's Les Yeux Clos, outbidding Rory Howard.

In the Nov. 17 contemporary evening, international dealer David Nahmad paid $1.0 million for Joan Miro's Tete de Fumeur. De Pury, who has been bidding at auction for Ronald Lauder, paid $74,000 for Paul Klee's print, Den Fischen Laeuten, and bought Jasper Johns's 1959 Flag drawing for $992,500. Lucy Mitchell-Innes paid $233,500 for Joan Miro's bronze Femme and $46,000 for Dan Flavin's The Barbara Roses 3D.

It looks like California collector Eli Broad was a major player in the avant-garde market. His curator bought Charles Ray's Rotating Circle for $189,500, Jeff Koons's String of Puppies for $288,500, Robert Rauschenberg's Dry Run for $992,500 and Sam Francis's Blue and Yellow for $882,500.

An anonymous buyer paid $3.96 million for Diebenkorn's Horizon - Ocean View. Other bidders on the Diebenkorn included David Nahmad, N.Y dealer Jack Tilton and S.F dealer Anthony Meier, who later bought Andy Warhol's 16 Jackies. Robert Mnuchin paid $2.31 million for Andy Warhol's 4 Marilyns. Citibank's Ann Yaffe Phillips paid $662,500 for Lucian Freud's Naked Man on a Bed. And finally, dealer Stellan Holm paid $662,500 for Andy Warhol's Nine Multicolored Marilyn's (Reversal Series).


ANDREW DECKER writes on art and the art market.