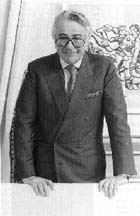 Guy Loudmer
Leading French auctioneer Guy Loudmer of the Etude Loudmer has been jailed at the Santé Prison in Paris, charged with breach of trust by investigating judge Evelyne Picard.

An investigating judge has the right to hold a suspect for 48 hours (in Loudmer's case, Oct. 22-24) and then, according to French Law, can decide to jail him for an indefinite period. Loudmer might be freed on bail next week or in 12 months. The president of the Chambre des Commissaires Priseurs, Joel Millon, refused to comment on Loudmer's arrest.

The charges apparently concern the 1990 sale of the Bourdon collection in Paris, which realized $84 million (Loudmer's commission totaled $10 million). Originally, the animal-loving Bourdons had wanted to donate their profits from the sale -- some $20 million -- to the SPA ( the Animal Protection Society). Instead, Loudmer convinced them to set up a private fund in Luxembourg under his management. To make a long story short, the SPA ended up with only $1 million, and the Bourdons found themselves involved in a huge money laundering scheme.

The official reason for Loudmer's arrest, however, might be a screen for other pending charges that lead to a much greater scandal, according to well-informed sources. Loudmer may be under suspicion of misappropriating funds from the sale of an estate destined for a charity for handicapped people, or perhaps even something more mysterious and explosive.

The 64-year-old auctioneer has always been considered to be the "bad boy" of the profession. In 1977, he tried to adopt a go-it-alone policy by organizing sales outside Drouot, thus violating the rules of the Chambre des Commissaires-Priseurs, which keeps a tight grip on the trade. (In an interview some seven years ago, titled "To Have Guts or Not," he was quoted as saying that "Drouot was a bag of shit"!) A lawsuit forced him to go back to the Hotel Drouot to carry out his sales in 1979. Two years later, having run up a deficit of two million FF, he faced a suspension. He was eventually saved by a cunning lawyer.

With the extraordinary development of the art market in the 1980s, Loudmer got quickly back on his feet and, with the help of the Bourdon sale, took new premises and reached an enviable position among Parisian auctioneers. An outspoken character with considerable charisma, Loudmer convinced many important collectors to consign their works to his care. In one high-profile case, the actor Alain Delon chose him to sell part of his collection -- but their collaboration ended badly after Delon bought an $8 million Modigliani that he could not entirely pay for.

Loudmer has stayed active despite the case proceeding against him. Only a week ago, on Oct. 20, he directed a sale during which a small work by Belgian divisionist painter George Lemmen, showing his wife sewing before a table at tea time, went for 430,000 FF against a 120,000 FF estimate. Other works by Spanish painter Celso Lagar, who was based in Paris, were sold between 120,000 and 170,000 FF against estimates of between 30,000 and 40,000.

Loudmer's arrest is certainly news among French auctioneers, whose profession is facing deep changes in light of the coming European market. The French auction market has long been a tightly controlled monopoly, whose beginnings go back to the reign of King Henri II during the second half of the 16th century. Now, beginning in January 1998, major foreign auction houses -- notably, Sotheby's and Christie's -- will have the right to organize sales in France.

This upheaval will have deep consequences for some 100 auctioneers in Paris. Only the major groups -- Tajan, Piasa, Kohn and a few others like Loudmer (until last week) -- will be able to resist the Anglo-Saxon invasion. Loudmer's arrest probably bodes ill for the future of his firm, since his son Philippe, who is due to succeed him, lacks his experience and charisma.

All sorts of rumors are circulating about deeper reasons for Loudmer's arrest. Observers fear a major scandal could be in the offing when investigators lift the embargo on comment (typically imposed in France). In the past 20 years, at least ten French auctioneers have been involved in scandals regarding embezzlement or receiving of stolen art.

ADRIAN DARMON writes on art from Paris.

The March 25, 1990, sale of the collection of Madame Bourdon included:
a 1904 self-portrait by Marie Laurencin;
a major Fauve painting by André Derain, le Pont de Chatou;
another Fauve painting by Vlaminck, Le Pesage (ca. 1905-07);
Les Bateaux Mouches by Louis Valtat (ca. 1905);
Rue de Village by Valtat;
The Clown by Van Dongen (ca. 1905-07);
Anglers in Nanterre by de Vlaminck (ca. 1905-06);
an impressive portrait of Jean Metzinger by Robert Delaunay (1906);
Le Bal Champêtre by Raoul Dufy (1906);
The 14th July in le Havre by Dufy (1906);
The 14th July by Dufy again (1907);
Bouquet de fleurs by Henri Matisse (1907);
a landscape by Emile Othon Friesz (ca. 1909);
a Nude dated 1911 by Jean Metzinger;
Contadina a Tavola the peasant woman (1913-14) by Alberto Magnelli;
Udnie (1913-14), a major work by Francis Picabia;
La Sposa, the bride, 1914, by the same artist;
Landscape (1914-15) by Albert Gleizes;
Overland (1916) by Gleizes again;
Robe simultanée by Sonia Delaunay (1917);
a major portrait of Luna Czechowska (1917-18) by Modigliani;
La Belle Epicière by Modigliani;
Lyrical Explosion N°XV (1918) by Alberto Magnelli;
Still life with guitar (ca. 1918) by Louis Marcoussis;
L'homme au canotier (1921-22) by Soutine;
L'homme au foulard rouge (1923-24) and Garçon d'Etage, (ca. 1928) again by Soutine;
The Two Sisters by Fernand L&eacuteger (ca. 1929)
The Eiffel Tower (1929) by Robert Delaunay
Velo sur fond bleu (1929) and Femme tenant une fleur (1930) by Fernand L&eacuteger;
Compotier et Guitare (1932) by Picasso
Head of Christ by Rouault (1937-38);
Le potager by Jacques Villon (1941);
Tête d'Otage (2 versions) by Fautrier;
Mademoiselle bois de rose (1950);
Le grain de beauté (1950), Minaudeuse (1950) by Dubuffet
Femme assise (1952) by Man Ray;
Gentilly (1952), Face au Havre (1952) by Nicolas de Stael;
Composition aux deux clowns by Léger (1953);
Without title by de Stael;
Elements mecaniques dans le paysage (1953) by Léger;
Springtime in Paris (1953) by Max Ernst;
Femme et Chien jouant (1953) by Picasso;
Deux Oiseaux dans les couleurs (1955) by Léger;
The alchemist (1956) by Victor Brauner;
Landscape (1937) by Léger;
Septaries (1960) by Brauner;
Prime abord (1964) by Dubuffet;
Naked woman (1965) by Picasso;
Composition 1970 by Wilfredo Lam
All results can be found in the Mayer edition of 1991.