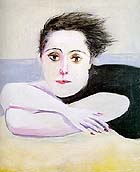 Pablo Picasso
Dora Maar on the Beach
1936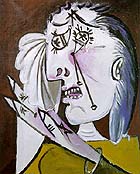 Pablo Picasso
Woman in Tears
1937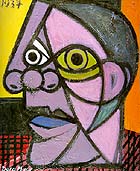 Dora Maar
Portrait of Picasso
1936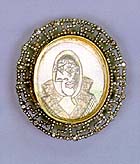 Pablo Picasso
Oval Broach with Dora Maar
1936-39






Pablo Picasso
Dora and the Minotaur
1936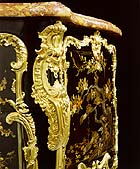 Louis XV Japanese
lacquer commode
by BVRB, 1745
(detail) at Christie's
Dora Maar in Paris
The three-day auction in Paris of the estate of Dora Maar -- which begins today -- has aroused considerable passion, not least because the 143 lots are a treasure trove of souvenirs produced by her lover of eight years, Pablo Picasso. The collection includes 10 paintings, 40 drawings (three from the Blue Period), jewels created by Picasso, books, letters, dozens of paper sculptures which he produced by cutting or burning with a cigarette, engraved pebbles, pottery shards and photographs.

The auctions are scheduled for this week, Oct. 27-29, 1998, at the Paris Maison de la Chimie by the PIASA auction group.

Estimates have been set ridiculously low, considering the sentimental value and quality of Maar's holdings (she died at age 89 in 1997), and the fact that the auction probably represents the last great sale of material by Picasso.

Two highlights of the sale are Dora Maar on the Beach (1936), which carries a presale estimate of 8,000,000F-12,000,000F, and Woman in Tears (1937), which is estimated at 16,000,000F-20,000,000F. There are somewhat more than five French francs to the dollar.

There are also a handful of works by Dora Maar herself, and by Maar in collaboration with Picasso. Though Maar was an accomplished photographer, the sale includes only paintings by her. A portrait of Picasso that she did in 1936 is estimated at 40,000F-60,000F.

Maar (born Theodora Markovitch) and Picasso met in January 1936 (when Picasso was 50) at the infamous caf� Les Deux Magots in Saint-Germain-des Pr�s. Attracted by her black eyes and jet-black hair, he convinced his friend, the poet Paul Eluard, to introduce them. Maar, who had been raised in Argentina, answered Picasso in Spanish, further sparking the artist's interest. Their relationship was cemented a few weeks later in March 1936 when Picasso invited her to his flat on the rue de la Boetie.

Maar thus became the rival of the Picasso's other lover and model for his paintings, Marie-Th�r�se Walter -- who gave Picasso a daughter, a bond with which Maar could not compete.

Maar kept everything that Picasso had given to her stashed in her Paris apartment on the rue de Savoie. When she died, she had no apparent heirs and had not written a will, so genealogists tracked down two distant relatives, one French and one Croatian, to handle the impressive estate. It was their decision to sell the collection that Maar herself never wanted to part with.

Good Provenance on Royal Commode
Controversy has ended over the provenance of an 18th-century lacquered commode thought to be from Versailles Palace. Scientific analysis of the recently discovered Versailles inventory mark has confirmed that the commode, owned by French & Co. and slated to be sold by Christie's New York on Nov. 24, is indeed of true royal provenance.

The Japanese-styled commode was produced around 1745 by French furniture maker BVRB and was intended for the room of one of King Louis XV's daughters in Versailles. It bore the number 1343 in India ink on its back, a marking that no expert or dealer in France had noticed until recently. After several experts expressed doubts about the authenticity of the mark, the analysis of the ink, conducted at the laboratory of the Faculty of Art History in London, finally proved that it had been delivered to Versailles a few weeks after it was made.

Ironically, the commode was last sold in Versailles some 10 years ago, and then shipped out of France shortly thereafter -- its importance undetected by either museum authorities or customs officials. In the subsequent uproar, the Louvre said the commode had been legally exported but was unable to determine the name of the inspector who signed the export authorization form.

The controversy over the piece convinced Martin Zimet of French & Co. to reduce the reserve price from $9 million to $6 million, but observers say it will probably fetch a world record price in New York. Curators of the Versailles Palace would love to acquire this rare piece. There are only seven known lacquered commodes made by BVRB of such quality existing in the world, and specialists say it will be another 10 years before we see one at auction again.


Van Gogh (?)
Thatched Roofs in Auvers
1890
Van Gogh Draws Suspicion
At least one Impressionist expert has cast a suspicious eye on Vincent van Gogh's Thatched Roofs in Auvers, which is slated for sale as part of the Reader's Digest Collection at Sotheby's New York on Nov. 16, 1998. Benoit Landais, a researcher who has claimed that several paintings listed in the van Gogh catalogue raisonn� are fakes, says the painting is poorly drawn and badly painted. Compared to works by Modigliani, Monet and C�zanne in that sale, Landais says, the van Gogh is clumsy, if not horrible. He also noted that on parts of the canvas there is evidence of the use of a spatula -- a tool rarely used by the artist.

The work was once in the collection of Dr. Gachet, the painter's doctor and close friend. An amateur artist, Gachet supposedly painted several copies of van Gogh's work. Of the 28 alleged van Gogh paintings in the doctor's collection, only 13 are regarded to be genuine. And, according to Landais, this painting has never been reproduced in any reference book about van Gogh nor mentioned in the numerous letters he sent to his brother Th�o.

Logo of the Paris Biennial





Jan van Kessel
(1626-1679)
Still Life...
at De Jonckheere
Lukewarm Paris Biennial
Visitors flocked to the 19th Paris Antique Dealers Biennial Fair, Sept. 18 to Oct. 4, 1998. But dealers didn't seem satisfied with their sales. Many blamed the current slump in stock prices for the drop in buying activity. As most wealthy French collectors have their assets in shares or bonds, the plunge of the Paris Bourse has dried up the thirst for art objects.

And few American buyers showed up at the Biennial. It did coincide with Yom Kippur, the Jewish New Year. As Torkom Demerjian of New York's Ariadne Gallery noted, the fair organizers made a "cultural mistake."

One victory was the sale of A View of the San Giorgio Maggiore Church by Francesco Guardi sold by Noortman of London for just under $3 million, the highest price recorded so far in this category. De Jonckheere (Paris and Brussels) happily sold some 20 paintings priced between $35,000 and $160,000.

19th-and 20th-century paintings were in demand, but sales were limited to works under $180,000. Still, dealers were hopeful that newly made contacts would pan out in the weeks to come.

Old Mine emerald
and diamond earrings
at Graff
Jewels were easier to sell than fine art. Graff from London was elated, claiming his sales had exceeded all expectations. Showing magnificent diamonds, including four 50 carat stones, he said his Indonesian, Malaysian and Philippine customers, many of whom had recently lost 80 percent of their assets in the South East Asian market, felt much more secure investing in precious stones.

Furniture did well for the first three days then fell into a lull. The best results were achieved by Segoura, who sold an 18th-century table by Oeben. Didier Aaron obtained $525,000 for two 18th-century armchairs by Tillard Junior, and Bernard Steinitz managed to get $625,000 for a 17th-century Augsburg-made cabinet.

Finally, ceramics, rare books and illuminated manuscripts all sold well, but overall, the fair still seemed a bit disappointing. The event is still a must in the art and antiques fair circuit, as dealers continue to use it as a springboard for future activities.

Artist Tricked...by Himself
A recent court decision has established that French artist Serge Mendjisky (b. 1929) will not be compensated for the copy of his own work he carelessly purchased on July 11, 1990. Bidding on behalf of Galerie de l'Orangeraie in Saint Paul de Vence, France, Mendjisky paid 85,000 francs ($15,500) for what turned out to be a cheap reproduction laid on canvas. It was only after he took possession of the work that he realized it was a reproduction.

The original of the painting in question was purchased in 1967 by a publisher who had obtained the artist's authorization to reproduce it in limited numbers. The publisher offered one of the reproductions to a friend, and years later, the friend's son, convinced that it was an original work, wrote and asked Mendjisky to confirm its authenticity. Relying only on a photograph of the reproduction, Mendjisky sent back a letter confirming he was the author of the work. The owner then entrusted Francis Briest to sell it.

Mendjisky tried to have the sale cancelled, and took the Briest gallery to court. The court granted Mendjisky 25,000F ($4,500) last year, noting that he was partially responsible for the blunder. When the artist tried to appeal, the court decided that Mendjisky could not act as joint plaintiff with the Galerie de l'Orangeraie. In fact, the court said, the gallery should have sued him, as he was in some way responsible for the mistake. As a result, the court case has been dropped.


ADRIAN DARMON reports on art from Paris.