Gagosian 1998




Gagosian 1997





Larry Gagosian





The Mori skyscraper




Mariko Mori in costume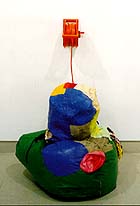 Jessica Stockholder
Untitled
1995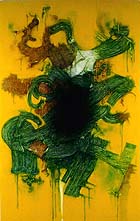 Fabian Marcaccio
Paint Zone #4
1994-95
Every summer, Gagosian Gallery sends a semiotic ad message to the art world through the medium of Andy Warhol, on the back page of the Art in America annual.

Last year, the ad was Andy's Dollar Sign, a message that Larry Gaga had broken the bank and was flush with cash.

This year, it's Warhol's Camouflage, so appropriate for Gagosian's deeply concealed alleged offshore operations.

If it's Tuesday, this must be Bermuda, or Indonesia, or Lichtenstein.

Eager to refute the Flush's recent characterization of him as "a wallflower," Larry G. aggressively chatted us up at length, during a Museum of Modern Art opening last week, in front of bemused Art News chanteuse Amy Fusselman.

"I think Mariko's relationship is tighter than you think," Larry breathed, referring not to Mori's Latin ex-lover, but to her alienation from Jeffrey Deitch, first flushed out on ArtNet last spring.

"And how about that big building in Shanghai?" Gogo continued, dryly gushing over Mori Building's project to erect the world's tallest skyscraper. "It's round at the top!" marveled King Ga. Superdeveloper Minoru Mori is Mariko's pop.

"Go for her," we counselled, "Mariko and Gagosian is a marriage made in heaven."

"In hell," Gogo giggled.

I bring a stable of well-known artists like Gillian Wearing, Lari Pittman, Jessica Stockholder and Alexis Rockman, and they bring artists like Fabian Marcaccio and Emil Lukas.
-- Jay Gorney, in the New York Times re new gallery Gorney, Lee & Bravin

What did they say about Fred Astaire and Ginger Rogers?

"She gives him sex, and he gives her class."

Gorney's got the names
Bravin's got the smile
Post Lee's got the money
Funny, funny, funny
For awhile

Krens spoke in that peculiarly easy-going, yet insistent way of his, explaining that, though he had never ridden a motorcycle down the Guggenheim ramp, he was not saying that he would not do so before the end of the show.

Thomas Krens is a joker. But the joke is on us.
-- Jed Perl o' wisdom in the New Republic

When the plumbing gave out in her Broome Street loft, international superstar Mariko Mori wailed to her downstairs neighbor, "What do I do? Help me!" as water cascaded into his apartment.

"You call a plumber," the neighbor replied.

But not just any pipehog will do for nonmechanical Mariko. At her request, the Takanawa Corporation sent over a full five-man union crew, complete with foreman and a set of building plans, to plug a single leak!

Whenever there appears an art that is truly new and original, those who denounce it first and loudest are artists.
-- Leo Steinberg

What Chelsea dealer in a polka-dot dress reportedly embarrassed herself to the max by downing some drinks at that arts colony funder and then sloshingly hit on every girl in the room?

The Antiques Road Show is the final frontier for insomniacs. It's one full hour of other people's stuff being appraised. You can find out that Mrs. Baxter's dense mahogany bureau is worth $25,000. But who cares? It's not "your" bureau.
-- Ariel Leve in Time Out

Whiteread's Water Tower
Rachel Whiteread's Water Tower has become an unwitting barometer for this summer's heavy air pollution.

A spot check on Grand and West Broadway last Sunday revealed a black bathtub ring atop the formerly pristine tower, with descending shades of grey to the base.

So marked is the grime that passersby, observed for half an hour, never looked up to spot any difference between Whiteread's piece and the normal water towers surrounding it.

Here's predicting that the sculpture, when it comes down a year from now, will be burnt umber like its humble water-providin' bretheren.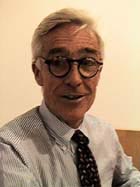 Brooke Alexander
The computer is a fantasy of unlimited potential.
-- Brooke Alexander, in a new gallery press release. In 1993, Brooke told us, "The computer is overrated -- I'll never go online."

Who's the most powerful person in the New York art world? Museum director headhunter Nancy Nichols, who brought Glenn Lowry to the Museum of Modern Art and huge longshot Maxwell "Spritz Jr." Anderson to the Whitney.

But you'd never know it from Deborah Solomon's factless woolgathering on museum directors in Sunday's New York Times. Even the good critics, when they join the Times, just open a valve and let the gas out.

Speaking of Anderson, his grandfather, playwright Maxwell Anderson, was often confused, in the '30s, with fellow dramatists Sherwood Anderson and Robert Sherwood.

They're all forgotten now, anyway.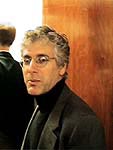 Josh Baer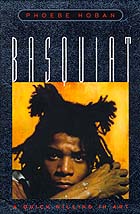 Basquiat
by Phoebe Hoban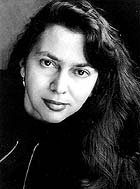 Phoebe
Photo by Marion Ettlinger
We hear that alleged journalist Josh Baer is actively lobbying to replace contract-breaking diva Annie Philbin at the Drawing Center helm.

As for Philbin's left-coast Hammer ascension, we also hear that love allegedly had a lot to do with it.

When you're shooting 100 bags of heroin a day, lending your dick out to losers of both sexes, and painting in gallery basements, on demand for cash, there's not a whole lot of life left to write about -- which is apparently why it took Phoebe Hoban nine years to flesh out Basquiat, just published by Viking.

To save you the $30, here are the fun facts in the book.

There's a photo circulating of Mary Boone before her nose job.

Larry Gagosian hid in the bathroom when Basquiat pulled out the cocaine on a flight to L.A. When stopped by a stewardess, Basquiat replied, "I thought this was first class."

Basquiat had an affair with hetero artist David Bowes.

The IRS went after Larry Gagosian, but found only defunct offshore accounts, and couldn't touch him. (As first reported on ArtNet)

Linda Yablonsky allegedly sold Basquiat heroin.

While Basquiat lay dead in a melange of blood and needles, artists dumpster-dived for his stuff outside his Great Jones Street studio.

Vrej Baghoomian reportedly tells Hoban, "I laundered a lot of money."

According to Hoban, all of Gagosian Gallery's art inventory is leveraged to the hilt, as collateral for bank loans.

Basquiat feared that women whom he impregnated got abortions because he was black.

Andy Warhol wouldn't touch Basquiat, because the latter never bathed.

Hoban's hit 'n' run prose recalls Patricia Morrisroe's Mapplethorpe, but Jean-Michel comes across as a savage cipher, scribbling names on canvas from his record collection and then crossing them out, before doing the nod.

Hoban is forced to fill in whole chapters with descriptions of the New York art scene and its dreary, spineless denizens. Via his own self-indulgence, Basquiat basically had no life at all.


CHARLIE FINCH is the New York editor of Coagula Art Journal and has coauthored the forthcoming Most Art Sucks from Smart Art Press.