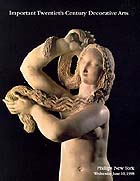 The Phillips catalogue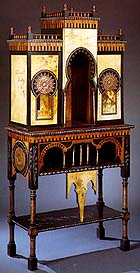 Carlo Bugatti
Parchment cabinet
1898
$12,500 at Phillips




Carlo Bugatti
Vellum bench
ca. 1900
$7,500 at Phillips




Charles Maumejean
Le Luxe (detail)
1925
$34,000 at Phillips



Tommi Parzinger
Pair of wood
and leather cabinets
n.d.
bought in at Phillips




George Nakashima
Dining table
n.d.
$8,000 at Sotheby's



Tiffany
Favrile glass and bronze
twelve-arm candelabrum
1893
$120,000 at Sotheby's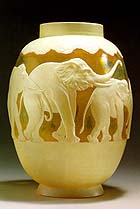 Gallé
Cameo glass white
elephant vase
ca. 1920
$100,000 at Sotheby's



René Lalique
Glass figure of
a standing maiden
ca. 1905
$260,000 at Sotheby's




Tiffany
'Magnolia' leaded glass
and bronze floor lamp
ca. 1910
$900,000 at Christie's




Eileen Gray
Wood parchment
floor lamp
ca. 1923
$200,000 at Christie's



Pierre Chareau
Sycamore and ebony cabinet
1921-23
$30,000 at Christie's
The febrile state of the recent art market has equaled if not surpassed the excesses of the 1980s. So, these days, I find going to furniture auctions quite a bit more amusing than standing around watching stuff by Bruce Nauman and Andy Warhol bring more money than it costs to buy an entire county in the state of Maine.

We used to call them furniture auctions. Now, increasingly eager to flaunt the charms of nouveau and deco in a rising market, the various houses are turning to the more elevated-sounding "decorative arts."

Nevertheless, these auctions still offer surprises and discoveries. And they frequently provide a delightful frisson of recognition -- marveling over the excruciating taste that coveted a 19th-century metal planter embellished with wrought-iron flowers.

Phillips held its Important Twentieth Century Decorative Arts sale on Wednesday, June 10. But the auction contained a pretty high level of interesting objects whose prices remained attractively reasonable.

The sale included a surprisingly large number of pieces by that most effete, extraordinary and under-appreciated turn-of-the-century Italian designer, Carlo Bugatti. His rather wonderful stained wood, hammered copper, pewter inlaid and painted parchment cabinet [lot 209] sold for $12,500, which was right in the middle of its $10,000-$15,000 estimate.

Other exotic Bugatti concoctions (for example, lot 211, a wood, pewter, copper and vellum bench that no one could ever sit on for long: price $7,500) really seemed reasonable, especially when compared to those Naumans.

At Phillips you could also find an interesting stained glass triptych Charles Maumejean designed for the great 1925 Paris Exposition International des Arts Decoratifs et Industriels Moderns [lot 245]. Tamara de Lempica in glass, it was huge, elaborate and extremely interesting. It was sold for only $34,000 (est. $20,000-$30,000).

There were five different lots containing groups of six or seven photos by Maynard Parker of interiors designed by T.H. Robsjohn-Gibbings, a 1930s-40s designer once again back in fashion. These were cheap at no more than $1,500 per lot (est. $1,200-$1,800) and they projected a seductive aura of glossy Mapplethorpean decadence.

The designer to watch, though, is Tommi Parzinger. Phillips had three nice pieces by this rediscovered 1940s-1950s purveyor of high-style urbanity and they weren't anywhere near as expensive as what his stuff goes for in designer alley downtown. A not very special mahogany desk and chair [lot 275] went for $2,200 (est. $1,800-$2,200). A lacquered wood and bronze sort of sideboard with circular silvered handles, very Hollywood [lot 276], and a pair of beautiful wood and leather cabinets with Lucite pulls [lot 277] seem to have been bought in. But their low estimates were $3,000 and $4,000, respectively. That's hardly more expensive than Crate and Barrel.

At Sotheby's 20th Century Decorative Works of Art (note escalating marketing language!) sale on June 12, what I wanted most was one of the George Nakashima tables. Nakashima, who used to hoard trees for years in his Pennsylvania workshop and built "rustic" furniture for elevated corporate board rooms, is just now entering the pantheon of desired designers from "mid-century."

His beautifully calibrated and finished walnut, cherry and ash chairs and tables are the last outpost of the exquisitely handmade. His cabinets, coffee tables, dining tables and chairs [lots 225-232] all went for between $4,000 and $9,000 (one lot was withdrawn).

One reason to love these auctions is their garage-sale aspect. They never fail to provide something for every taste at this point in our pluralistic, retro-mad relativistic society. Many objects at Sotheby's deserved respect for rarity's sake if not for their esthetics.

Way over the top were the Chicago World's Fair Tiffany 1893 very neo-gothic 12-arm candelabrum [lot 314] that sold for $120,000 (est. $40,000-$60,000), and the 1920s Gallé mold-blown cameo glass white elephant vase [lot 31] for a mid-estimate $100,000.

Still better was a Lalique opaque glass figure of a rather grim maiden [lot 44] that made $260,000 (est. $80,000-$120,000). I bet a museum bought it -- it was considered one of René Lalique's rarest creations. (The recent Cooper-Hewitt exhibition of Lalique should have told you everything you need to know about this very inventive Frenchman.)

Thank goodness, for frugality's sake, that I am more interested in obscure 1950s furniture and classic modern furniture than in deco glass. The seductive Carlo Mollino oak and pale green formica table and chairs, for which they wanted at least $15,000 [lot 223], got bought in. Sotheby's also had a handful of those bewitching Bugatti objects (two little side chairs and a tiny vellum and wood desk) that cost under $7,000 each.

Sotheby's grand total for the sale was over $3.8 million, with about 75 percent of the 343 lots sold.

At its June 11 sale of Important 20th Century Decorative Arts, Christie's was touting the Harry and Jack Stievelman collection of Tiffany, Gallé, et al. When I began to learn about decorative arts, Tiffany was the rage and the place to go for it was Lillian Nassau's shop of East 57th Street. Twenty-five years ago, those flowery lamps still had the power to enchant. Now, in the 1990s, they seem to retain appeal only to zealots and movie-industry types discovering art nouveau for the first time.

Indeed, lot 114, a Tiffany Magnolia leaded glass and bronze floor lamp from ca. 1910 sold for $900,000 (est. $450,000-$650,000), a world auction record for a Magnolia lamp. The Stievelman Dragonfly [lot 11] also set a record for the style, selling for $300,000 (est. $140,000-$180,000).

Bored by Tiffany, I thought the best thing in the Christie's auction was the amazing Eileen Gray lacquered wood and painted parchment floor lamp [lot 71]. This wonderful object (one of three known to exist) had the jaunty primitivist esprit of a Picasso sculpture. Gray made it around 1923 for what she called "a bedroom-boudoir for Monte Carlo." It sold for $200,000 (est. $220,000-$260,000).

Christie's also offered a remarkable collection [lots 48-66] of furniture designed for a Paris apartment by Pierre Chareau between 1921 and 1923. To see these starkly elegant, early deco macassar and ebonized pieces was in itself a history lesson in advanced taste.

And that's the final point about these auctions. You can still learn something from every decorative arts auction, for they continue to unearth new knowledge about recent material culture.

Christie's official sale results were rosy. Of the 261 lots offered, 186 sold. That's only 71 percent by lot. But the sale total was over $8 million (including the usual auction-house premium), "the highest total ever for a spring sale [of decorative arts] during the department's 21-year history in the United States," according to Christie's expert Nancy A. McClelland.

All prices are at the hammer.


ALEXANDRA ANDERSON-SPIVY is a critic and writer who is editor-in-chief of The Craftsman on CD-ROM.