Jacket of The Story of Junk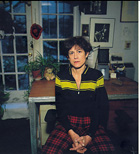 Linda Yablonsky.
Photo by Nan Goldin.
Mar. 10 -- Ran into Linda Yablonsky, the downtown literary impresario and author, in Chelsea on my way to check out Andres Serrano's "History of Sex" exhibition at Paula Cooper. Linda told me that her long- awaited novel, The Story of Junk, was about to be published and that she will read from it Apr. 23 at 7:00 p.m. at Nightlight, the reading series she organizes at the Drawing Center. I had read a piece on the upcoming book in the Feb. 10 New York Observer by Celia McGee, who mentions my illustrious editor Walter Robinson as being one of the "bad boy" art critics of the downtown milieu that Linda's book is set in. Linda told me that if I contacted her publicist I could get a galley copy. I'd never seen a galley before so I was surprised and delighted to find The Story of Junk by Linda Yablonsky sitting in a package in front my door last Thursday. I know that movie producers looking for properties read galleys, and that's what I had in mind when I read the book over the weekend. The Story of Junk is an early `80s downtown roman a clef. The nameless narrator, a woman, is leading the kind of high-risk life that is a breeding ground for artistic ideas. The names have been changed but among the cast are chracters who resemble punk rock star Pat Place of the Bush Tetras, writers Cookie Mueller and Rene Ricard, photographer Nan Goldin and restauranteur Mickey Ruskin. It's an exciting and dangerous life, a rollercoaster ride that nevertheless is stalled in a claustrophobic apartment, ruled by the grim rhythms of heroin addiction. In the very first chapter a character named Dick brings the consequence of her entrapment -- he's DEA and she's busted for dealing. Yablonsky deftly puts you into the narrator's mind at its most vulnerable and revealing moment. She says to Dick, "I can't believe this is happening." Then to herself, "My voice is small. Is it my voice?" Well, this story sings with a voice. It is knowing and truth-telling, fast, furious and funny. The characters are as impervious as diamonds and at the same vulnerable in their big-heartedness. They do what they have to. None of them are hypocrites. There's an adventure in the Golden Triangle, a "vacation" on the Amalfi Coast, anonymous streets in Brooklyn, and the downtown nights with Yablonsky's hard living, life-revealing cast of characters. At one point Yablonsky even slips in a little "nod" to the style of Dorothy Parker. "One night, just before Christmas, the kitchen doors go flying open and who comes waltzing through but this big galoot of a girl named Betty." In the end the story had to be told, our narrator says, because it had been told to her. Ultimately she achieves a calmness and clarity not through the intensity of her life, but through the telling of the story, itself. It is her story, and in telling it she answers her own question: Yes it is my voice. Linda Yablonsky has created a nameless literary character and written a dynamic and important first novel. The Story of Junk, A Novel by Linda Yablonsky, 1997, Farrar, Straus & Giroux, 328 pp., $23.