Cover of Jasper
Johns: Privileged
Information.







Jasper Johns, Flag






Pablo Picasso:
Woman in a Straw
Hat [Straw Hat
with Blue Leaf]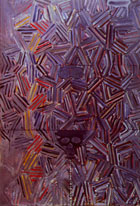 Johns, Tantric
Detail I, 1980.








Johns, Untitled,
1990.









Johns, Untitled,
1992-95. Photo
Dorothy Zeidman.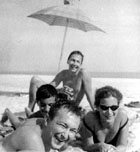 Robert
Rauschenberg
(behind) and Jasper
Johns (front) in the
Hamptons, Long
Island, New York,
c.1958.
Photo John Gruen.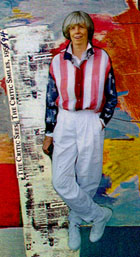 Jill Johnston.
Photo Winifred
B. Lanham.
As Jasper Johns said to Jill Johnston about Picasso's Straw Hat with Blue Leaf, he liked it for "being more than one thing." I can say the same about Johnston's just- published study of the artist's work, Jasper Johns: Privileged Information (New York, Thames and Hudson, 1996). I admire her guts--not so much for sticking to the job of detective work, since this is what I'd expect of a study of iconography ("one thing" that this book is)--but for another thing: writing herself and her politics into her pursuit of the sources of Johns' images. The iconography of Johns' work is complicated. Johnston narrates her discovery of it as part of her voyage into the "secret" life of Jasper Johns as it is told (or hidden) in the arrangements and alterings of the personal artifacts and appropriations in his paintings, drawings and prints. She sees this bricolage as "a boundary, as buffer, between its foundation--the biography--and the rest of the world," noting that critics have collaborated in maintaining the basic inviolability of this shield. As Johnston demonstrates, "outing" Johns (which others like Calvin Tomkins did years ago) is actually invited by a close reading of his work. This she gives in the context of a (very) detailed record of her art- historical sleuthing. The payoffs that have rewarded her attention to the cues Johns has strewn in his wake provide good reason to think the artist has "an equal desire to be hidden and to be found out." But as Johnston's endnotes bountifully demonstrate, many others have noted the personal stories behind these artfully hidden, or artfully revealing images: the flag, for instance. As Johnston notes, Charles Stuckey wondered in print in 1976 if Johns knew that a Sergeant William Jasper, a revolutionary war hero of the south, had twice recovered the fallen flag; Michael Crichton, Barbara Rose and David Shapiro, informed at different points by Johns, revealed at length and in different places that indeed Johns did know, and in fact was that same William Jasper's namesake. Johnston's contribution is to reveal the various parts in Johns's heavily-cathected Flags played by his own mostly-absent father, and then to pursue the fruitful theme of fatherhood through connections with Castelli, Cage, Cage's Perilous Night(1943-44) and Johns's painting of the same name in 1982 to speculations about "the code of biographical irrelevance in art." She does similarly labor-intensive work with the targets; the faucets; references to Duchamp, Picasso, Cezanne, Munch and, notably for Johnston, Matthias Grunewald. In 1987, Johnston identified Johns's use of a plague-afflicted figure with webbed feet and skin boils in Grunewald's 16th-century Isenheim Altarpiece. The next year the artist used the same figure as a background pattern in a drawing he did for an AIDS benefit auction. Roberta Bernstein, in her essay in the new Johns catalogue for the Museum of Modern Art, notes that Johnston was the first to identify the plague figure, in her 1987 article in Art in America, "Tracking the Shadow," but that it was Nan Rosenthal who linked the images to the AIDS epidemic, in her essay for the catalogue of Johns's drawings for the National Gallery of Art in 1990. Johnston's book is full of step-by-step accounts of her "discoveries" about Johns-- discoveries that came, for the most part, without the artist's cooperation. I am impatient with the breathlessness of her style and some of her assumptions (Duchamp as straight? Johns as perhaps the only American artist with paternal relatives who were professional artists? How about the Peales, the Calders?). But her achievement-- to make the first coherent account of what seems to me to be a life and work, a biography of this difficult subject, to do this in an autobiographical voice, and to mesh it with an analysis of her subject's resistance to just this kind of project--is remarkable. As she notes, quoting Richard Shiff on Johns, "One wants to know where things come from." The book is not primarily about Johns' sexuality, but about the way elements of his private life inform his work, and at a deeper level than that, about autobiographical projects themselves--both Johnston's and Johns'. Johnston resolutely and convincingly totes up significant connections between Johns' art and his father, his step-grandmother Montez and his involvements with men--not only and most famously Rauschenberg, but also dancer Jim Self. But why are his romances with women off limits? Even "the names themselves seemed unimportant," Johnston tells us, mentioning only Emmy Fukazawa. And while there are very few perfect books around, I would have liked to see more of the "objectivity effect" that we art historians are very big on. Though the book is full of footnotes and references, one wonders about observations for which she doesn't give credit to other scholars (where are Ken Silver's observations on Johns and Hart Crane, for instance)? This is a touchy area that would take a devoted Johns scholar (which I am not) to sort out. What makes this book different from the prior accounts of Johns' history that I've read--but problematic, too--is Johnston's up-front (and at times dismaying) personal investment in discovering and presenting the artist's identity as "a core, the biggest mystery of all." While she rings Johns's changes from focusing on Duchamp to Picasso, and from men to women to men to women as romantic interests, she seems to think that inside he really remains the same old (young) Jasper who adapted so thoughtfully to a less-than-perfect family situation. She is quite aware that the process of filling his referents with personal meaning and then hiding them is itself of interest. But she claims, amazingly, that "the elegant concealment of embarrassingly expressive bodies [is] an unprecedented move in the canons of contemporary realism," because it deconstructs both abstraction and realism and thus "constitut[es] a brand new way of looking at them." This is hard to concede, given the work on just this problem in Abstract Expressionism--a movement not exactly terra incognita for Johns-- regarding figures like Arshile Gorky by Harry Rand, Mark Rothko by Anna Chave, and Charles Stuckey and Kirstein Powell on Willem de Kooning. It seem an even harder claim to grant given Johnston's own analysis earlier in the book of Picasso's Straw Hat with Blue Leaf as an image that does pretty much the same thing. As I dived into the introduction, I must say I almost bottomed out. It was too painful--that old story about being rebuffed, turned out: The book begins with Johnston's recollection of a dinner with the rich and famous, who now honor Johns as one of themselves, at the home of his patron Si Newhouse. She is an outsider. They don't get her jokes; she thinks they don't like her attire (pants). Johns's success (especially financial) has mounted while Johnston's has not, particularly. Her attempts to buddy up with him have grown increasingly importune ... "maybe lunch?" she asks Johns. A perfunctory nod, no date suggested. It reminded me of a story told by French critic Michel Seuphor (in Modern Artists in America) concerning the painter Charmion von Wiegand, an articulate writer and surely one of the most knowledgeable persons on the topic of abstract art in the US who moreover had served as translator for Mondrian during his time in the U.S. Following a MoMA symposium in 1951 entitled "What does abstract art mean to me?" von Wiegand and Seuphor, deep in conversation about Mondrian, boarded the elevator for invitees only that was ascending to a gathering in the MoMA penthouse. Midway, their conversation was interrupted and von Wiegand, who was not invited, was asked to leave. It's no surprise that people and institutions that validate art bought for high prices are especially inhospitable to those who wish to differ with major players and their collectors. Johnston is at pains to suggest that one of the reasons that Johns has been so well served by his critics and collectors and she has not is that he has become so much like them. I would like to hear more--a lot more--about Johns and his collectors, as well as more thinking about if, why, and how artists should be rich. But what bothers me about Johnston's story--larded into chapters chronicling her determined search for Johns's tropes of fragmentation and reuse-- is my feeling, to redirect one of her own phrases, that the reason she is willing to work so hard "to see what the picture is about, to get into it [is] to share the feelings of the artist and his projected actors." She wants to be one of the boys and they won't let her play! Poor Jill. I'm not being sarcastic; I'm embarrassed that it upsets me that she's so vulnerable. Especially because I think she is really onto something here: modernism's inverse connection between autobiography and power. Remember that writers from William Empson and Clement Greenberg to Paul de Man and Hilton Kramer believe that to be radical is to be objective, self- reflexive. To them the personal is the weak, the self-centered, the limited, the femininized. Yet how can you have the self- reflexiveness of modernist criticism if you don't have a self? This insight fires the recent work of art writers like Leo Bersani, Eunice Lipton, Kobena Mercer, bell hooks, Griselda Pollock, Michele Wallace, Rosalind Krauss and Hilton Als, and Barbara Johnson, Jane Tomkins, Nancy K. Miller and Susan Rubin Suleiman in literature. These people have developed a style of talking about how things--like wresting power from authorities who buttress their claims by impersonalism--makes them feel. It's a strategy of acting it out and saying it at the same time. Well handled (and who decides that is a good question) it's very effective but it can backfire. That question aside, though, Johns's cat-and- mousing with image and abstraction and Johnston's autobiographical insistence on her need to find him out are a good pair. Each seems (in Barbara Johnson's words) "in reality haunted by the ghost of the other."

ANN GIBSON is at art historian at SUNY Stony Brook and author of the forthcoming Abstract Expressionism: Other Politics (Yale, 1997).