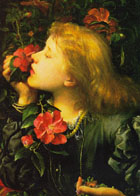 George Frederic Watts
Choosing, c.1863-1864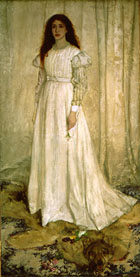 James McNeill Whistler
Symphony in White, No. 1: The White Girl, 1862















Frederic Leighton
Flaming June,
1894














J. M. W. Turner
Keelman Heaving in Coals by Moonlight,
1835















Franz Xaver Winterhalter
The First of May,1851
1851














Edward Burne-Jones
Laus Veneris,
1873-1878

















victorian 
art aflame



by Joanna Shaw-Eagle 

Pompous and prudish, sentimental and severe: this is the way Victorians are usually described. Not so, viewers will say after they see the National Gallery of Art's exhibition, "The Victorians: British Painting in the Reign of Queen Victoria, 1837-1901."
While sexuality is only one of several themes, it is a dominant one in this highly varied, fascinating show. The Pre- Raphaelites, of course, loved women. John Everett Millais painted the poet John Keats' heroine, Isabella, at dinner with her lover, Lorenzo (he was later murdered by her brothers for his trouble). Another Pre-Raphaelite, Dante Gabriel Rossetti, painted Jane Morris as an imprisoned lost soul from Dante Alighieri's Purgatory. Because Jane Morris was the wife of artist and designer William Morris, and she and Rossetti were lovers, the theme of imprisonment -- within her marriage -- is underlined here.
So, also, James McNeil Whistler created Symphony in White, No. 1: The White Girl, saying it was simply a portrait of a girl dressed in white standing on a bear rug. More likely, it's a contrast of innocence and lust as the open-toothed head of the bear suggests. Artists Albert Moore, Frederic Leighton and Lawrence Alma-Tadema reveled in depicting languorous, Greek Goddess-like women basking under the bright Mediterranean sun. Their clinging, diaphanous draperies, such as the bright orange of Frederic Leighton's Flaming June, are sexually charged.
Paintings of sexual and erotic subjects were but one escape for the British Victorians. The Industrial Revolution had made them the wealthiest and most powerful nation on earth. But hardship came for many with these riches. Industrialization, which included major technological innovations such as the steam engine and railways, also brought wrenching social changes. Poverty, homelessness, hunger, the breakup of the family, urban alienation and the erosion of religious values began then, and have accelerated into our own times.
Victorian writers such as Charles Dickens, George Eliot, William Makepeace Thackeray and Henry James wrote about the effects of these upheavals. Unlike the writers, however, the artists saw art as an retreat from the inhumanity of the new, dirty, industrialized world. There are no Dickensonian Oliver Twists in this show. The artists' patrons, now enlarged from the British aristocracy to the self-made monied class and a growing middle class, demanded escapist paintings of literary and religious themes from Medieval times and classical Greece.
Painters were also rebelling, despite the success of J.M.W. Turner's romantic light-and-color- filled landscapes --two of which are included here -- against the academic, pseudo-Italian Renaissance style of the Royal Academy. Franz Xaver Winterhalter still used this Grand Manner in depicting Queen Victoria and her family. Winterhalter titled the painting, The First of May, 1851, and painted the family in the manner of a 16th-century Adoration of the Magi.
Artists such as John Everett Millais, Dante Gabriel Rossetti and William Holman Hunt founded the Pre-Raphaelite Brotherhood in 1848 in resistance to such art. Instead, they turned to a moralistic, narrative, highly detailed symbolic world. Millais' painting of Shakespeare's Ophelia is typical of this minute and factual approach.
She is laid out in a stream, much like a corpse, but with arms outstretched as if to embrace her lover Hamlet. Ophelia is shown in death, a marked contrast to the green and flowered lushness of the nature around her. Every leaf and flower is carefully delineated. Millais knew the floral symbolism of Shakespeare's story, and employed it in the painting: the pansy stands for both "thought" and "love in vain"; violets are faithfulness; and the willow, near her head, the nettles and the daisies are symbolic of forsaken love, pain and innocence.
After 1860, artists began exploring idyllic visions of the past, especially from Greek myths and Medieval legends. Edward Burne-Jones painted a series of works around the Greek myth of Perseus. The one in the exhibition, The Doom Fulfilled, shows Perseus wrestling with a powerfully coiled sea dragon. He's rescuing the beautiful Andromeda, a glistening nude with her back turned towards us, who had been chained to a rock to appease the gods. Burne-Jones also created a medievalizing version of a classic myth with Laus Veneris (Worship of Venus). Venus as the goddess of love and beauty is seen as a queen at leisure, reminiscent of the sensual Guinevere of Arthurian legends. Reds amplify the erotic undertones, as the goddess' handmaidens sing her praises.
Late Victorian estheticism concentrated on the beautiful and erotic as well. Just like the Victorian nostalgia for the Middle Ages, they looked at Greece as a lost paradise of physical and intellectual perfection. Frederick Leighton portrayed a voluptuous Persephone ascending from Hades to the upper world. Alma-Tadema showed Alcaeus lusting after Sappho of Lesbos as he entertains her, and her all-female poet group, with songs on his lyre.
"The Victorians: British Painting in the Reign of Queen Victoria, 1837-1901," is on view Feb. 16-May 11, 1997, at the National Gallery of Art in Washington, D.C., its only venue.
JOANNA SHAW-EAGLE writes on art from Washington, D.C.