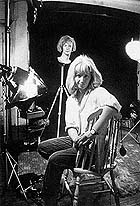 Cover
Cindy Sherman
1983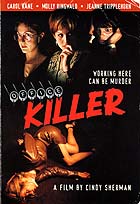 Office Killer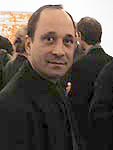 Ross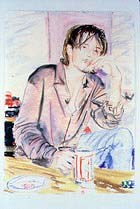 Skeet
Billy Sullivan
1997
Oleg Kulik
Documenta 10's logo
Balkan Baroque
Marina Abramovic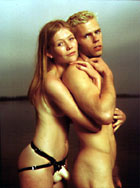 The History of Sex (Christian and Rose)
Andres Serrano
1996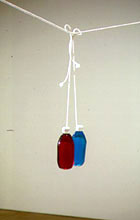 Red and Blue Thing
Tony Feher
1995
Power Pleasure Desire Disgust
Barbara Kruger
1997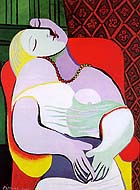 The Dream
Pablo Picasso
1932
Danseuse assise aux bas roses
Henri de Toulouse-Lautrec
1890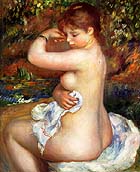 Bather
Pierre-Auguste Renoir
1888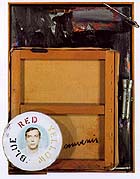 Souvenir 2
Jasper Johns
1964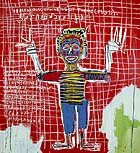 Red Savoy
Jean-Michel Basquiat
1983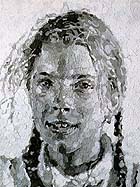 Georgia
Chuck Close
1985
Ten years it's been since Andy Warhol died of a botched gall-bladder operation, and who's stepped forward to take his place as art-world ambassador to the Great Republic of Mass-Media Culture? Many sought the grail in 1997, including Cindy Sherman, a brilliant postmodernist photographer whose intrepid first film, Office Killer, tanked at the box office. Hey, it's not easy to make a movie. The audience was laughing at the show I went to.

All was not ill for the avant-garde in Hollywood 1997, however. The Guggenheim Museum made a spectacular appearance in the opening sequence of Men in Black -- as a set for a chase scene. Observant art-lovers could briefly glimpse the Goog's "Africa: The Art of a Continent" in the background, the works discreetly covered by linen shrouds.

Painter Ross Bleckner made a big-screen appearance, too, with a small speaking part in As Good as It Gets, James Brooks' Simpsons-ishly schmaltzy love story. Ross doesn't get real face time, but early in the picture he does get to pick out a good-looking street hustler -- Skeet Ulrich -- to pose for his homosexual artist-friend, swishily played by Greg Kinnear. Playing the part of Kinnear's art, by the way, are the paintings of Billy Sullivan (with an oddly incongruous appearance late in the movie by a full-breasted nude by Joan Semmel). We all were amused at the nice archaism of having Kinnear pretend to sketch Sullivan's works free-hand rather than using a slide projector.

And who could forget the major art shows of 1997? There was the Whitney Biennial, organized by co-curators Lisa Phillips and Louise Neri. Usually dismissed for its bad and offensive art, this time around the show that everyone loves to hate was dismissed for being bland and people-pleasing -- the Benign Biennial.

Documenta X got rave reviews -- from the artists who were in it. Everyone else found it preachy, its crypto-Stalinist politics out of sync with a world without Communism. French curator Catherine David, so secretive in organizing the show, is actually slated to appear here in New York at Cooper Union on Jan. 6! Bring your tomatoes, if you have any left.

As for the 47th Venice Biennale, who remembers? Its central exhibition, entitled "Future, Present, Past," was organized at the last minute by globetrotting Guggenheim curator Germano Celant. The highlight for our Italian correspondent, Gianni Romano, was work by bad-boy Maurizio Cattelan, who for his installation propped bicycles against Enzo Cucchi's paintings and stuck hundreds of stuffed pigeons up on the rafters, looking very alive and ready to poop. And Charlie Finch reported in Royal Flush that Sean Kelly artist Marina Abramovic stole the show, with her intense performance in which she scrubbed clean a huge pile of bloody bones!

What about gallery shows in 1997? New York saw some stellar avant-garde examples this year. Russian artist Oleg Kulik enchanted the gals by posing at Deitch Projects for two weeks as a dog in a cage, barking and naked save for his black leather collar. Photo-provocateur Andres Serrano raised all our blood pressure with his color pictures of the kinky Dutch at Paula Cooper. And the kinky British, too, made an appearance at Gagosian in SoHo, with the installation by Dinos and Jake Chapman of their prepubescent and polymorphic mannequins. Is this the future of sex?

From the distaff side was the great performance artist Karen Finley, who won a $50,000 judgement against the National Endowment for the Arts and saw $43,000 of that go to her lawyers! Her show at Fotouhi Cramer demonstrated -- via large color blow-ups of the birth of her daughter -- the purpose of labia: to allow the vagina to strech wide enough for a baby's head to pass through!

Tony Feher charmed everyone with his serenely Minimalist sculptures of glass bottles filled with colored water at D'Amelio Terras. Richard Billingham's photos of his alcoholic family, seen at Luhring Augustine, were wildly real. Ellen Cantor's videotape at XL intercutting The Sound of Music with The Texas Chainsaw Massacre perfectly captured the mix of Woodstock and Altamont that is one of her favorite themes.

Too many more remain to mention them all without becoming tiresome (if you really care, go to CHAT and register your opinion). Gary Hume at Matthew Marks. Karen Kilimnik at 303. Jason Rhoades and Richard Jackson at David Zwirner. Martin Kippenberger at Metro Pictures. Barbara Kruger at Mary Boone and Deitch Projects. Etc.

In the museums, well, it was all very nice: Keith Haring at the Whitney, Rauschenberg at the Gugg, late de Kooning and Schiele at the Museum of Modern Art, Degas at the Metropolitan. Fantastic.

What else? Oh yeah, Guggenheim Museum director Tom Krens opened two new branches, one modest one in Berlin and the Guggenheim Bilbao, whose vast, football-field-sized galleries were inaugurated despite terrorist efforts to plant a bomb in Jeff Koons' Puppy sculpture. And the Getty Center opened in Los Angeles.

How about some PEOPLE news? It's all about departures in 1997. Patty and Susan Brundage departed Leo Castelli Gallery, Jane Alexander departed the NEA, and Princess Diana departed this earth, needless to say. Others beloved of the art world who shed this mortal coil in 1997 included Roy Lichtenstein, Douglas Huebler, Dora Maar, Theodoros Stamos, Aldo Rossi, James Lee Byars, Lawrence Fleischman, Alice Yang, Eugene Goossen, Sally Ganz, Paul Cummings and Brendan Gill. May they rest in peace.

1997 was a great year at the auction houses, particularly at the Ganz Collection sale at Christie's New York on Nov. 10. Dare we say that the art market has recovered? Here's the 1997 Top Ten, derived from the spectacular ArtNet auction database:


$48.4 million for Picasso's The Dream, 1932, at Christie's Ganz sale in New York, Nov. 10.

$31.9 million for Picasso's The Algerian Women (Version O), 1955, at Christie's New York, Nov. 10.

$24.8 million for Picasso's Femme assise dans un fauteuil (Eva), 1913, at Christie's New York, Nov. 10

$23.5 million for Klimt's Schloss Kammer am Attersee II, 1909, at Christie's London, Oct. 9.

$23.1 million for Cézanne's Madame Cézanne au fauteuil jaune, 1888-90, at Christie's New York, May 12.

$20.9 million for Renoir's Baigneuse, 1888, at Sotheby's New York, Nov. 13.

$18.7 million for Manet's Self-portrait with Palette, ca. 1878, at Christie's New York, May 12.

$14.7 million for Klimt's Litzlbergerkeller am attersee, 1915-16, at Sotheby's New York, May 13.

$14.7 million for van Gogh's Harvest in Provence, 1888, at Sotheby's London, June 23.

$14.5 million for Toulouse-Lautrec's Danseuse assise aux bas roses, 1890, at Christie's New York, May 12.


Seems like a good year for Christie's! But what about the trade in contemporary art -- that is, work made since 1960 -- where you can really participate in capital gains? It's a tricky (and arbitrary) category, ranging from Picasso and Chagall to Jasper Johns and Eva Hesse. But if we eliminate dead artists, notably Lichtenstein, Warhol, Rothko, Dubuffet, Henry Moore, de Kooning and Diebenkorn (r.i.p.) we can concentrate on living artists? Here you go, top works at auction 1997 by still-breathing contemporaries:


$8.4 million for Johns' Corpse and Mirror, 1974, at Christie's New York, Nov. 10.

$4.4 million for Johns' Decoy, 1971, at Christie's New York, Nov. 10.

$2.2 million for Nauman's Good Boy/Bad Boy, 1986-87, at Sotheby's New York, Nov. 19.

$2.1 million for Johns' Souvenir 2, 1964, at Christie's New York, Nov. 10.

$1.7 million for Thiebaud's Bakery Counter, 1962, at Christie's New York, May 7.

$1.7 million for Rauschenberg's Bicycle, 1963, at Sotheby's New York, Nov. 19.

$1.5 million for Lucian Freud's John Deakin, 1963-64, at Christie's London, June 25.

$950,000 for Cy Twombly's Rape of the Sabines, 1961, at Sotheby's London, June 26.

$880,000 for Andrew Wyeth's Adam, 1963, at Sotheby's New York, June 6.

$770,000 for Andrew Wyeth's The Huntress, 1978, at Sotheby's New York, June 6.


And just a few more big-foot prices, plus their place in the 1997 ranking of auction results:

$754,500 for Gerhard Richter's Reiseburo (no. 120), 1966, at Sotheby's London, June 16 -- No. 41.

$662,500 for Brice Marden's Grove Group (1-5), 1972, at Sotheby's New York, Nov. 19 -- No. 51.

$644,500 for Sigmar Polke's Untitled, 1985, at Christie's London, June 25 -- No. 53.

$635,000 for David Hockney's Berlin: A Souvenir, 1962-63, at Sotheby's New York, Nov. 19 -- No. 55.

$607,500 for Joel Shapiro's three-part bronze, Untitled, 1982, at Christie's New York, May 7 -- No. 57.

$584.000 for Jean-Michel Basquiat's Red Savoy, 1983, at Sotheby's London, Dec. 10 -- No. 61.

$541,500 for Anselm Kiefer's Johannisnacht, 1982, at Sotheby's New York, Nov. 19 -- No. 67.

$508.500 for Eric Fischl's On the Stairs of the Temple, 1989, at Christie's New York, May 7 -- No. 77.

$431,500 for Chuck Close's Georgia, 1985, at Sotheby's New York, Nov. 19 -- No. 87.

$442,500 for Robert Ryman's Untitled, 1960, at Christie's New York, May 7 -- No. 90.

$365,500 for Frank Stella's Telluride, 1962, at Sotheby's New York, May 6 -- No. 103.

$343,500 for Matthew Barney's Transexualis (Decline), 1991, at Sotheby's New York, May 8 -- No. 108.

$332,500 for Susan Rotheberg's Red Blush, 1984, at Christie's New York, May 7 -- No. 129.


Now, about 1998...


WALTER ROBINSON is editor of ArtNet Magazine.