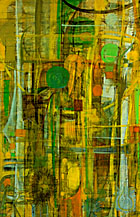 The Sun Room, 1948
All images from
Dieter Schwarz
Sonja Sekula 1918-1963
(Kunstmuseum Winterthur/
Swiss Institute)
Sekula in
Andre Breton's studio,
New York, 1945.

Indian Space
Painting: Sekula's
The presence of
illumination, 1945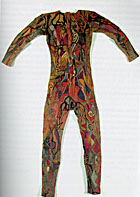 Costume for
Dromenon, 1947.

Give Me, 1948.

Read Look,
1956.

Le Nid, 1960.


Untitled, 1961-62.


Amies, 1963.

Lesbiennes II, 1963.





sonja sekula
abstract
expressionist, 
lesbian and mad


by Walter Robinson
Last weekend those nice people at the Swiss 

Institute, located on the third floor of 

the New Era Building in Soho at 495 

Broadway, invited me to appear on a panel 

dedicated to the little-known, Swiss-born 

Abstract Expressionist painter and poet, 

Sonja Sekula (1918-1963). Sekula showed 

with the Ab-Ex crowd in New York in the 

1940s and '50s, first at Peggy Guggenheim's 

Art of This Century Gallery and later with 

Betty Parsons. Her work is the subject of a 

retrospective exhibition at the Swiss 

Institute, Sept. 12-Oct. 26, 1996. 


The panel was great fun. I shared the 

speakers' table with Brian O'Doherty, the 

artist and critic who has just recently 

resigned as head of the National Endowment 

for the Arts media program, a post he held 

for many years; the great sculptor Richard 

Lippold; and two exceptional Ab-Ex 

scholars, Martica Sawin and Ann Eden 

Gibson. The panel was moderated by Dieter 

Schwartz, curator of the show, author of 

its informative catalogue and director of 

the Kunstmuseum Winterthur in Switzerland, 

where the show originated.


I managed to survive the panel without 

making a complete fool of myself, no small 

achievement since I basically didn't know 

anything about the subject at hand! My 

first observation was that a 1948 work 

immediately to our left, The Sun Room, 

looked like cyberspace as described by 

William Gibson in his landmark science 

fiction novel Neuromancer, dark and 

infinite, transected by rays of light and 

dotted with glowing geometric markers. A 

lighthearted comparison, it's true, that 

says more about the derivation of the 

graphic image of cyberspace than it does 

about a certain type of Ab-Ex picture-

making. But fun to imagine, if only Sonja 

had thought to fill her boundless Ab-Ex 

space with columns of numbers and other 

indices of data (Dan Graham's early 

Conceptual art work,Figurative, which is 

basically a column of numbers from a cash 

register receipt, comes to mind) rather 

than '50s-era signs of cosmic myth and the 

primitive unconscious, she could have 

forged a trademark style that the rise of a 

new corporatist, global art market 

required. (My speciality on the panel--idle 

speculation.)


The second thing I brought up were the 

possible links between Sekula's art, her 

sexual orientation and her madness. Now, 

biography is not something that most 

Abstract Expressionists liked to admit in 

their work--a point about which my fellow 

panelist Richard Lippold would chastise me 

during the question-and-answer period. But 

the mad, lesbian artist--now there, I 

thought, was a romantic image that one 

could pick up and run with, particularly in 

a season that includes Julian Schnabel's 

movie Basquiat, which if anything shows 

that the image of the artist is still 

something that people are interested in 

arguing about. 


Clearly, however, Abstract Expressionism is 

not a cultural construct that admits a 

female author, much less a lesbian one. As 

is typical of the art of Sekula's 

generation, her biography is usually hidden 

below the surface in her painting, which is 

basically abstract--except in two late 

figurative works,Amies and Lesbianes II, 

both 1963, that clearly show two female 

lovers. Once again, with the benefit of 

hindsight, we see a tantalizing hint of 

what might have been. Take critic Harold 

Rosenberg's notion of Abstract 

Expressionism as an arena of action, where 

the artist expresses his will and 

subjectivity, and transmute it through a 

lesbian consciousness to derive a precursor 

to today's body art, one of the more 

interesting avenues of feminist esthetic 

exploration. After the panel, Ann Gibson 

mentioned that her forthcoming book on the 

Ab-Ex movement, Abstract Expressionism: 

Other Politics (Yale, 1997) would explore 

the question of the art's repressed 

sexuality.


Although Sekula was "out" in a kind of 

"Weimar" way, to repeat the term that 

Robert Motherwell used to describe her--

meaning, one should think, that she wore 

men's clothes--neither Sekula's diaries nor 

her writing make much mention of her 

lesbianism. So a casual observer, such as 

yours truly, can't really know about how 

(or whether) her sexuality effected her 

work or its reception during the heroic 

post-war period. There is evidence, 

however, of Sekula's falling in love with 

at least three women. First, in 1935 (at 

age 17), with Annemarie Schwarzenbach, a 

writer and photojournalist, who she visits 

at her home the following year; second in 

1945, with the French-born painter Alice 

Rahon, wife of painter Wolfgang Paalen 

(they travel to the Southwest U.S. 

together, and later she writes to Alice--

"always trying to tame my desires--and to 

transform them into pictures"); and third, 

Manina Thoeren, who she meets in St-Tropez 

in 1949.


The other aspect of her biography, 

similarly absent from her work, was her 

madness, which seems to have begun with 

depression and ended in schizophrenia (she 

wandered the streets, thinking she was 

Jesus), and been an integral part of her 

identity in art circles. She was 

"disoriented," said David Hare; "quite 

mad," was Motherwell's verdict; Schwartz 

quotes another diagnosis of Sekula as 

"hopelessly psychotic." In 1943 the young 

poet Charles Duits described her, then 25, 

as possessed of "eyes, clear, green, 

surrounded by dark rings, protruding 

slightly from her face, wide open, [to 

which they] added a hallucinatory stare. An 

invisible cloud enveloped Sonja, lending 

her movements gentleness and slowness. She 

was caught in a transparency, isolating her 

from the world."


Sekula first attempted suicide at age 20 in 

1938 and suffered mental breakdowns 

throughout her life, leading to 

institutionalization in sanitariums, both 

in White Plains, N.Y. and in Europe. At 

her sanitarium stays she was received the 

usual treatments of the day--lengthy tub-

baths, wet-sheet wraps, injections, 

occupational therapy (potholders are 

mentioned) even frequent shock therapy. One 

point made at the panel: the progress of 

Sekula's art was interrupted by her 

madness, not by her sexuality. After 

moderate success as an artist, by 1951 her 

condition worsened and in 1955 she left the 

U.S. for good when her parents took her to 

St. Moritz to care for her. In 1963 she 

hung herself in her studio at age 45.
			

Parallel to this gruesome timeline is a 

more agreeable artistic one. Born in 1918 

to well-off parents--her father was a stamp 

dealer--Sekula moved with them to New York 

in 1936, settling first in Douglaston and 

then on Fifth Avenue. She studied privately 

with George Grosz, attended Sarah Lawrence 

and in 1941 took classes at the Art 

Students League with Morris Kantor and 

Raphael Soyer. By 1942, at age 24, she had 

met Andre Breton and fallen in with the 

Surrealist circle living in American exile, 

which included Roberto Matta, Marcel 

Duchamp and Max Ernst, as well as Robert 

Motherwell and David Hare. 


By 1943 she was included in "31 Women 

Artists," a group show organized by Peggy 

Guggenheim for her Art of This Century 

gallery; in 1946 Sekula had her first solo 

show there. After Guggenheim closed her 

space, Sekula went along with the rest of 

the Abstract Expressionists to Betty 

Parsons, where she had several shows over 

the next decade. In 1947 she moved into a 

loft on Monroe Street by the Williamsburg 

Bridge; her neighbors included John Cage 

and Merce Cunnmingham, Richard Lippold, Ray 

Johnson and Joseph Glasco. She even 

designed a costume, a kind of coverall 

painted with Indian-derived signs and 

motifs, that Cunningham wore in his 1947 

dance Dromenon.

In contrast with the sadness of Sekula's 

biography, the first thing you notice at 

the Swiss Institute exhibition is the 

confidence of her hand. Her work is 

vigorous, sure and strong. Her late Ab-Ex 

work in the Motherwell mode, for instance, 

is actually better than Motherwell--fresher 

and lighter, perhaps one could say less 

burdened by masculine physicality, with its 

excessive muscle weight and bone density. 

Her colorful, patterned paintings from 1945 

using Indian motifs, part of a short-lived 

style called "Indian Space Painting," as 

well as a series of collages from 1959-61, 

are particularly strong in formal 

invention.


As one of many women artists of the time 

who are neglected today--a phenomenon that 

continues to be of considerable interest, 

even though feminist art history has mapped 

out the prejudices of a patriarchal art 

world--Sekula's case is illuminating. Of 

particular fascination is an incident Dieter 

Schwartz mentions in his catalogue essay. 

In 1952, the leading male Abstract 

Expressionists demanded that their dealer, 

Betty Parsons, focus more on their work, a 

demand that derived from both esthetic and 

hard-nosed business considerations. When 

Parsons declined, the group departed--

Newman, Pollock, Rothko and Still crossed 

the hall and joined the Sidney Janis 

Gallery. 


Betty Parsons then became a place for 

"unorthodox" artists, an unorthodoxy that 

included many women--Hedda Sterne, Sari 

Dienes and Ann Ryan along with Sonja Sekula,

as well as gay male artists like Alfonso 

Ossorio. At the time their work was 

considered more "female"--smaller, more 

searching and discursive, more decorative 

and intimate, less focused, less ambitious 

perhaps--in contrast to the work of the 

triumphant figures of the New York School 

who, as Schwartz notes, "had formed 

impressive pictorial formulas, which were 

raised to icon status in the '50s and 

'60s." Unlike her male colleagues, Sekula's 

practice ignored the demands of the market, 

a demand for corporate-style trademark 

images that would signify the global-scale 

esthetic in the society of the spectacle.


One final note. In the opening paragraphs 

of his essay Schwartz makes a felicitous 

comparison. In a 1947 letter Sekula writes 

to her mother, saying "I shall be an 

American painter...a future that we begin 

to feel underneath the current of war and 

strife and uncertainty." Nine years later, 

in 1956, Schwartz notes, Sekula writes 

Betty Parsons, "I am these days unable to 

paint and no doctor can bring back the 

necessary confidence." This loss of 

confidence can be variously ascribed to the 

progression of her schizophrenia, to her 

failure to make progress as a lesbian 

within the patriarchal art world, or even 

to her recognition (conscious or not) of 

the waning of the modernist artistic 

paradigm. Elsewhere Sekula wrote of her 

loss of faith in the value of what she 

called "telefonedoodling"--a remark that 

strips the high-culture pretentions from 

the Surrealist artistic method of 

"automatism." In what now seems a 

particularly postmodern comment that marks 

in its way the close of a historical era, 

she noted "It's all a bit alike to me." 


Walter Robinson is editor of  ArtNet 

Magazine.