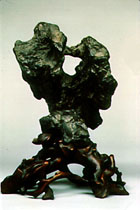 Y-shaped Rock with
One Perforation,
Ming dynasty, 14th-15th century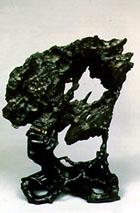 Diagonally-Oriented
Rock with Cave
Ming dynasty,
(1368-1644)

















Rock in the Form
of a Mountain with
a Grotto
16th-early 17th century



















Rock in the Form
of a Reclining Figure
date uncertain

 


 Tall Rock in
the Form of an 
Old Man,
Ming dynasty
(1368-1644)




chinese scholars' 
rocks

simultaneously 
original and 
simulacrum



by John Mendelsohn
The literati of China, who began collecting 

the geological wonders known as "scholars' 

rocks" over 1,000 years ago, developed an 

esthetic of the found object which regarded 

nature as an artist whose work was an 

extended self-portrait in miniature. Nature 

made art in its own image, an eccentrically 

evocative fractal of itself. Bringing this 

art to light required the connoisseurship 

of human recognition and, at times, human 

collaboration in the form of sculptural 

interventions so subtle they are often 

indistinguishable from the rock's natural 

configurations. In an act of Song Dynasty 

postmodernism, these assisted ready-mades 

became both original and simulacrum, 

simultaneously.


In "Worlds Within Worlds: The Richard 

Rosenblum Collection of Chinese Scholars' 

Rocks," the Asia Society presents more than 

70 examples of this art assembled by an 

American sculptor over the past 25 years. 

It is a strangely provocative exhibition, 

full of beautiful and sometimes haunting 

objects that make us question where we are 

standing when we look at nature and see 

art. The rocks, which were meant for the 

tabletop contemplation of the universe, 

range from a few inches to many feet high. 

They sit on wooden stands, carved with 

motifs of clouds, animals and vegetation, 

that are stylized "culture" contrasted to 

the "nature" of the rocks. The rocks 

themselves often resemble mountain 

landscapes, islands, caves or figures--

nature writ small and following the 

precepts of Chinese landscape painting.


The outstanding example in this mode is the 

Honorable Old Man (16th-17th century), 

standing nearly six feet high and just nine 

inches wide. Craggy and rough as a tree 

branch, it resembles a Giacometti figure, 

the stripped down image of a Chinese sage. 

Its inscription was effaced and its 

pedestal removed in the 1960s to disguise 

it as a mere rock, and thus save it from 

the iconoclasts of the Cultural Revolution.


Scholars' rocks were equally appreciated 

for their inherent physical and visual 

qualities. It is here that Western notions 

of abstraction overlap with the canon of 

formal elements that rock collectors 

prized. And indeed many of the rocks have 

the kind of "power" and "integrity" to 

which abstract sculpture has aspired. But 

it is just this proximity that makes the 

distance to the Chinese scholars' esthetic 

all more the telling. The rocks were chosen 

for awkwardness (overhanging asymmetry), 

resonance (rings when struck), 

representation (resemblance to landscape or 

figure), wrinkling (heavy or subtle 

texture) and moistness (glossy and tactile 

surface).


Perhaps the outstanding example to a 

European modernist sensibility are the 

Taihu rocks. Often cream-colored, the mass 

of these stones is equaled by the many 

penetrations that honeycomb them. These 

holes are of a variety of sizes, made both 

by nature and by the stones' collectors. Of 

course, one cannot tell where one left off 

and the other began. The result is a 

fantastic, twisting, bone-like form, shot 

through with emptiness, full of multiple 

perspectives and "worlds within worlds." 






"Worlds within Worlds: The Richard 

Rosenblum Collection of Chinese Scholars'

Rocks, " Asia Society Galleries, New 

York, Mar. 28 - Aug. 18, 1996.




John Mendelsohn is a New York artist who 

occasionally writes on art.