Jene Highstein
Double Vase, 1996


The Clam, 1996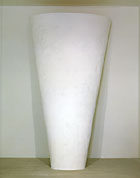 Mystic Column, 1996




























Totem, 1979

 


Installation view
with Flame,
1996




Plus Minus, 1996



animistic 
minimalism:
jene highstein 

at ace gallery



by John Mendelsohn
Seen at a distance, every style can seem 

like a kind of madness. Like a highly 

adapted neurosis, a style organizes sets of 

compulsions and aversions, until all that 

remains visible is a perverse and elegant 

structure of control.


This was never truer of a style than it was 

of Minimalism. For all its reliance upon 

first principles and the fundamental grammar 

of physicality, its great faith always lay 

in the power of abnegation. All of Ad 

Reinhardt's "Twelve Rules for a New Academy" 

begin with "No." And if, in his words, "The 

laying bare of one's self is obscene," then 

the structures which allow for its 

concealment achieve a kind of moral power.


Some of the prophets of Minimalism have 

died. Some have persisted true to its 

founding tenets. Others have turned it to 

lyrical or baroque ends. A short-lived 

"generation" of Neo Geo painters in the 

1980s retooled Minimalism's radical faith 

into irony. 


At age 53 the sculptor Jene Highstein, whose 

work is the subject of a major exhibition at 

Ace Gallery, stands midway between the 

originators and their parodists. Highstein 

takes Minimalism's emotionally detached, 

elemental forms and reinvisions them as a 

vehicles of feeling. Their geometry admits 

handmade irregularity and poetic allusion. 

Their physicality invites a charged dialogue 

between viewer and object that is closer to 

sculpture's animistic beginnings than to 

minimalism's negations. Abstract sculpture 

becomes a repository of cultural forms. The 

Minimalism with a human face that Highstein 

practices is decidedly impure, its idealism 

as battered and porous as its rough concrete 

surfaces.


Highstein's exhibition fills the 20,000 

square feet of Ace Gallery, which is perhaps 

the most extreme example of Minimalism's 

pervasive influence on the architecture of 

spaces devoted to contemporary art. These 

spaces have been sandblasted free of the 

industry which once filled them. Their vast 

cement floors, white walls and refined 

hardware are all hallmarks of a kind of 

spiritual materialism. In their echoing 

spaces there is a nowhere quality that 

obliterates both utility and memory, 

blanking out any desire beyond its imperial 

satisfactions.


In Ace Gallery Highstein's sculpture takes 

on the huge anonymity of the space, and 

answers in kind: enormous cement shapes, 

minimal and mute, grow out of the cement 

floors. But the sculpture's human qualities 

quietly subvert the stark mausoleum-like 

chambers and corridors. History, time, and 

desire are reintroduced into a domain from 

which they had been banished.
 

The tour de force of the exhibition is the 

10-foot-tall, 10-foot in diameter Double 

Vases that face off diagonally in a large 

room. They take up much of the room's space, 

allowing us to pass between and around them, 

without ever escaping their influence. 

Pregnant, looming and slightly lopsided, 

their surfaces are smoothly patched white 

concrete. Beautifully lit by a skylight, 

these forms, reminiscent of Middle Eastern 

storage jars, are mysteriously abundant 

presences.


The Clam, 32 feet in diameter, is both 

enormous and rather baffling. Constructed of 

reinforced concrete, like most of the 

sculptures, it is shaped like a cake which 

has slid during baking, leaving one side 

higher than the other. Its sloping top 

surface is flat, like a giant raked stage. 

Its sides form a circular berm, ranging from 

four to six feet, with the irregularity of 

its contour saving it from Minimalist 

perfectionism. The structure's seemingly 

bony skeleton beneath the patched surface 

gives the piece a disturbing organic 

quality. There is the intimation of burial 

and ritual space here that connects it to 

the Native American mound-building culture 

of the midwest.


Mystic Column extends diagonally from 

ceiling to floor like a solidified ray of 

heavenly light. This sheer, flattened 

cylinder exemplifies Highstein's tendency in 

this work to make sculpture into pictorial 

presences, either by presenting an image 

with defined sides, or by creating a shape 

that "pictures" or represents an object from 

the world. This approach is reflected in the 

series of black silhouetted drawings, some 

of which have a direct relationship to 

sculptures on view. 


Flame is both a massive form and a sided 

image. Ten feet tall, its peaked boulder-

like shape stands like an earthy answer in 

black to the white Mystic Column at the 

other end of the corridor. It recalls a 

Tantric devotional lingam, simultaneously 

natural and a repository of cosmic power.

There are a number of works involving either 

curved steel sheets or steel pipes 

(including a new version of a piece from 

1973) that largely rehearse the strategies 

of classical Minimalism. Highstein's work 

seems to succeed best when the rigor of its 

Minimalism is matched by the humanity of its 

invention.






"Jene Highstein: Recent Sculptures and a 

Survey of Drawings" at Ace Gallery, 275 

Hudson St., New York, NY 10013, through Aug. 17, 

1996.


John Mendelsohn is a New York artist who 

occasionally writes on art.