Man's kente cloth,
Asante people, Ghana

Asante weaver,
Ghana

Woman's cloth,
Asante people, Ghana

Black and white
woman's cloth,
Asante people, Ghana
Man's kente cloth,
Ewe people, Ghana
Man's kente cloth,
Ewe people, Ghana

Bo nun amuin
mask
mid-20th-century

Sacred men's mask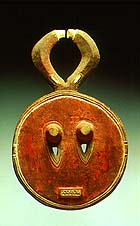 Goli mask

Figure of a spirit husband?
"Wrapped in Pride: Ghanaian Kente and African American Identity," Sept. 18-Jan. 3, 1999 at the Newark Museum, Newark, N.J.

"Baule: African Art/Western Eyes," Sept. 11-Jan. 1999, at the Museum for African Art, New York.

The makers of African art know neither "Africa" nor "art," according to cultural critic Kwame Anthony Appiah. Alien though these concepts may be, the objects themselves are exceptional by any measure. Two current shows, in Newark and New York City, demonstrate the diversity of African art as well as its multiple uses in both its old and new worlds.

The fabric of meaning
"Wrapped in Pride: Ghanaian Kente and African American Identity" at the Newark Museum traces the elaborate history of kente, the ceremonial strip-woven cloth of the Asante and Ewe peoples of Ghana. Originally restricted in the 17th century to Asante royalty, today kente is the garb of choice in Ghana (and other African countries) for festivals, weddings and ceremonial occasions. Kente cloth became a political symbol for the Pan African unity movement of the 1950s and '60s Black Nationalism in the U.S. As a signifier of ethnic pride, it has become part of the popular design lexicon, appearing on everything from neckties to McDonald's cups.

Traditionally limited to the burgundy, green and apricot of the Asante royal court, the colors of Kente cloth today can have a hallucinatory intensity. Designs range from an all-over grid pattern in yellow, orange, blue and white to one that alternates blocks of reds and greens with panels of black with white stripes. Richly somber funerary mourning cloths have restrained patterns of black and red. Kente patterns are subtle and complex, and suggest jazz, abstract art and quilts, or even the dimensions of hyperspace.

As expressions of Asante ideology, each kente pattern communicates a message. The warp motif of double stripes in a solid field means "something unprecedented," while a tight grid means "kindness does not travel far." A zig-zag pattern in a weft motif indicates "the mind is not steady," while a symmetrical design of shards signifies "someone who handles difficulty well."

The kente cloths of the Ewe people, another ethnic group in Ghana, have a lightness and improvisational quality in comparison to Asante cloths. Some indirectly attribute this to their more democratic, less centralized society.

Chameleons, fish, birds and hands grace the Ewe's clean geometric patterns. On occasion text is woven into the fabric. The Ewe palette is more varied than that of the Asante, and includes salmon and dusty rose. A softer tone is frequently achieved by twisting together two colors of yarn for a tweedy effect.

The exhibition concludes with a display of contemporary quilts using kente, and an investigation of the cloth's role in the life of Newark's African American community, as researched by a group of its high school students. With all the informative displays, one is left wanting much more of the cloths themselves.

The Baule spirit
The Baule people of the Ivory Coast regard many of their "art" objects as vehicles of communication with the spirit world. "We are aware that Baule art is beautiful, but the aspect that interests us is the spiritual, religious side," notes Kofi Nguessan, Baule exhibition consultant to Susan Vogel, curator of "Baule: African Art/Western Eyes," now at the Museum of African Art. The 125 sculptures, masks and other objects on view are central to Baule ritual, as the accompanying videos and dioramas demonstrate.

A highlight of the show is the collection of Baule "spirit spouses" -- carved wood figures that represent a husband or wife in the world beyond. Theses spirits watch over their families, serving as alter egos, romantic projections or dream objects. They are kept in personal shrines in their spouse's bedrooms.

More frightening are dog and monkey figures made from animal skulls and other sacrificial material. They are used by trance diviners to encounter bush spirits and to treat people seized by wild spirits. Such figures can also serve as contemplative objects for people in psychological distress.

An exquisitely carved and gilded set of objects, including a snail shell, sword and crocodile, provides ongoing protection by deceased parents and grandparents. A life-sized diorama shows the items in a funeral room -- gold handled fly whisks rest on the indigo cloth-covered bed.

Masks based on animals, deities and important people play a crucial role in Baule celebratory village performances, which usually include a satirical masquerade accompanied by music and dancing. A video of a performance shows a troupe of teenagers stalking performers dressed in wild animal masks. A particularly striking rabbit mask has both a human face and exaggerated, erect ears. Goli masks with elaborately curved coiffures represent the supreme female deity.

In traditional Baule practice, certain masks are not to be looked at. Bo nun amuin, or men's masks -- often ferocious-looking horned animal heads -- are identified with the unpredictable (male) rawness of the wilderness. Women are forbidden to view the masks when they are used in male dances. A nearby video shows the Adyanun, a sacred women's dance meant only for the female gaze.

Also on view are several items without sacred function. These artfully ornamented works include pottery (made exclusively by women), a mirror with mask decoration and a miniature intricately carved rifle. Even though they are supposedly just decorative, they seem to exude an otherworldly power, even if it's just the power of beauty.



JOHN MENDELSOHN is a New York artist who occasionally writes on art.