Cherokee, North Carolina, 1996.
Highlands, North Carolina, 1996.
Highlands, North Carolina, 1996.

Ames, Iowa.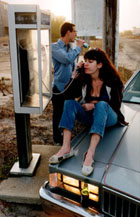 Long Island, New York.

Sapphire, North Carolina, 1996.




artist profile: 
reuben cox


by William McCollum
Donning my hunting jacket with Safe-T 

Orange accents, I trek across Soho up to 

Cooper Square in the East Village. My 

destination is the Cooper Union darkroom 

"cage." I'm there to speak to Reuben Cox, a 

24-year-old photographer who is a graduate 

of the same Cooper Union program that 

brought the art world AC2K and Alex Bag. 

This particular Saturday Cox happens to be 

running the cage. Noting my jacket, he asks 

if I'm going squirrel hunting, to which I 

reply that I just don't want to be mistaken 

for a deer. After shooting the breeze about 

music and guitars (Reuben makes them), we 

start in on his work.


In 25 and Under: Photographers (W.W. 

Norton/Doubletake, New York), a book that 

is clearly designed to help identify 

important new photography, Reuben Cox is 

given pride of place: one of his images 

appears on the cover and he is the first 

photographer presented in the book. This is 

quite a distinction, considering that the 

photographers who have influenced him the 

most, Helen Leavitt and Gary Winogrand, had 

to wait a good deal longer to be published. 

Though in the past Cox has used large-

format cameras he made himself, more 

recently he has used a 35mm. As a 

photographer he is inobtrusive; his images 

are, as a result, less documents of events 

in time and more about the ambient quality 

of experiences.


Cox's work in 25 and Under is culled mostly 

from his road trips across the country, 

seemingly taken from the collective 

consciousness of American travel. For 

instance: A moodily lit roadside 

restaurant, complete with coffee and a 

piece of pie. A dark, rainy exterior of a 

gas-station convenience store with a patron 

stepping suspiciously off the curb, as if 

it were 30 feet down. A young woman 

emerging from a wooded path, confronting 

the viewer, like the return of Laura Palmer 

in Twin Peaks. The phone call from the 

roadside pay phone at dusk, a beer backlit 

by a headlight. These works are less about 

the vastness of America and more about the 

intimacies of travel, both fleeting and of 

enforced duration.


More recently, Cox has been photographing 

North Carolina swimming holes. A place of 

social interaction, the river makes for 

good narrative. It has been a place of 

birth (Moses washed up out of one). 

Enlightenment can be gotten (Buddha gained 

it there). Redemption can be sought (John 

the Baptist started a whole tradition). And 

death can be had (Ophelia found hers 

there).


At Cox's swimming holes we find myth and 

history alive in the present. A mother and 

child sit on a rock in the water, divinely 

lit. Salome dances on a boulder before a 

court of beer drinkers. A boy rests against 

a rock, his cast shadow creating an image 

of a wing at his shoulder. 


There is also a darker drama. A teenage 

cowboy, with absurdly imposing boots and 

scrawny torso, stands victorious, with what 

looks like a victim draped over a rock in 

the background. He could be one of Cormac 

McCarthy's "kids." A water nymph climbs up 

onto a rock at the water's edge, looking for 

sanctuary. Ophelia seems to make an 

appearance just before going under, her 

hand clutching a rock in the river's cold, 

black stream. Another young boy clutches at 

a branch, attempting to cross a stream. His 

features are at odds with the sinister 

surroundings, perhaps one of the survivors 

from Lord of the Flies returning from a 

dastardly deed.


Reuben Cox is a well-balanced, solid 

photographer, able to commingle 

documentation and art. More than simple 

slice-of-life photographs, his pictures 

evoke a sense of drama that should prove to 

be continually interesting. His work will 

be on view in an exhibition accompanying 

the publication of 25 and Under: 

Photographers at the Aronson Galleries, 

(in the Parson School of Art and Design, 66 

Fifth Avenue, Dec. 11 - Jan. 17, 1996).


WILLIAM MCCOLLUM is a New York artist 

who writes on art and music.