The Brooklyn Bridge

The Brooklyn Bridge
Anchorage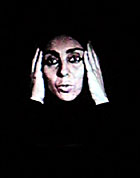 From Shirin Neshat's
video installation
(also next 6 images)





 














From Multipolyomni's
pneumatic soprana
(also next 2)












Rebeca Bollinger's
video projection
(also next one)







From Yau Ching's 
video installation
(also next 3)













Inside the 
Anchorage entrance




quasimodo at 
the anchorage


by Robert Mahoney
For more than a decade the dark man-made 

caverns inside the massive Brooklyn 

achorage of the Brooklyn Bridge have been a 

routine stop on the summer art tour, thanks 

to the curatorial efforts of the public-art 

organization Creative Time. Very quickly, 

the program there developed its own 

distinct sensibility, a sort of minimal 

high-techno installational style, 

reflective of a bad kid's "wow!" at the 

cool, towering space, with its gargantuan 

masonry. In recent years, performance 

seemed to take the upper hand, while the 

art got more and more incidental. The site-

specific had degenerated into the site 

routine: the space had become just another 

art space. Setting foot there as part of a 

foray from Manhattan out into far exotic 

Brooklyn kept the Anchorage's arches curved 

in an image of churchlike art obligation, 

but that was it.


But as a relatively new resident of 

Brooklyn who now passes over and under the 

great Brooklyn Bridge every single day, the 

Anchorage space has somehow woven itself 

into the routine of a broader automobilized 

life. Its status as a strange nexus where 

issues of feeling inside or outside of the 

flow of life (i.e. Manhattan) takes over. 

Every time you cross the bridge you feel 

either excited (going in) or alienated or 

relieved (going out): and when I roll by 

the Anchorage itself exiting the BQE it is 

also with a feeling of relief at having 

escaped that terrible road, or disbelief 

that such commuting is part of my very 

unarty life. Either way, the Anchorage 

receives the invisible precipitate of these 

emotions: something builds up in it. Also, 

toting along our young child forces a 

certain euphemism onto the space, in order 

to keep interest up. Last year we eagerly 

visited "Batman's house" and this year the 

arched stone easily elided into the 

"Hunchback's house." In both childish 

scenarios, we tour the caverns looking for 

its secret resident. The sense of the place 

as a dwelling of a hidden monster also has 

transformed it in my imagination. 


It was with a sense of immense surprise and 

sudden excitement that I realized that this 

year's offerings ditched installation art 

in favor of video--straight video, 

presented in vast movie Valhallas, each 

arch a rundown Bladerunner movie palace 

overturned into a catacomb of the wounded-

by-video. Our experience involved mostly 

standing and watching videos, in repeated 

drive-in movie scenarios, only in-doors. 

The show stealer was Yau Ching's The 

Treasure Hunt in which you sit at a white 

desk and answer questions thrown at you by 

a threatening Wizard of Oz voice about your 

background and status as potential 

immigrant. He asks you about drug use, 

prostitution and other sins. Answer wrong 

(via pulling the triggers of either of two 

plastic ray-guns, supplied on the table), 

and out you go. My son was attracted by the 

image of Mickey on Yau's video and her 

plastic guns, scared of the voice, and hit 

the wrong gun so often he got the "Go home, 

loser" over and over again, much to my 

frustration. But we sat and got grilled for 

a long time, and then, after completing our 

tour, came back for more punishment. Also 

exciting was watching Shirin Neshat's Face 

to Face with God, a video-projection at the 

end of a long dark tunnel in which her 

black chador obscures all but hands, face 

and feet, as she recites Islamic prayers--

and then lifts a pistol and fires, with 

startling timbre, at the viewer. Obscure, 

mysterious and oppressive, we watched for 

some time. Jim Campbell's Solstice, a dark 

room with a single candle whose flicker was 

converted into beautiful wind sounds 

through some high-tech magic, was 90 

percent soundscape, and got to the essence 

of the hauntedness of the space.


The only piece which had the old Anchorage 

installational corniness was The Early 

Aquatic Episode from an opera-in-progress, 

Quark Soup, designed by the ambient music 

team known as multipolyomni and meant to 

depict a kind of primordial singing 

creature, called "the pneumatic soprano, 

Fuaa." We caught one of the artists quietly 

adding some finishing touches and my son 

thought he looked like, up near a large 

white, balloon-like sphere, Quasimodo. The 

other artists in this summer's Anchorage 

installation were the French slapstick 

video performer Pierrick Sorin; videomaker 

Doug Aitken & U-Ziq, who collaborated in 

producing a sound piece based on ambient 

Anchorage sounds; Rebeca Bollinger, whose 

projected alphabetical list of simple words 

were read off by a female-voice generator; 

and New York photographer and video artist 

Penelope Umbrico.


In romantic literature and art, great stone 

edifices have long been said to be haunted 

by secret outcast dwellers: monuments like 

the Brooklyn Bridge will always be invested 

with such imaginings, even if they are only 

desperate attempts to remember the mundane 

life you are living now. By sloughing off 

the foreground positioning of 

"installations" and slinking back behind 

mere videos, reveling in emptiness, leaving 

you exposed to the full abyss of these 

spaces, some dramatic purification had 

occurred this summer. For once, the 

Anchorage was not a routine stop on the 

public art tour; for once, the Anchorage 

anchored some feeling. 




Art in the Anchorage `96, June 21-Aug. 25, 

at Cadman Plaza West in Brooklyn.


Robert Mahoney is an art critic.