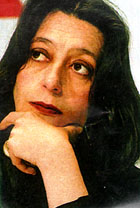 Catherine David






Lothar Baumgarten
Yanomami, Alto Orinoco,
Venezueia,
1978







Emilio Prini
1974







Gordon Matta-Clark
Window Blow-Out
1976







Jeff Wall
The Destroyed Room (detail),
1976







Gerhard Richter
Atlas, Abstrakte Bilder
1977-78






Nancy Spero
Love to Hanoi
1967







Archizoom Associati
No-Stop City - Internal
Landscapes
1970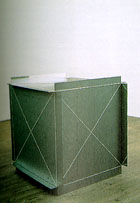 Michelangelo Pistoletto
Cubic Meter of Infinity
1966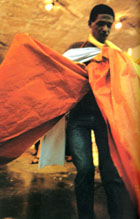 Hélio Oiticica
Nildo wearing Parangolé
4, Cape 1
1964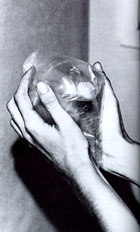 Lygia Clark
Object: Stone and Air
1966







The Logo of Documenta X - The Book








Documenta 10, the major art show held every five years in Kassel, Germany, opened on June 21 and runs to Sept. 28. There's an air of self-righteousness to this exhibition, and nostalgia. While the curator, Catherine David, attacks "reactionary nostalgia" (Art Press, June 1997, p. 42), a great number of works in her exhibition are nostalgic for "68," more particularly, for a certain idea of "critical art," as David calls it.

The idea is conspicuously retardataire, the world having changed a good deal since then. Critical consciousness has to re-adapt, not simply celebrate itself. Thus, David, who also attacks "the academicization of institutional criticism," has herself academicized critical art. For nostalgia involves a certain academic, not to say touristic attitude to the past.

Nostalgia tends either to selectively treasure some of its details and exaggerate their meaning so that they seem to reveal its over-all purpose, or offer a sweeping, one-sided, almost formulaic conception of the past that ignores those details that contradict the prescribed outlook.

What David exhibits is tokens -- trophies? -- from a supposedly legendary radical past, still recent enough to arouse curiosity but no longer speaking intelligently to the present. Thus, the older art here -- and there is an abundance of it -- has a waxworks look: Robert Adams's mall photographs (1983), Archizoom Associati's No-Stop City (1969-72), Lothar Baumgartens's photographs of the Venezuelan Yanomami tribe (1978), Marcel Broodthaers's fictive museum (1972), Lygia Clark's Clothing/Body/Clothing Series (1967), James Coleman's Connemara Landscape (1980), Walker Evans' New York subway photographs (1938-40), Oyvind Falström's Meatball Curtain (1969), Hans Haacke's Shapolsky et al. (1971), Jörg Herold's Body in the Body (1989), Ron Herron's Instant City (1969), Helen Levitt's Harlem photographs (1930s-40s), Gordon Matta-Clark's architectural photographs (1976), Hélio Oiticica's neo-concrete works (1960s), Emili Prini's Arte Povera works (1968 on), Michelangelo Pistoletto's Minus Objects (1967), Alison and Peter Smithson's "human association" pieces (1950s), Nancy Spero's War Series (1966-70), Ed van der Elsken's "Sweet Life" photographs (1966), Aldo van Eyck's Sonsbeek Pavilion (1966), and Garry Winogrand's street photographs (1970s) -- all smell of a dead, or at least stale past. They're undoubtedly "interesting," but they have a tired historicist flavor, however much they indicate a more self-certain social consciousness and criticality than exists today.

Not that there aren't plenty of contemporary examples of socially conscious and critical works in the exhibition -- David is in effect arguing for certain continuity of critical social consciousness -- but they seem rather wan, not to say tepid, in comparison to the early examples, perhaps because the newer ones are more self-conscious and arty, if not exactly artistic. How could they be, since esthetics is a secondary matter in this politically motivated exhibition: the official catalogue (apart from a guidebook) is entitled "politics," and pretentiously called "The Book," suggesting the authoritative "good book" of the Bible.

Esthetics in fact is officially deplored by David -- it seems to be in prolonged crisis -- and is associated with painting, which is vigorously mocked and dismissed in Art and Language's Sighs Trapped by Liars and Jackson Pollock Bar, both 1996-97. Architecture, as the most socially relevant of the arts -- film and video take second place, in a near foto finish -- is given place of honor in the exhibition.

Jeff Wall's staged photographs and David Reeb's paintings based on press photographs are good examples of the tired information that informs the imagery and installations. Indeed, the premise of the exhibition is information-as-art or archive-as-art; Gerhard Richter's tedious, redundant, implicitly nihilistic Atlas, 1962-96, of matter-of-fact photographs of everything and anything is the exhibition's featured piece. And that's the basic problem with the exhibition: information is not educative -- insightful -- in itself, that is, does not automatically lead to understanding and change.

Information by itself is not concept and cognition. Lacking a larger psychosocial and historical conceptualization and context, and often simplistically presented as blunt reality, the information -- "documents" -- tend to fall short intellectually and fall flat emotionally. They are all too obvious, at least for anyone who reads the newspaper and news magazines, or at least looks at the photographs in them -- the supposedly newsworthy photograph is the basic model for much of the "art" here, whatever the medium. There is little or no transformation of routine information into significant imagery -- very few works that seem sedimentations of long and thoughtful perception.

In short, there are few imaginative or interpretive images, as they may be called -- works informed by a sense of the personal effect of social experience on the "artist." The point is made pathetically by all the ready-made computer information mindlessly proliferating throughout the exhibition. The information exhibited is even inadequate as the index to society it claims to be, for since it is given without any psychosocial and historical perspective it ends up referencing itself. At best, it signals a certain prejudiced, not to say jaundiced, view of society.

In The Poetics of Space Gaston Bachelard distinguished between "an absolute image that is self-accomplishing, and a post-ideated image that is content to summarize existing thoughts." The information-images in this exhibition summarize, at times in an almost diagrammatic way -- the opposite of imaginative, as Bachelard says -- certain existing thoughts about society. There are no absolute images in the exhibition, that is, images that seem self-accomplishing or ends in themselves -- that offer an imaginative vision of the lifeworld that can hold their own against it.

All in all, this is an extremely masochistic exhibition, which deserves bad press not only because of its "critical" grandiosity (grandstanding?) but because of the arrogance of the curator. In what has to be a paranoid-schizoid display, David contemptuously described Kassel as a culturally backward city -- it was one of the earliest cities to establish art and natural history museums (in the 18th century) -- and dismissed the German artists and art historians who inaugurated Documenta as "old men," implicitly in contrast to herself (age 43), who may have put an end to Documenta with her limited, anti-art, pseudo-youthful point of view.

David's intention seems to have been two-fold: to use Documenta for her "enlightened" political purposes, and at the same time to dismiss it into oblivion, as though to confirm that on this, the occasion of its 50th anniversary, it has in fact reached old age. "Aprés moi le deluge" seems to have been her destructive motto. This may have to do with a certain anti-German tone in her attitude -- she refused to speak or even try to speak German in her so-called "interviews" with film-makers (she has been more or less steady in Kassel for the last three to four years, and presumably knows some German) -- which may have something to do with her being French. (One newspaper headline described her as "Chichi aus Paris.") But it may just be a sign of emotional immaturity, which often goes with intellectual pretentiousness and defensiveness.

David is one of the many commissar-types who have unfortunately gained power in the art world, in lieu of gaining it in the larger society, where they have been discredited by history. Thus we see leftist fascism, which leaves as little doubt about its repressive tendencies as rightist fascism, in whatever area of society it tries to control and legislate.

Documenta 10 is a totalitarian exhibition, in that it tries to "totalize" the conception of art, which invariably sells much art short, and makes art as such seem one-dimensional. The negative spirit of the exhibition is unwittingly apparent in the logo -- a large red Roman number "X" over an in effect crossing out a small black "d." It has the look of a cockeyed hammer and sickle, or a perverse swastika (red and black were the Nazi colors). It suggets that Documenta has become self-cancelling -- but in fact David is.


DONALD KUSPIT is professor of art history and philosophy at SUNY Stony Brook and A.D. White professor at large at Cornell University.