An Artist's
Studio, c.1850,
1992

Cowtan and Tout
Nest Egg, 1990

Untitled installation,
1992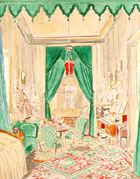 Green Interior,
1993
Death in
Venice #1,
1996

Death in
Venice #5,
1996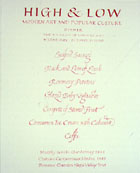 High & Low
Menu,
1997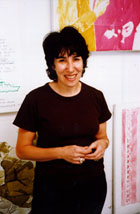 Artist in Studio,
1997

studio visit: 
jane kaplowitz



by Elisabeth Kley

In her painting, An Artist's Studio c. 1850, (1992), Jane Kaplowitz recreated a 19th-century print of a woman relaxing on a couch, holding a book and studying a painting on an easel in an old-fashioned room decorated with classical busts. On the top floor of the small Greenwich Village brownstone where she lives with her husband, the art historian Robert Rosenblum, and their two children, the proportions of Kaplowitz's studio are very similar to the room in her painting. With a beautiful skylight and a wall of windows, it looks out on a narrow iron terrace covered with wisteria and backyards filled with trees. High on one wall, a painting of an ornate baroque interior is a testament to Kaplowitz's abiding interest in romanticism, her husband's specialty. In addition to his writing on contemporary art, Rosenblum is the author of a monograph on Ingres and Transformations in Late Eighteenth Century Art.

But beneath her old-fashioned skylight, Kaplowitz has a treadmill, a copy machine and an opaque projector instead of a couch and an easel, and she listens to gangster rap and classic rock. Black-and-white text-based works in progress include an image of the weekly schedule of the nearby Gay and Lesbian Center. "All those meetings are so charming -- the Scrabble-players club, the girth and mirth clubs, chubby chasers and women wrestlers -- like some kind of insane provincial small town in the Village in 1997," she says.

Kaplowitz's paintings are carefully hand brushed, without hesitation or correction. Twisted ever so slightly by the projector, a fragment taken from the sex column in the back pages of the Village Voice seems to hover diagonally across another painting, like a butterfly ready to flutter away. "It's an explanation of how to rim. I thought it was so adorable -- don't chew gum...a very good point."

Born in Carnarsie, Brooklyn, Kaplowitz attended Thomas Jefferson High School in Bedford-Stuyvesant. While still a teenager, she and a friend (who was captain of the twirling team) saw an early Yvonne Rainer performance. "I can only remember that there were two screens, on two sides of the stage, and there were balls, big balls, and people were running, or walking...and it was so amazing to me...I thought, this is art? I can do this? It was a total life reversal." Rainer's integration of everyday life into her work has been a continuing inspiration, as has a visit to a de Kooning exhibition around the same time, held at Knoedler's elegant townhouse gallery.

Beginning college at Pratt as a fashion major, Kaplowitz soon decided to switch to art. On scholarship at the Art Institute of Chicago, she painted flowing silvery abstractions. A year after finishing graduate school in the early `70s she returned to New York, moving to Soho. At the Drawing Center in 1978, she exhibited small drawings of art in interiors, witty parodies of modernism that paired fragments of famous masterpieces by artists such as Picasso and Matisse with contemporary furniture and wallpaper borders.

This work was very well received, and eventually Kaplowitz began showing at Jason McCoy gallery. Her paintings were even included in several reference books about modern art, but Kaplowitz wanted something else -- art with an intimate connection to her daily life. While decorating her Greenwich Village house, she began to make large paintings of wallpaper motifs. Simply copying the beautiful things she enjoyed was a new beginning. From wallpaper, Kaplowitz went on to a series of paintings and drawings of 19th-century bullfight prints, some of which were included in "Slow Art, Painting New York" at P.S.1 in 1992.

For her third solo show at Jason McCoy in 1993, Kaplowitz made paintings based on photographs of artists like Jean Cocteau and decorators like Oliver Messel, evoking a lost world of rarefied elegance in transparent acrylic washes. Celebrations of cultural eras, these works sought to represent a milieu rather than an isolated art object. Kaplowitz often included biographical captions with these portraits, emphasizing our distance from the days when her subjects were alive and adding a touch of sadness to the images. Some of this work was painted directly on the walls of the gallery.

In conjunction with the 1995 Florine Stettheimer retrospective at the Whitney Museum, Kaplowitz was included in Jeffrey Deitch's "Florine Stettheimer Collapsed Time Salon" in the ballroom at the 1995 Gramercy Art Fair and in "Love Flight of a Pink Candy Heart," curated by Michael Duncan at Holly Solomon Gallery. As homage to Stettheimer, Kaplowitz saluted her friends with paintings and drawings of snapshots, menus and invitations. Kaplowitz and Rosenblum are constantly included in art world occasions, and large black and white images of invitations from Jayne Wrightsman to a dinner for the publication of Donatello Sculptor by John Pope Hennessy and from Philip Johnson to a garden party at the Glass House could be seen in her studio. Blown up way beyond their actual size, the painted invitations are wryly magnified in the viewer's imagination, lending historical resonance to the original fragile ephemera.

The fact that most of her heroes are gay is not a coincidence. "As long as I can remember I've had gay friends and a gay sensibility." Over time, the homosexual world has also become more and more integral to her painting. After her festive 1993 celebration of gay decorators and artists, Kaplowitz's show last spring struck a surprisingly somber chord. One series of paintings recreated a group of publicity photos for the Visconti film, Death in Venice, the movie version of Thomas Mann's novella about an aging composer's obsession with a beautiful boy. Following the frolicking teenager as he plays on the beach and wanders through the Venetian canals in the midst of a cholera epidemic, the composer is himself infected and becomes weaker and weaker until he finally collapses and dies. With their thin washes of color, Kaplowitz's paintings seem as evanescent as the projected light of a movie floating in air. The reference to AIDS is inescapable.

Three other images were based on real life stories of violence and loss. A painting from a newspaper photograph showing the body of Pasolini, the Italian film director, stretched out in the street, surrounded by policemen, hung near a portrait of Kaplowitz's friend, the art historian and critic Gregory Battcock. Both men were murdered by male prostitutes. In the Battcock painting, his June 1978 thank-you note to Kaplowitz and Rosenblum is placed below a snapshot of his face. Signed "oceans of love," with a flourished G that turns into an ocean liner, the light remarks on food and wine became a cherished keepsake after Battcock's death in Puerto Rico a few years later, and painted, speak sadly of his loss. A double portrait of the millionaire John DuPont with his protege, Joseph Schultz, the Olympic wrestler he later murdered, completed the group.

Although the use of pop culture to express sincerity and sentiment seems to make the art world nervous, for Kaplowitz the show was "wrenching." Closely entwined with the events and personalities in her life, if sometimes metaphorically, the work is always suffused with genuine feeling. "It's very emotionally driven." Traces of a world of elegance and grace that always seems on the verge of disappearing, her transparent images of snapshots, newspaper clippings and personal ephemera have the disembodied clarity of dreams, as if the more distant things are from the present, the more beautiful they become.



ELISABETH KLEY is a New York artist who writes on art.