Pictures from
the Azores,
1994

The Flight of
Icarus, 1996

The Flight of
Icarus (detail), 1996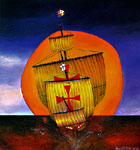 Daedalus,
1996

Pamela Passing
Freighters, 1993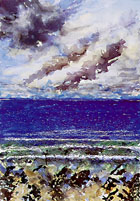 Waves Breaking
on Rocks/Azore Sky,
1994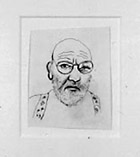 Self Portrait
with Suspenders,
1995

dispatches:
a studio visit with
malcolm morley

by Michael Klein

A Sunday invitation to lunch at Malcolm Morley's studio is a thrill but the train ride out there is a bore. While Penn Station, the terminal for Amtrak and the Long Island Railroad, has been redesigned and rebuilt, once on the train you can't help but realize that the L.I.R.R. is as inefficient as it is filthy. (And for the full comic experience, telephone the railroad's automatic information line, featuring the voice of a clone of Fred Flintstone.)

Morley now lives and works in a former church on a mostly quiet country road on the Eastern end of Long Island, where he moved in the mid-'80s. His modest L.I. studio has a loft area for offices and, in the main space, a Ping-Pong table that has become the true test for any and all guests.

Right now he is working on a battery of new paintings. With shows coming up at Daniel Templon in Paris, Peter Gould's L.A. Louver Gallery and the always popular Mary Boone on 57th Street, things are jumping.

During the week the studio is quite busy. Lida Morley, Malcolm's fabulous wife and partner, has been in charge of the studio archives for the last six years and has collected a yet-to-be published catalogue raisonne of over 1,400 paintings, drawings, watercolors, sculptures and prints completed over the past 40 years. Morley's studio assistant is Peter Krashes, a young Brooklyn painter who has been with Malcolm for the last five years. Janie Welker works in the office addressing herself to correspondence, research and assisting with much of the day-to-day business.

On weekends the pace relaxes dramatically. And after my Dantesque train trip it was a pleasure to be sitting in the Morleys' house, cup of tea in hand, studying the new paintings. This living room is like a private gallery. Very comfortable furniture and terrific paintings to contemplate.

The first artist to be awarded the Turner Prize by the Tate Gallery in London, Morley has been honored with three retrospectives in Europe and America in the last ten years. Morley works hard, and now in his mature years -- he was born in 1931 -- is working harder than ever. A look at his recently computerized inventory was an eye-opener, demonstrating just how abundant and diverse his work has been for these four decades. His is a vision built upon uncharted waters and this vision continues to be his signature and his success.

Morley is a survivor. You won't see him succumb to the unfortunate sentimentality of themes such as the "Four Seasons," which became a kind of swan song for the late works of Johns and Twombly in their respective MOMA presentations. He is an anomalous mixture of London gentleman, Cockney rogue and New Yorker. He can be gruff, funny and perceptive all in the same sentence.

This sunny afternoon Morley is focused on the details and plans for a great "watercolor trip" by freighter to South Africa and the Indian Ocean. While I wander through the studio, Morley is preoccupied with maps and guide books. He has traveled to the Azores, the Canary Islands, to the isles of Greece and along the coast of Maine in search of fresh ideas and new images. Pictures from the Azores (1994) is one such work, in which the beach scene has provided a great excuse for making a model airplane.

An Englishman by birth and an American by choice, Morley has always been drawn to the sea, having spent part of his youth working on ships. The studio is chock-a-block with ship models, some finished, others under construction. There are drawings and studies of fishing boats, or trawlers or freighters. On one wall hangs a half-finished oil painting of a lone draugernaut and on the opposite an armada of vessels of every shape and description in encaustic called Convoy (1995).

Just finished is Battle of the Yellow Sea (1997). Here the painter depicts three large battleships being hunted by a single submarine, which literally breaks through the surface of the water as a painted three-dimensional element. The scene is further set off by explosions of paint that represent shells bursting in the sky. This is but one of a series of new paintings in which a yellow sea predominates. This haunting yellow recalls the early Gauguin, not of Tahiti but the painter who bears witness to Jacob wrestling with the angel in the garden on the Brittany coast. It is the Symbolist yellow of Pont Avon and late 19th-century French painting, where forms are both vivid and simplified.

The Gauguin connection suggests a consciousness linked to color like that of subject matter, whereby emotion is meted out by the use of specific hues. Color is no less effective in conveying temperament than brushstrokes, though it is more cerebral and cool. This then is a pensive yellow, a yellow that is intuitive, a color verging on explosiveness, on excitement, opening toward to future. ( A few days after my visit I found a remarkable comparison between Gauguin's Seascape with Cow on the Edge of a Cliff, 1888, and any number of Morley seascapes.)

That ideal of paradise is echoed in Morley's large combine of construction and oil painting, Flight of Icarus (1995), a work first shown in the 1996 retrospective organized by Enrique Juncosa for La Caixa in Madrid. For Morley, the Icarus myth holds the truth about youth and adventure and also about wisdom and experience. His Icarus is a pilotless German Fokker vintage World War I era. It carries on it the Iron Cross, symbol of Prussian Imperialism.

Morley, a child during the difficult days of the London blitz, witnessed many a dog fight and destruction of his city. This combat painting is a talisman of that time and that world. And yet the plane is a generation older. Morley will explain that his reading during his youth were the fictional air adventures of a certain ace pilot named Captain Biggles. So like Morley, to weave myth with autobiography, fiction with history.

History abounds in Morley's oeuvre, which is wide in scope. Representing the 20th century is an early portrait of Captain Von Dussendorf (1965), a small painting of the commander of the Graf Spee, a German battleship scuttled at the mouth of the Rio de la Plata in South America. Another work, an homage to Raphael as well as to the art of painting, is a grand and eloquent representation of the School of Athens, 1972

Some weeks ago there hung on Morley's living room wall a wonderful image of a Viking ship thrown against giant waves. Also in the studio a magnificent three-dimensional watercolor of a great sailing vessel sinking into the sea juxtaposed to an even greater sperm whale rising up from the sea. Among the most recent paintings is the announcement for the Paris show. Called Daedalus (1996) it is the image of a 16th-century ship -- perhaps the same as the one in Racing to the New World (1996) -- heading directly towards us. Behind the boat rests a giant setting sun resting momentarily on the edge of the horizon.

We move downstairs to the kitchen for lunch. Around this large room are hung watercolors and drawings, some very new and others older. Morley has been making watercolors since the '70s and he has perfected a style that is at once passionately intense in execution and wonderfully precise in rendering. These are not just studies, these are complete thoughts about a place a person or a thing. At times parts will make there way into a paintings, at other times they will become the basis for a painting which will then give Morley a chance to play with both scale and composition. Muelle Pasquero (1992), Waves Breaking on Rocks/Azore Sky (1994) or YZ Falls, Jamaica (1990) are all reminders of past voyages.

We are joined at the round wooden table by Max, the family dog, and several cats that wander in and out to the adjacent garden during the course of our meal and discussions. The Morleys are particularly excited about the forthcoming sea adventure, which is slated to go places neither have been before. This sense of challenge has been the mainstay of Morley's career. The more the episodes the more the paintings are vehicles to distill those events, to not only describe the location or places or things but to imbue a feeling of the moment in which ships and water and light and air all collide into one great and powerful event. As you look around the kitchen the excitement of these trips is marked in each and every watercolor. And in turn, that same fervor exists in Morley's latest paintings here and those still to come.

Before too long its train time. Malcolm drops me off, and I wish him good luck on the next quest, envying the trip. In a few minutes I'm once again simply a prisoner of "the route of the dashing commuter," and dashing back home.


MICHAEL KLEIN is a New York dealer and curator.