Check out these video clips of Robert Storr at MoMA's de Kooning show.

Short version,
8.3 secs long, 417k.
Long version,
30 secs long, 1,427k.






Pirate
(Untitled II)
1981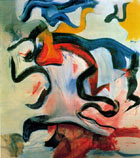 Untitled V
1982

Untitled XII
1982
Untitled
1987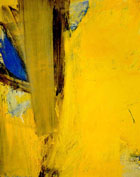 Montauk Highway,
1958
Woman, c. 1952

Willem De Kooning
1983



dispatches:
late de kooning



by Michael Klein

Escaping a slight case of Manhattan cabin fever, I have come to the new de Kooning show, "Willem de Kooning: The Late Paintings: The 1980s," at the Museum of Modern Art, Jan. 26-Apr. 29, 1997, predisposed to love it because I love de Kooning's paintings. De Kooning has been the preeminent master of the New York School since its beginning, a view underscored by the most recent literature, such as Carter Ratcliff's new book, The Fate of the Gesture: Jackson Pollock and Postwar American Art. De Kooning was handsome, charming, a successful emigre from his native Rotterdam and the hero to many an intellectual. As an artist he was passionate and devout, dogmatic, moody, even drunk but always the master. Recently we have seen a lot of de Koonings. A painting survey last season at the Metropolitan, a show of early works at Allan Stone Gallery and the abundant collection of de Koonings at the Hirshhorn Museum in Washington, D.C. But this new exhibition is an entirely different matter, a selection of some 36 works from 1981 to `87--though the elegant catalogue includes reproductions from 1988--many of which are brilliant, a few overtly clumsy. As a show, however, the curating tends to be mean and more sparse than spare. Missing are drawings, studies and anything other than the prerequisite 70 x 80 in. canvas, or a horizontal version of that proportion. The overall gallery atmosphere is somewhat too even, too dry--nothing outweighs or challenges anything else, save for an odd shaped triptych, which is only odd, but not particularly interesting to look at. And this smacks of an `80s phenomenon in which there is less curating going on and more pitching of the "big" name. The viewing public would have been better served too with an additional gallery of selected works from the museum's own holdings of de Kooning to set this show in context. But perhaps this may be the only way to present these works, because this may be all there is. Or perhaps this is a sign of the artist's touch being absent from the show's planning. Furthermore, a case is made, rather heavily in the catalogue, for attributing the artist's deterioration to Alzheimer's disease. But the evidence presented is inconclusive and mostly speculative. We don't know how or why this disease takes away from de Kooning's accomplishments--or adds to them. Still, the late paintings will challenge the seasoned viewer. Since the last full- scale de Kooning retrospective at the Whitney Museum in 1983, things have changed enormously, and the recent de Kooning of the 1970s is nothing like the late de Kooning of today. Gone are the dense, tactile markings of heavy paint, surfaces pulsing with an internal rhythm, colors that shine, and paint delivered as if it will remain perpetually wet on the canvas. Instead, the rough surface has become unusually serene, as if the subject matter is no longer a soul-searching enterprise, but a glimpse of a glorious rapture. No, this is not a religious conversion, but is a conversion of thought and feeling and obviously of temperament. Similarly, the usual pigment trio of red, yellow and blue that could have a rough edge to them gives way to more exotic colors--orange, brown and beige and purple set against and within dreamy mounds of white. The results are graceful, magic, linear motion that makes you feel as if there is an endless flow of color and form from picture to picture. It is very easy to get lost in them and to just ponder their simplicity. Of these new late paintings someone cruelly asked, "So where is that Abstract Expressionism?" Well, it's slowed down. It's metaphorical and physically a new arena in which de Kooning operates. Movement and paint take a longer time to come together. The characteristic immediacy is replaced by an uncharacteristic leisureliness. De Kooning has had time on his side for years and this wonderful luxury is something that abounds in this work. Perhaps, these paintings are a celebration of time, of growing old, of diminished capacities ironically overcome by a singular vision that can produce both wonderful and silly things. Surprisingly, too, references to nature are everywhere: scant images that could be leaves, pods, seeds and the physical terrain of dunes, puddles and coastline appear and reappear. All through his career nature was never abandoned in favor of abstraction but was the subject from which abstraction evolved. So here in these late paintings inspiration is derived from a place--Long Island's South Fork (Untitled XXII, 1982) and memories of Holland (Garden in Delft, 1987). De Kooning weaves a mixture of light and air and water that moves throughout, no different from the dramatic color and light of Montauk Highway, painted in 1958, some 30 years earlier, but in these `80s paintings there is a greater attention paid to the details of nature. Of these last works I am convinced that through many of these paintings de Kooning looks back not only to his own repertoire, but to other artists as well. There is a real orchestration that makes you think of Picasso's Surrealist bathers on the beach, Franz Marc's mythical forests or Kandinsky's magical expressionism and even his own notable contemporaries: Gorky, Krasner, Guston. All in all, the occasion here is happy/sad: a great artist's last works and a farewell of sorts to a generation of painters who made a big history and a bigger legacy for our time. I can't help but wonder what de Kooning would think? As you leave the galleries there are two views of de Kooning in his studio. The first is a photograph of the artist in profile walking past a recently finished painting, sitting out of focus in the background. His head is bent down and he seems to be concentrating on the brush in his hand, and very much unaware of the camera in the studio. The second image is a view from above looking down and at a younger de Kooning (then in his late `70s) surrounded by canvases, paints, easels, etc. He is very much alive, standing before the camera, proud of his talents, and taking his bows as he presents his works. It's a kind and simple tribute to the man himself. MICHAEL KLEIN is a private art dealer and curator.