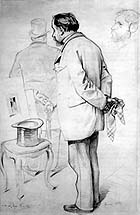 Paul Mathey
Portrait of Edgar Degas
1882







Edgar Degas
The Coiffure
1896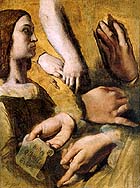 J.-A.-D. Ingres
Profile of Raphael, Hands of Raphael, Racine, and
Poussin, Study for "The
Apotheosis of Homer"
ca. 1827






Paul Gaugin
Words of the Devil
(Arearea no varua ino)
1894







&Eacutedouard Manet
Madame Manet on a Blue Sofa
ca. 1874






Paul C&eacutezanne
Apples
1875-77






Mary Cassatt
Girl Arranging Her Hair
1886






Edgar Degas
The Name Day of the Madam
1876-77
Imagine a Musée Degas. Housed in a small building in Paris, it contains a very personal selection of 19th-century French paintings. On its main floor are a pair of elegant portraits by Ingres, with oil sketches and drawings by the artist in adjacent galleries. Delacroix is on display, El Greco too, as are works by the Impressionists and Post-Impressionists.

This museum does not exist, of course, although Edgar Degas (1834-1917) treasured the notion for many years.

Instead, the nearly 8,000 items catalogued in Degas' estate -- including hundreds of the artist's own paintings, drawings and pastels from all periods of his career as well as works by others considered for this hypothetical museum -- were sold in a series of sales in Paris in 1917 and 1918, organized by the most powerful dealers of the day, Bernheim-Jeune, Durand Ruel and Ambroise Vollard. The sale caused something of a sensation, since Degas' vast holdings were little known -- not unlike the more recent auction of Andy Warhol's trove of collectibles.

Degas' own museum project was revived almost 80 years later, in 1986, when curator Ann Dumas organized the exhibition "Degas as a Collector" for the National Gallery, London. A version has now come to the Metropolitan Museum (Oct. 1, 1997-Jan. 11, 1998) and this show, which includes some 250 paintings, drawings and prints, is extraordinary. It gives the viewer a sense of the passion and excitement Degas must have felt as he visited the studios, galleries and salesrooms of Paris in the late 19th century.

At his death in 1917 at age 78, Degas owned 20 paintings and 88 drawings by Ingres, 13 paintings and over 200 works on paper by Delacroix, seven oils by Corot, two paintings by El Greco, plus works by van Gogh, Gauguin, Courbet, Pissarro, Cassatt, Whistler and Manet, including the reassembled fragments of Manet's The Execution of Maximilian, Emperor of Mexico (thought to have been cut up by Leon Leenhoff in order to sell the pieces). He owned a copy by Gauguin of Manet's Olympia. He owned four still-lifes by Cezanne, though Degas painted none himself. He possessed a vast collection of lithos by Daumier, almost all of Manet's graphic works, plus prints and paintings from Japan and Persia. At one time he had a group of paintings and drawings by Renoir, but returned them in a feud. He even tried to buy Courbet's 20-foot-wide The Painter's Studio (1855) at an 1897 sale (he was outbid, and now the work is in the Musée d'Orsay in Paris).

Degas probably began collecting early in his career, but began buying in earnest in the 1890s, thanks to steady sales of his own art (combined with his notoriously frugal lifestyle). Works were acquired through trades with artists (he swapped with Cassatt and Gauguin), in trades with dealers (he gave Vollard two sketches for van Gogh's Still Life with Fruit) and by bargain-hunting (he bought Gauguin's major Day of the God for 500 francs in 1895).

He was as stubborn about collecting as he was scrupulous about documenting his thoughts concerning observation and pictorial representation. This is illustrated in a statement by Degas recorded by his friend Daniel Halevy: "Here is my new van Gogh and my Cézanne; I buy! I buy ! I can't stop myself. The trouble is that people are beginning know about it and bidding against me: they know that when I want something I absolutely must have it."

Much of what caught Degas' eye as a painter is also what captured his attention as a collector: a fragment, a gesture, the detail of a face, or the pose of a figure. He studied by copying works by artists he admired, copies that stayed in his collection. Trained in the academic manner, Degas treasured Ingres for his drawing, Delacroix for his color. In Manet and Corot he sought naturalism, he appreciated Gauguin and van Gogh for their experiments in color, his affinity with Cézanne begins with the bathers. Degas' accumulation of works by these artists must have underscored his own sense of artistic success, his own place among the masters of the past and the present.

In Degas' mind, his museum would include his own work, such as Interior (1868-69), The Song Rehearsal (1872-73) and several late canvases such as The Coiffure and After the Bath (both 1896). Perhaps Degas would have included some of his most experimental works, a set of monoprints of bathers and women in brothels done in the last decade of the 19th century that anticipate the 20th century of Picasso and German Expressionism.

This show is perfect for today's audience, which yearns to know all the behind-the-scenes details. It's full of stories about how works were found, what prices were paid, why works were bought and where they finally ended up. "The Private Collection of Edgar Degas" is an unusually compelling mix of visual delights and art-historical excitement.

MICHAEL KLEIN is a New York dealer and curator.