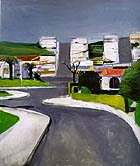 Ingleside
1963




Untitled (Albuquerque)
1951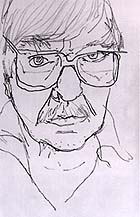 Self-Portrait
n.d.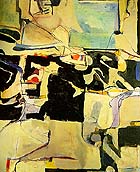 Urbana No. 6
1953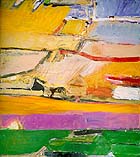 Berkeley No. 52
1955




Freeway and Aqueduct
1957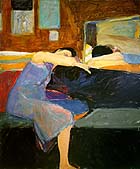 Sleeping Woman
1961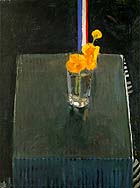 Poppies
1963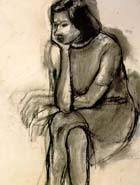 Seated Woman, Head in Hand
1966




Ocean Park No. 54
1972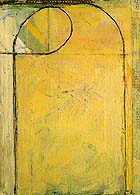 Cigar Box Lid No. 6
1979




Ocean Park No. 116
1979





Untitled No. 35
1981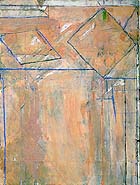 Untitled No. 7
1991
Like the proverbial cat, Richard Diebenkorn had many lives, all of them artistically productive and worthy of this first retrospective since his death in 1993 at the age of 71. Almost ten years have passed since John Elderfield organized a survey of Diebenkorn drawings at the Museum of Modern Art. It is with this exhibition, organized by independent curator Jane Livingston, that we have the opportunity to look at paintings and works on paper together.

Diebenkorn's career spanned some four decades and culminated with a 25-year reign as one of America's preeminent abstract painters. The source of this reputation was his "Ocean Park" paintings, a series begun around 1967 after the artist set up his studio in the eponymous section of Venice, Ca. Celebrated as brilliant compositions of color and paint, the Ocean Park paintings are loose and structured, architectonic and robust, moody and bright. Each canvas is episodic, a transcription, if you will, of a day in the life of the artist.

Diebenkorn's first statements as a young painter were quite different. His earliest works in the exhibition, from the late `40s and early `50s when he lived in Albuquerque and Urbana, are very much of the New York School, wet and woolly, impasto-rich and flamboyant. Diebenkorn's works in this vein were quiet and meditative, kin to the Abstract Expressionism of Gorky, James Brooks, Grace Hartigan and Jack Tworkov.

Diebenkorn's strength lay in the elegance of his abstractions. He had a gift for creating compositions around beautiful, sensually drawn lines. Diebenkorn's charm is his draftsmanship, a line which can delineate shapes within the canvas while being a substantial character in its own right.

All at once this direction seemed abandoned, and like our friendly cat, Diebenkorn was curious about other possibilities. As if he were asking himself what else was out there in the world to paint?

His answer was found in the "Berkeley Series." Begun in 1956, this new work opened the door to the application of paint in a manner inspired by landscape and the figure. Something like de Kooning's "parkway pictures," these works are both referential and abstract. The light and color and rhythm of this northern California city became the subtext of abundant and handsomely painted compositions. Most importantly, with this series Diebenkorn moves further into painting per se, further into working through the various qualities of the paint itself.

What seems to naturally evolve out of the abstract swirls and diagonal passages of the Berkeley works are the representational images that help launch the Bay Area figurative school. Freeway and Aqueduct (1957), is a small, comparatively simple California landscape, yet it is painted with a palette that Manet would cherish. For works set outdoors, as in Yellow Porch (1961) or Ingleside (1963), colors are brighter, more diverse and dynamic. Indoor scenes include images of people drinking coffee or looking out at the surrounding countryside, or reading, talking or just relaxing, as well as still-life renderings of household objects. (One can see too why David Hockney sojourned in California, beginning in the `60s, both for the superb climate and this visibly easy life style).

Through these years as a figurative painter, Diebenkorn was not alone. The Bay Area figurative group included David Park and Elmer Bischoff, to name only two artists who shared his sentiment for the everyday. Again Diebenkorn's line is at work and at play. Several charcoal studies of the figure from this period reveal just how good he was, and how comfortable he was with the challenge of drawing from a live model. He would then adapt these studies to larger, more formal paintings. In addition, it is evident that by this point in his work Diebenkorn had the whole technique of the French school at his fingertips. Not only is Matisse evident as a teacher of line, but color and light is learned from Chardin, early Monet and Nicholas De Stael. The inspiration of these artists can be seen in works like Knife in a Glass and Poppies, both made in 1963.

Diebenkorn's figurative works are powerfully constructed pictures, great in their clarity. When first shown at the Poindexter Gallery in New York (where Diebenkorn exhibited periodically from 1956 to `71), the reception was "incredibly hostile." Because Diebenkorn had abandoned abstraction and Abstract Expressionism in favor of the figure, of nature, of the artistry of representation, he had become an outsider.

(It is interesting to note that though under different circumstances and for different reasons the same transition developed in the work of Philip Guston and also Alfred Leslie.)

The "Ocean Park" series came next, and with it Diebenkorn reacts to his new southern California surroundings. In the same way that Agnes Martin treats her desert, Diebenkorn surrenders his grip on the real and in its place creates a pure painterly ambiance with washes of color, corrected and controlled by a drawn grid. Diebenkorn's armature is loose, irregularly spaced and measured according to color or scale, responding, always, to what Diebenkorn called "the incidental." And while some may argue that this is nothing more than a repetitive theme, the real strength of this body of work are the myriad shifts and nuances that transform Ocean Park from piece to piece. The series displays a splendid range of colors and a variation of scale from small, intimate oil-on-wood works such as the Cigar Box Series clustered in the Whitney's first floor gallery to the monumental tableaux in the upper gallery.

At work in each painting is a complex and sophisticated perception of color and its quality, as well as Diebenkorn's trademark "mysterious transparencies" and "delicately shifting space and light." Over the years his palette changes: flesh tones and grays are replaced by pinks and blues, and then by deeper and darker contrasts of yellow, orange and green. Much of Diebenkorn's forte is also evident in his works on paper from this series. Whether they are charcoal drawings, acrylic, gouache, crayon or collaged bits of paper, Diebenkorn remains committed to his refined balance and precise in his execution.

Though the Whitney is to be commended for undertaking this exhibition, its installation seems awkward and confused, and neglects to portray anything of Diebenkorn the man. No photographs of his studio, his friends or his family, who, from the excellent catalogue essays, were an important part of this painter's life. Nor is there a single print among the works. Considering his longtime association with Crown Point Press, and the importance of prints to Diebenkorn's audience, it is a sad oversight.

There is something mechanical about the nature of posthumous retrospectives. As an enterprise, they ultimately edit out too much or suffer the opposite problem, leaving in more works than is necessary. I had hoped to find an atmosphere of discovery in this show. Yet there is no place to sit, nowhere to muse and little to read on the walls. The exhibition appears at the Whitney Museum, Oct. 9, 1997-Jan. 11, 1998; the Modern Art Museum of Fort Worth, Feb. 8-Apr. 12, 1998; the Phillips Collection, Washington, D.C., May 9-Aug. 16, 1998; and the San Francisco Museum of Modern Art, Oct. 9, 1998-Jan. 19, 1999.

MICHAEL KLEIN is a New York dealer and curator.