Yellow Buck
1987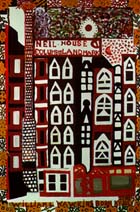 Neil House with Chimney
1986














Prudential N.Y.C.
1985














Jerusalem of the Bible #1
1984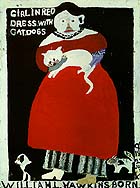 Girl in Red Dress
with Cats and Dogs
1985














Last Supper #6
1986














Tasmanian Tiger #3
1989
The exuberant enamel paintings by the outsider artist William L. Hawkins are exciting viewers all over town. His vividly colored pictures, usually painted on board or masonite and measuring roughly four-feet-square, offer intense, Art Brut visions of animals and buildings, Bible stories, news events and well-known art masterpieces. Hawkins' works are presently on view in New York in the artist's first retrospective, "William L. Hawkins," across from Lincoln Center in the Museum of American Folk Art, Oct. 4-Nov. 9, 1997, and can be seen in "William Hawkins: Paintings," the inaugural exhibition of the new Chelsea gallery of Ricco/Maresca, his long-time dealer, Oct. 9-Nov. 8, 1997.

William Hawkins (1895-1990) was of mixed ancestry -- black, white and American Indian -- and said that this heritage was one reason for his talent. He was born in Kentucky, grew up on a farm and moved to Columbus, Ohio, at age 26, where he spent the remainder of his life working a wide variety of jobs, often several at once, ranging from truck driver and plumber to running a whorehouse.

Although Hawkins says that he made and sold art since the 1930s, he seems to have begun art-making in earnest in the 1970s. An inveterate recycler, Hawkins collected cast-offs and assorted odds-and-ends not only for resale to junk dealers and to decorate his home and car, but also to use as art supplies. He scavenged cans of leftover paint and found old boards to work on. He always used a single brush until he had worn down the bristles. At first, he used black, white and gray, with odd touches of whatever color came along. His boldly abstract First Ferris Wheel #2 (1985) is a stunning example of what he could accomplish with only black, white and red.

In the early '80s Hawkins was befriended by Columbus artist Lee Garrett, who lived nearby, and Garrett entered one of Hawkins' paintings in the amateur division of the 1982 Ohio State Fair, where it won first prize. With Garrett's assistance, Hawkins obtained better art materials and a New York gallery. With more time for painting, Hawkins developed quickly.

His early farm life inspired lots of works with animal themes. Hawkins loved painting horses and was especially adept at exotic critters like rhinos, tigers and dinosaurs. The quizzical look of his White Dog (1985) takes on a whole other loopy dimension with his collaged human eyes, yet his bulky body makes you want to reach out and pet him. Hawkins' hefty Orange Moose (1989), his decoratively coiled yet menacing Rattlesnake #3 (1988) and his two blue boars, both from 1989, and which could not be more different, are all examples of his sensitivity to beasts. For his paintings he relied on printed sources snipped from newspapers or discarded books and magazines, which he kept in an old valise.

The Columbus cityscape, which he surveyed as a trucker, is one of his frequent subjects. The folk museum owns Hawkins' dazzling Neil House with Chimney (1986), one of many Columbus landmarks that he painted more than once. Its contrasting patterns and light and dark are eye-popping. Hawkins knew how to make blacks recede and whites move forward to energize an already jazzy composition.

Hawkins was in his 80s when he became more widely recognized, and was never shy about his abilities. The artist let no viewer forget his age or place of birth. He signed almost every work, usually as a broad border at the bottom of his paintings, with "William L. Hawkins, Born KY July 27, 1895."

Besides his extended signature, Hawkins typically added gaily-patterned frames to his works to make them more attractive, cheaper to hang and more salable. With only a third-grade education but a fund of practical knowledge, this energetic artist, who kept working until shortly before his death at 94, had a huge incentive to turn out work that would sell. Married and divorced with numerous liaisons, he had to support himself and many of his 20 children and sometimes grandchildren during the course of his long life.

You can see how Hawkins got more comfortable with color, for example, by examining a series of "Last Supper" paintings that Folk Art museum curator Stacy Hollander has grouped together. One early attempt contains a background with muddy cascades of color.

In the mid-'80s, Hawkins began adding collage elements to his paintings. He also began to make works that are bigger, more complex and more three-dimensional. All About Eve (1989), a painted construction backed by a seven-foot-tall piece of masonite, is a female figure in real clothes is entangled in a fantastic snake with a collaged human eye. The effect is strange and haunting.

Frank Maresca and Roger Ricco have published a hardback book with Knopf, William Hawkins, that contains a brief reminiscence of their relationship with the artist along with one other short appreciation and little else in the way of text. With some 120 large color illustrations, it's a good introduction to Hawkins' imagery. The accompanying essay is available at the Ricco/Maresca Website.

One cavil: Hawkins is a major artist and a scholarly catalogue should have accompanied his retrospective at the Museum of American Folk Art. At present, only an article in the museum's magazine Folk Art deals with the artist at any length. The museum also failed to produce a catalogue for its highly popular Henry Darger show last spring. The museum is concentrating on plans for a new home on 53rd Street near the Museum of Modern Art -- but this is no excuse to stint on art-historical research! The stimulating but too-little-analyzed efforts of non-academically trained modern artists like Darger and Hawkins could really profit from the attention.

N.F. KARLINS is a New York poet and writer.