Blues about Blues,
1996
Standing
Demoiselle II, 1986

Sepic River Stay
Away from my
Door IV, 1993
Hair, 1996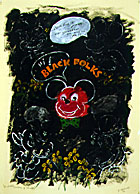 A Child's Garden of
Verses, 1996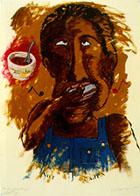 The Harmonica Player, 1992




robert colescott 

at phyllis kind



by Eduardo Costa
Robert Colescott has been chosen to represent the 

U.S. at the 1997 Venice Biennale, with 

Santa Fe curator Mimi Roberts selecting 

works dating from 1987-97. There is a good 

likelihood that his oeuvre will enchant 

Europe. A rich sample of it can be seen in 

a show of drawings and works on paper at 

Phyllis Kind.


This exhibition mixes colorful acrylics on 

paper from 1995-96 with large charcoal 

drawings from 1985-86. New York's MOMA 

should acquire immediately some of the 

charcoal drawings, particularly the 

triptych Standing Demoiselles, What's It 

All About? and Demoiselle II.


These modestly priced masterpieces bring 

art into a super intelligent and sweet new 

orbit. Although humor explodes in them, 

pervading every pixel in the work, I am 

thinking rather of their tenderness, and 

their serious art implications. First, 

Colescott's demoiselles are independent 

figures, each deserving its own study. As 

characters they become whole and self-

sufficient ladies who, if still involved in 

bordello culture, have for sure cut out the 

middle-man and taken matters into their own 

hands. As art, Colescott's mademoiselles 

take everything of value in Picasso's high 

bordello portrait, which opened the door to 

the sensuous, imaginative exploration that 

is modernism. Each individual work rewards 

looking with both anecdotal humor and 

painterly invention.


Here are the precise line, the African 

imports (arms like blimps, faces like 

masks) and the proto-Cubist geometry, all 

subsumed in Colescott's own tender line and 

backgrounds, where the figures at times 

dissolve. Still, what affords these 

drawings masterpiece status is something 

else, a kind of inversion or reversal of 

modernism's poaching of African esthetics. 

Colescott's work subsumes Europe's best art 

as "the other" in his own African American 

art discourse, thus returning the ball that 

Picasso threw when he included, with 

similar respect, African art in Europe's 

discourse.
 

Colescott's high European interlude (he 

studied for a year with Fernand Leger) and 

his passage through Egypt (where he stayed 

for two years) nourish his folkloric 

reference. The acrylic-on-paper works seen 

in this show are by an artist who made his 

what was fed to him at school, what he 

loved in cartoons, what he studied abroad 

during his travels, the folk's art, and the 

life around him. You can see the muscle, 

the glands and the other tissues he grew 

from all that good food and good laughing. 

At 71, Colescott's self portrait could be 

his The Harmonica Player where a young 

African American male ecstatically plays 

his music with a gumbo bowl in the 

background. Right on, Mr. Colescott!


"Robert Colescott: Works on Paper," Nov. 

9, 1996-Jan. 4, 1997, at Phyllis Kind 

Gallery, 138 Greene Street, New York, N.Y. 

10012.



EDUARDO COSTA is a writer who lives and 

works on the Internet.