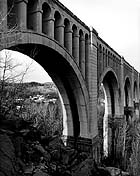 (The Bridge) Tunkhannock Viaduct,
Nicholson, Pennsylvania
1973

(The Flatlands) Wheat Fields Near
Great Falls, Montana
1971
(The Flatlands) Greene County,
Near Grand Junction, Iowa
1981
(The Prairie) Golden Valley,
North Dakota
1971
(Small Town) Coxsackie,
New York
1973
(Pittsburgh) Pittsburgh Coke Company,
Clariton Works, Clariton,
Pennsylvania
1962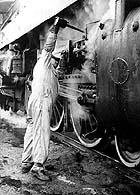 (Tracks) Canadian Pacific Railway,
Engineer "Oiling Round" Locomotive,
Montreal, Quebec
1960
(Tracks) Crosshead detail,
Canadian National Railway
Locomotive Number 6218,
Montpelier Junction, Vermont
1965

(Eclipse) Great Northern Railway,
Freight Train West of Havre,
Montana
1968

(Wasteland) Chicago, Illinois
1983
(Small Town) Main Street,
Cazenovia, New York
1966
(Grain Elevators)
Steamer Kinsman Independent,
Duluth, Minnesota
1985

(The Prairie) Farm,
Will County, Illinois
1981
"Since the beginning," says David Plowden, "Americans have raced toward the horizon: building, rebuilding and discarding. All across America, we have left, abandoned like carcasses after the feast, that which only yesterday was state-of-the-art invention."

Driven to record these "receding parts of our heritage," Plowden has spent the past 40 years traveling through the great center of the United States and photographing farms, small-town architecture, bridges, steel mills, and steam trains. Much of what he documents has since disappeared or changed beyond recognition.

"The urgency to record has become ever more imperative as I have tried vainly to stay one step ahead of the wrecking ball," Plowden writes. "But it is impossible to keep the pace, for America is being transformed at warp speed."

"Unsung, Unappreciated"
Plowden presents this vision in "Imprints," a touring retrospective of roughly 160 black-and-white photographs dated between 1954 and 1992 that stopped at Chicago's Museum of Contemporary Photography early this summer. "Imprints" travels to the Kuhn Library and Gallery at the University of Maryland from September through mid-December. The artist has published Imprints (Bulfinch Press, 1997), a book-length catalogue of his show.

"Imprints" includes photographs of farms in Iowa, Illinois, North Dakota, and other flatlands states. Plowden calls the Great Plains "the very heartland of America . . . among the most unsung and most unappreciated of all landscapes." The plains are "infinitely varied," he writes, "if one takes the time to look.

"This landscape," he continues, "is like a stage on which the players are light and shadow, wind and storm, and where the drama takes place within the elements rather than on the land itself." No surprise then that Plowden's flatlands photographs are stage-like in their elegant formality. We see a sharp break between the dark earth and the sky, whose paleness suggests a backdrop. Toy-like buildings sit flat on the land with little or no surrounding vegetation. Nature everywhere is touched by the hand of man.

A striking element in many flatlands photographs is the road -- and the restlessness it implies. In the Midwest, says Plowden, the road "opens up to infinity . . .there's always someplace to go. The road is like a river taking me somewhere."

The plains states are laid out in one-mile-square sections, the artist explains. For each mile, there is a section road that is drawn in blue on maps. Plowden drives these "blue highways" looking for photo subjects. "I have worn out so many cars," he says.

When he finds a promising scene, Plowden positions the tripod where he was seated in the car and uses his camera "like a cookie cutter" to record a piece of the landscape. He composes every photograph in the field, working rapidly because outdoor light can change in a few seconds.

Always an Artist
Plowden makes no attempt to document specific places or times in the flatlands. It rarely matters where or when he took a particular photo. He looks for scenes that typify "receding parts of our heritage" and uses his skills to create compelling images. Often, someone will see one of his photographs and exclaim: "Oh, I know that barn! It's near where I grew up in..." Even if the real barn is hundreds of miles away, Plowden is pleased because his picture communicated a "sense of being there."

"Documentation is not just gathering information," he states. "I want my photographs to bring back the feeling I had when I first saw a scene -- how things smelled and sounded." To do this, he very carefully chooses what he shows us and spends hours in the darkroom. He never forgets that he is an artist -- and neither should we.

"Cultural Bulwark"
Small towns are a "cultural bulwark that's being transformed," Plowden declares. He presents them as he remembers them from childhood in images that are lyrical without being sentimental.

The artist took many small town photographs in Iowa during the '80s. For three years, he regularly visited Victor, Iowa (pop. 1,046), made friends, and built up a grapevine of informants who led him to unspoiled places. He "looked very hard" to find authentic scenes and claims that he made every photograph with natural light and never moved things out of the way to take a picture.

The softly lit interiors are especially successful. We see rooms in homes and hotels, an Odd Fellows hall, an old-fashioned general store, and a garage. Since these inviting spaces are empty of people, we can enter imaginatively into them which is exactly what the artist wants us to do.

The photographs of building exteriors present an idealized vision of small town architecture. Acknowledging that malls have destroyed many small town Main Streets and that surviving structures often have false fronts or plastic signs slapped onto them, the artist says: "We all know the world as it looks now. Let's show it the way it was."

Plowden is horrified by clumsily restored Main Streets with shops that sell faked-up Americana. "When you repaint, you destroy the patina of age and kill the feeling that a building belongs to another era," he says. "I've been in some towns where you can't buy anything useful on Main Street."

The artist's idea of a good restoration is Cazenovia, NY, where local businessmen got together, removed anachronisms, and reclaimed their street's 19th century look. A modest, straightforward approach made this project a success, he says.

Increasingly Ambivalent
Plowden says that his thinking has been shaped, first and foremost, by "what I have seen with my own eyes." Born in 1934, he grew up during World War Two and writes that he was impressed with what American industry could do when "mobilized with singular purpose." Years later, as he drove around the country, he saw "the trail of waste, the rape of Appalachia, and the dreary, gray mill towns."

As he weighed "the benefits of technological progress against the cost," he became increasingly ambivalent about the industrial system.

A passion for railroads dating from boyhood drew Plowden to photography. He took his first pictures of steam trains when he was a student at Yale University and worked for the Great Northern Railway out of college. During the next few years, he worked, traveled, and photographed trains and other subjects. His professional career began in 1959 when he became assistant to O. Winston Link whose images of steam locomotives are very well known. Plowden would later study with Minor White and assist the photographer George Meluso.

He also had a rewarding friendship with Walker Evans. "Sometimes," he says, "Evans and I would spend hours at the 18th-story of the Time-Life Building [in New York City], talking about the changing quality of the light." Once while Plowden and Evans were driving through New York's Chinatown, Evans saw a young man photographing on the street. He told Plowden to stop, then said "I know light, you know light. He does not know the light."

Plowden produced his first mature work on two expeditions to eastern Canada and Maine where he photographed North America's last operating steam trains. In these dramatic images, steam locomotives become awesome mechanical beings that glisten in the roundhouse and leave a big plume of smoke behind them as they roar across the landscape. The anonymous men who serve the trains seem very diminished in their rituals of maintenance.

Equally exciting are Plowden's photographs of bridges, which he presents as gigantic industrial sculptures. A bridge means "going somewhere" to him so he shows only a part of it, leaving us to complete the journey in imagination. Fascinated with design and engineering, he researches each bridge that he photographs and shoots it from unusual angles to show the structure.

"Our Cathedrals"
Grain elevators are "among the most powerful symbols of a boisterous, productive young America," the artist writes. Overwhelmed by their "almost Egyptian monumentality," he calls these huge buildings "our cathedrals." Plowden's grain elevator photographs succeed completely because they combine his instinctive grasp of form, his feeling for industrial architecture, and his special gift for making visual sense of large, very wide subjects.

Steel mills are not benign like bridges and grain elevators. They pollute. People get hurt in them. Plowden's photographs of open hearth steel making in Pittsburgh and East Chicago, Indiana, exemplify his ambivalence toward industry. The mill exteriors radiate productive power, but the interiors are dark, smoky places where technology dwarfs and menaces humanity. None of the workmen in these images has a face or a personality. All seem expendable and interchangeable.

Throughout his career, the artist has published his photographs in books and articles. He has discovered beauty in forgotten corners of America and found dispirited places too -- the "wasteland" where an "affluent, profligate society" tosses its litter.

Plowden's repellent images of junk heaps, derelict factories, and cheerless commercial structures are the opposite of his bridges and steam locomotives. Here the composition is busy, the lighting harsh, and the surfaces dead. Industry is malign, not productive. Nature is choked with weeds. This is his nightmare of industrialism gone mad.

David Plowden has spent his life exploring unfashionable places and documenting a heritage that the nation seems content to ignore. He has seen much more of this land than most of us have and he deplores the direction we are taking. Plowden speaks with increasing insistence. He should be heard.


VICTOR CASSIDY is an art journalist based in Chicago.