Corot Civita
Castellana and
Mount Soracte 1826


Johann Martin von
Rohden The Waterfalls
of Tivoli 1808-15







Dunouy Rooftops
in Naples 1780.







Corot Basilica of
Constantine 1826-28.






Von Rohden
Campagna Landscape
1807. Oil on card.







Corot Souvenir of
Monte-Fontaine. 1864
oil on canvas.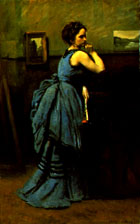 Corot Lady in Blue.
1874 oil on canvas.

Alexandre-Hyacinthe
Dunouy (attributed
to) Rooftops in
Naples oil on paper.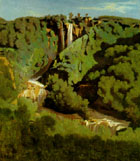 Corot Cascade of
Terni 1826 oil on
canvas.


corot: gardens of
history
sites of
time

by Suzaan Boettger
It's uncanny how exhibitions can offer
a restorative antidote to the present
moment. For that, the Corot shows at the
Brooklyn Museum and the Metropolitan Museum
are great escapes. At Brooklyn, Corot's studies
of sun-basked Roman architecture and
aquamarine skies transport viewers to Italian
warmth, just when our daylight span is
diminishing.  At the Met, Corot's misty
riverscapes envelope us in contemplation
of velvety vegetation and serene views, 
making noisy election-year conflicts
fade away.

Jean-Baptiste-Camille Corot was born in the
heart of Paris 200 years ago, 1796, and
died there 79 years later, in 1875. His
life thus bridged Neo-Classicism and
Impressionism, and the two museum
exhibitions present both the classically
crisp forms of his early painting and his
mature works' romantic renderings of
natural light, a catalyst of, 
Impressionism's realist opticality. At the
Brooklyn Museum, "In the Light of Italy:
Corot and Early Open-Air Painting" displays
Corot within the context of the emerging
practice of direct outdoor painting. Some
130 paintings made by 48 European artists
between 1780 and 1840 represent the
earliest desires to depict landscape via
immediate perceptual experience.

In these views of Rome, the surrounding
Campagna, and Naples, the interest in
scientific observation converges with the
desire of 18th- and 19th- century painters
to connect with their classical heritage.
Under crystalline Italian light, most of
these scenes are, simply, beautiful.

"Beauty" is a classicist's accolade
and, these compositions of clarity and grace
exemplify classicism's perfect harmonies.
It's also a term currently being revived by
critics Dave Hickey, Jed Perl and Peter 
Schjeldahl, the last of whom addressed our
ambivalence about the term in "Beauty is
Back" (in the New York Times,  Sept. 9, 
1996). To see "beauty" closer to its cultural
roots, so to speak, look at Johann Martin von
Rohden's 1815 Waterfalls of Tivoli
 coolly, delineated hills, terraced
enfolding, cascades and surging plumes
and, articulated by myriad olive hues. Likewise, 
in Rooftops in Naples attributed to
Alexandre-Hyacinthe Dunouy, classicism
approaches sublime abstraction: the
horizontal bands of ethereal sky
mountain, range, sea and chiseled buildings
anticipate Cezanne's cubic Bay of
Marseilles as well as Rothko's atmospheric
rectangles.

Rooftops was painted on paper
and is only about 12 x 18 in. The Brooklyn 
installation features a series of small works in
sumptuous frames dotting a single line in
historically detailed galleries. In our
commodified art culture that configuration
signals jewel-like preciousness, but, 
historically, the compact dimensions
indicate the works' marginality, if not
valuelessness. The surfaces were small to
facilitate transport, as these early
landscapists trekked to sites with their
studio in a box. And while the profession
of art in the early 19th century was in
transition, with the practice of producing
commissions for patrons evolving into one
of self-generating images on speculation in
hopes of sale, these landscape studies were
really labors of love. As Philip Conisbee
observes in the catalog, very few of the
works in the exhibition were either
exhibited or sold during its creator's
lifetime. The hierarchy of acceptable
subjects for formal Salon presentation
positioned history painting at the zenith
and landscape toward the nadir (just above
still life). When Corot produced his
Basilica of Constantine (the billowing
clouds framed by right and left
architectural masses as if in a vise)
during his Italian sojourn, 1825-28, the
tawny study may have served a larger work, 
but it itself undoubtedly remained in his
portfolio, as did most studies, until his
estate sale.

By comparison, Corot's larger, more formal, 
narrative scenes painted for the salon, 
his portraits and especially his mid- and late
career landscapes sold well and garnered
him an eminent position among both the
public and fellow artists. All of these are
on view in the Metropolitan's "Corot
" the bluntness of the title indicating the
breadth of the show. One reviewer
complained that the exhibition includes too
many weak works, such as the immature 1838
Silenus, a fantasia of frolicking baccantes
in a forest clearing. But he seemed to be
seeking a masterpiece theater. This is the
Met--where a retrospective begets the full
regalia--from juvenilia to doddering
doodles! (Actually, no drawings or prints
in this one.) If one doesn't have the
curiosity of a connoisseur, which can be
satisfied only by the Met and a few other
institutions, then breeze through Corot's
salon stories to his landscape rhapsodies
of the 1850s to the 1870s.

Corot's fame ascended, and has remained
aloft, in response to the depth of feeling
infusing these mid-career meditations on
silvery light and shadowed forests. The
style here is Romantic, with the artist
serving not as an eye but a sensibility, 
an absorbent soul whose images manifest these
innermost sensations.  His 1864 Souvenir of
Mortefontaine exemplifies this spirit of
reverie, what the phenomenologist Gaston
Bachelard called a "twilight state where
diurnal and nocturnal life mingle." The
"souvenir" in this and several other Corot
titles connotes remembrances. The memories
seem to be of something past, lost, gone or
disappearing, signified by the dusky light.

The mood is not lugubrious mourning but
graceful melancholy; in his lifetime, 
Corot was renowned as the "poet of landscape."
The transition from Corot's Roman morning
to Parisian afternoon can also be described
by Robert Smithson's 1968 statement about
earth projects: "The gardens of history are
being replaced by sites of time."

After the pleasure of merging with these
reveries, Corot's figural works are less
affecting. Several pictures show solitary
women lost in thought--the female as
traditional personification of the
reflective inner life and here the figural
equivalent of his meditative landscapes.
But his Lady in Blue is particularly
engrossing. Study it to try to determine
why this subdued view of the standing
woman, presented to the public at the 1900
Exposition Universelle 25 years after the
artist died, created such a sensation. Was
it because of her self-absorbed independence?
Today seeing it almost a hundred years later
with a vision conditioned by our own time, 
some of us also observe the beautiful nude arm and
feel a sensation called biceps envy.

"In the Light of Italy" was jointly
organized by the National Gallery of Art, 
Washington, D.C., the Brooklyn Museum and
the Saint Louis Art Museum. Seen at the
National Gallery last summer, it will be at
Brooklyn until Jan. 12, 1997, and in Saint
Louis Feb. 21-May 18, 1997. Its catalog is
very informative about the development of
landscape painting.

"Corot" was jointly organized by the
Metropolitan Museum of Art, the Reunion des
musees nationaux, France, and the National
Gallery of Canada, Ottawa. It has been
shown at the Grand Palais in Paris, 
Ottawa's National Gallery, and closes at
the Metropolitan on Jan. 19. It is
accompanied by a catalog and an extensive
series of public programs.

SUZAAN BOETTGER is an art historian and critic in New York.