Jacques Derrida at
"Artaud: Writing /
Drawing." Photo
Peter Bellamy.


The Artaud panel
(l. to r.): Nancy
Spero Margit
Rowell Gayatri
Spivak. Photo
Peter Bellamy.
Antonin Artaud: The
Minotaur 1946
graphite and
wax crayon.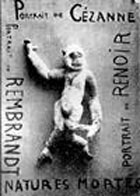 Two monkey images
from Suzanne Anker's
presentation at
"Monkey Business."

The "Monkey Business"
panel (l. to r.):
Kirby Gookin Ellen
Levy Suzanne Anker
Robert Shapiro
Jeffrey Deitch.
panelmania:
from artaud
to 2001

by Suzaan Boettger 


Plopping onto the folding chair next to me
the woman exclaimed to her friend "Got in!
Got a seat! Whew--I feel like I'm at a rock
concert!" Yes, there was a sense of
breathless excitement--no, actually, it was
relief--at finally being seated in the
rapidly filling audience, albeit not with
music fans but theory mavens. In a few
minutes, the Master of Deconstruction
himself, the French philosopher Jacques
Derrida, along with his famous-in-her-own-
right translator, the literary theorist of
feminist and cultural "Otherness
" Gayatri Spivak, the well-known artist, 
Nancy Spero, the Museum of Modern Art's 
chief drawings curator, Margit Rowell
and the poet and Artaud translator Clayton
Eshleman would discourse on the mad art of 
Antonin Artaud (1896-1948). Moderating the Oct. 11
evening at New York's Drawing Center was
Sylvere Lotringer, who, like Spivak, is a
Columbia University professor, and is
author of Antonin Artaud and editor of
Semiotext(e). Lotringer organized the
several upcoming evenings at The Drawing
Center in conjunction with the Museum of
Modern Art's exhibition "Antonin Artaud:
Works on Paper" (to Jan. 7).  The talks'
SoHo locale, the organizers soon explained
was to mix uptown and downtown cultures.
But while the advantage of this missionary
work was having Derrida as a local
attraction, foregoing MOMA's own large
auditorium (with the roomy, padded seats)
generated a ticket frenzy. Still outside in
the cold, this SOLD OUT event's line of
ticket hopefuls was three times as long as
that of ticket holders.

And what SoHo art fan is so insular that
she wouldn't go to "up" to MOMA for a
lecture hall of sufficient size (and
comfort)? "Mixing" is the motif of the
decade; the evening exemplified this with
its theme, "Artaud: Writing/Drawing." Ditto
for a panel the night before, Oct. 10, at
the School for the Visual Arts on East 23rd
Street, where speakers had contemplated
interactions between art and science to
another packed audience (about which more below
below). Interdisciplinary theory analyzes
work with high-and-low sources made by
artists forefronting their multi-cultural
and -racial, gender-bending identities for
a system of commodified culture: all
breaching the former discrete categories of
the bourgeoisie.

At the Drawing Center, Rowell began by
recalling being "thunderstruck when [in
1993 she] first saw the Artaud drawings."
Artaud has chiefly been known through his
writings: his Surrealist theories of a sub-
verbal, physically primal "theater of
cruelty" were anthologized in his 1938 book
The Theater and its Double (1938).
Encountering Artaud's images, she "felt
stripped bare by the eyes of his portraits."
She described the "gestures of violence", 
evident in his letters from the late 1930s--sheets
whose rips and burns manifested their mutilated texts
synthesizing writing and drawing. These he
sent from mental institutions across
France, to which, after a violent episode
in 1937 when acting on a paranoid delusion
he was confined until 1946. During the
extended period when he received numerous
experimental electroshock treatments at the
Rodez asylum in SW France, Artaud produced
his brutal "schizophrenic drawings"
sometimes while in a trance, chanting to
himself. After his release (finessed by
friends), his more composed portraits
albeit with darkly penetrating gazes
poured forth.

Next, Spero read a brief declaration of her
identification, as a woman, with Artaud's
"sense of victimhood." Written several
years earlier, Spero noted that the
statement had made her part of the "Artaud
industry, " but here that passive identity
seemed both dated (Spero's well-regarded
works are presently on view in SoHo at New
York Kunsthalle, PPOW and Jack Tilton
Gallery) and irrelevant.  Spivak then
acknowledged the contingency of her own
remarks with her characteristic bow to
"alterity", saying she "cannot claim the
place for the Other." Charmingly bracketing
her commentary with the repeated statement
"I know little about Artaud, " she offered a
riff on Artaud's "imposed heteroglossia"--
the different tongues in which he spoke--
the "series of inversions and crossing
polarities" of his, "writing/drawing/cursing/singing."
Eschelman added biographical information
and described Artaud's tumultuous theater
work as a "phantasmagoria compilation of
Artaud's own life."

Derrida had not prepared remarks, as he had
lectured the previous night at MOMA and
seemed to presume we'd all been there
(Derrida groupies?). Nevertheless (or
because of that), his impromptu analysis of
Artaud's work was subtle yet clear.

Artaud's merging of genres is made for
Derrida's post-structuralist elision of
binary oppositions, which initially
addressed those between the acts of
"speech" (presence) and "writing"
(representation of the absent), then the
mutual embeddedness of "writing" and
"reading" (creation and reception) and the
ambiguous multiplicity of voices encoded in
writing. Here, agreeing with Rowell that
Artaud's works suggest "spells
" the Mix Master noted that it displays no authority
of the "verbal" over the "visual"--both are
in free play. He also claimed that while
Artaud was aware of current artistic
styles, his works disrupted the sequential
history of art. Derrida emphasized the
performative aspect of the work, stating
that "All of Artaud's works participate in
an urge to DO something not just EXPRESS
something." They "produce an event in the
act of writing and drawing ... they are
events directed at an addressee." Instead
of projecting a "French" sensibility
they, evoke an "immediately universal glosso-
poetics." Thus countering the reductive
view that Artaud's works are signs of
pathology, Derrida asserted that they are
"not only lucid--they illuminate us on what
it means to be dispossessed."

This theoretical sampler served to expose
some famous literary critics to SoHo, but, 
it suffered from a liability increasingly
common to panel presentations, evident as
well the previous night at SVA: it had at
least one too many participants and too
encompassing a subject. On both nights, the
result was a series of too-condensed
lectures by individuals, allowing only
abbreviated conversational discussion
either among themselves or with the
audience.

In the mid-to late 1980s, the steeply
stepped SVA auditorium was THE hot site for
topical discussions, before even the brief
tenure of the October magazine literati at
various symposia held by the Dia Center for
the Arts, which in turn has been superseded
by the Drawing Center's timely events.

Here, the SVA panel tackled a futuristic
topic, but perhaps too ambitiously, mixing
references to simians, scientists and those
gesturing monkeys-cum-theoreticians--
artists--in a discussion of "Monkey
Business: Art & Science at the Millennium."
Suzanne Anker, a sculptor, theorist and SVA
art history instructor, organized and
moderated this grandiose topic "to shed
some light on some issues." Yet her
rhetorical introductory gambit, asking the
question, "What is it that separates us from
the Great Apes, if anything at all?" was so
broad as to promise only generalities in
response. Beginning with a litany of monkey
images in popular culture and art history

Anker demonstrated amusing examples of
anthropomorphism or of humans' ambivalent
attitudes about our connections to the
natural world.

Jeffrey Deitch, director of the
adventuresome Deitch Projects, then showed
slides from the bold exhibition "Post
Human" he curated a few years back
which, included work that played on genetic
engineering, but otherwise had little to
say. Next, Ellen K. Levy also showed a
series of monkey images for a metaphor that
by now was becoming too cute. Levy, a 
painter whose imagery is informed by
mathematical "complexity models
" intently, read her paper
which made her intricate ideas inscrutable 
to me; I refer readers to the fascinating 
issue of the College Art Association's 
Art Journal on "Art and the
Genetic Code" (Spring 1996). Art historian
and critic Kirby Gookin insightfully
interpreted the classical practice of
idealization (designing a beautiful body by
adopting the perfect aspects of multiple
physiques) as an esthetic predecessor to
genetic engineering.

Lastly, NYU professor of chemistry Robert
Shapiro's witty and relaxed presentation of
the search for the genetic code of sickle
cell anemia had the art school audience
rapt. One of his provocative comments was
that, as much as artists incorporate
science, they also influence it, not only
by their picturing of sub-visible elements
but by the consciousness they and their
works manifest. But the necessary
application of ethics to genetic
engineering can't be left to either artists
or scientists, and will undoubtedly keep
the art/science dualism in a dynamic
equilibrium.

An installation of Artaud's drawings is
also on view at Exit Art/The First World
through Dec 21.  Films by Artaud will
be shown at the Anthology Film Archives
through Nov 3.

SUZAAN BOETTGER is an art historian and critic in New York.