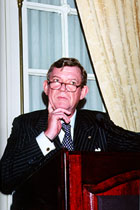 Robert Hughes
speaking at Dorothy
And Lilian Gish Prize
ceremony for
Robert Wilson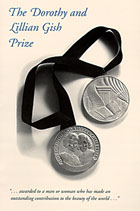 Dorothy and Lilian
Gish Prize
Robert Wilson
Photo: Sandy Geis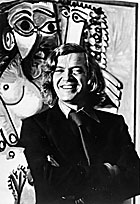 Robert Hughes
in younger years

hughes votes for
an adult n.e.a.
by Suzaan Boettger
When patrons and colleagues of avant-garde
theater impresario Robert Wilson gathered
on Oct. 17 to see him accept the 1996
Dorothy and Lillian Gish Prize of $200,000
the real treat turned out to be Robert
Hughes' passionate oratory on the current
debate on arts funding in the U.S. The
celebrated author and critic, who penned
the commanding Time cover story last year
(Aug. 7, 1995) in defense of the NEA, would
steal the show with some pointed remarks
advocating art as an adult pleasure
an, authentically creative "virtual reality"
for grown-ups.

The ceremony was preceded by a cocktail
hour in the stately, darkly-paneled library
of a New York private club, where Lou Reed and
Laurie Anderson conferred next to the ornate
mantle, Susan Sontag conversed near the
drapery swags and Allen Ginsberg pulled out
a bunch of identical CDs from his satchel
and passed them out (hawking his "Howl"
performed with the Kronos Quartet?). As the
nicely dressed crowd tightly jostled each
other toward the ballroom, this year's
selection committee (director Andre Bishop
composer David Del Tredici, curator and
museum consultant Martin Friedman
editor, Jonathan Galassi and theatrical designer
Julie Taymor) took their seats up front.
(Yes, every juror could potentially take
part in a future Wilson "gesamtkunstwerk"
production.) Everyone waited for the
honoree to arrive.

After a few minutes, Wilson strode in. (Was
the guest of honor's unexplained tardiness
intended to signal the event's
insignificance for him? His own anxiety?)
The rudeness was graciously overlooked by
the master of ceremonies, Chase Manhattan
Bank vice-president Stephen B. Boies. Given
the festive occasion, the "remarks" by
Robert Hughes, on the subject "Art for
Grown-ups, " were remarkably astringent.

Introduced as having just come from London
after completing the final segment of a
BBC-produced television series on the
history of American art, Hughes launched
his talk by quoting John Quincy Adams'
statement that "for a government to refrain
from supporting the arts would be
treachery." The native Australiander then
identified two myths Americans hold about
art: that newness--novelty, innovation--is
a central element of good art, a notion
that derives from the myth of America's
pioneer spirit; and that art should be
morally uplifting and educational
serving, social improvement. Setting aside the
first, he pointed out the fallacy of the
latter, noting that if art was so morally
beneficial, art critics like himself who
spend so much time in its presence would be
sanctified into Mother Teresas--which they
aren't. Neither do Rothkos in a boardroom
he noted, prevent corporate crime.

Lambasting politicians for taking an
instrumental view of art's power
Hughes, castigated both lawmakers ignorant of art
who have decimated the NEA budget and
President Clinton for failing to articulate
a firm defense of arts funding
as did his, presidential predecessor
Adams. Describing, Clinton's own lack of culture
Hughes cited, the then-president elect's choice
of Maya Angelou as his inaugural poet--who he
sneeringly likened to a "black female Rod
McKuen." The audience of aging baby-boomers
laughed knowingly at this reference to the
sappy versifier popular during their 1960s
youth. Hopefully, they also recognized this
as a cheap shot against inclusiveness.

After all, Clinton-mentor JFK's choice for
his inaugural poet, the beloved patriarch 
Robert Frost was no less a politically motivated
selection.

Hughes pointed out that political debate
for arts funding has pivoted on art's
relation to children: the Republicans
declaim art as a corrupting influence
while Democrats--particularly Hillary in
her new role as maternal homemaker--justify
art programs for their didactic value. Yet
on the contrary, Hughes asserted, real art
is for grown-ups. With his characteristic
fluency, he rapidly listed several things
art is good for--"it makes us more
conscious of the world; we make contact
with the subjectivity of others; it orders
experiences; gives us visual pleasure
and, sometimes ecstasy." While acerbically
transgressing what he assailed as the
constrictions of the "two PCs"--"patriotic
correctness and political correctness."

After Museum of Modern Art President Agnes
Gund's mushy laudation of Wilson, the 
artist accepted the Gish sisters' award
named for the two long-time actresses and
established in Lillian Gish's will to award
the net income of her trust to an artist in
the area of performing arts "who has made
an outstanding contribution to the beauty
of the world and to mankind's enjoyment and
understanding of life." Expressing his
appreciation, Wilson stated that he wished
to donate it to his Watermill Center (an
institute for the development of new work
in the arts in the Hamptons), where it
would benefit many artists. In terse
remarks punctuated by dramatic silences
he, noted that it has been discovered by their
rapid eye movements that babies are born
dreaming. "What do they dream?" he
ponderously put to the effete audience
before they adjourned for further libations
and to contemplate the conundrums of the
evening.

SUZAAN BOETTGER is an art historian and critic in New York.