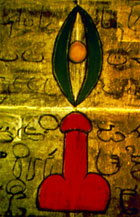 Arahmaiani
Lingga-Yoni 1995.














Dadang Christanto
Kekerasan 1995.















Bhupen Khakhar
An Old Man From Vasad Who Had Five Penises Suffered from Runny Nose 1995.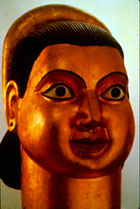 Ravinder G. Reddy
Head IV 1995.














Ravinder G. Reddy
Woman '95 1995.















Choi Jeong-Hwa
"About Being Irritated" -
The Death of a Robot. 1995.















Choi Jeong-Hwa
Miss Korea 1994.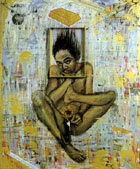 Chatchai Puipia
Toe Sucking is Best 1994.















Jakapan Vilasineekul
Thailand Can You Cover a Dead Elephant with a Lotus Leaf 1993-94.














Heri Dono
Ceremony of the Soul 1995.
















Sanggawa Group
The Second Coming (detail) 1995.







contemporary art
in asia:
traditions/
tensions

by Peter von Ziegesar




"Contemporary Art in Asia:
Traditions/Tensions" is a rather pioneering
exposition appearing simultaneously at the
Asia Society, the Queens Museum and NYU's
Grey Art Gallery, but its title is
something of a misnomer. Major parts of the
Asian continent are missing from the show:

the art of Japan and China, to start with--

Japan, perhaps, because its contemporary
artists are too permeated with American
sensibilities, and China, probably because
its art is, at present, too repressed and
meager to make a decent showing. Missing
too, are the myriad countries of the Asian
third world: Burma, Vietnam, Cambodia, 
North Korea and the Muslim 'stans--
Pakistan, Turkistan and so on.

Thus, "Contemporary Art in Asia" is not
really meant to be comprehensive; above all
it is a display of the bulging muscles of
Asia's bustling new "middle-class": India
Indonesia, the Philippines, South Korea and
Thailand. These countries of the Pacific

Rim (except for India), known popularly as
the "Little Dragons", have economies that
are, famously, growing at 10 to 15 percent
a year. Their cities are exploding with
undreamed-of and certainly unplanned-for
populations, their air and water are
simmering in a deadly drench of industrial
pollutants, their forests rapidly uprooted
and sold off as lumber, and their
indigenous cultures are being rooted out
and destroyed at a rate only matched by
what the U.S. did to its own Native
populations in the last century.

Twenty-seven artists are represented with
59 works of art, but the exhibition still
retains a remarkably uniform appearance and
set of sensibilities. Through a series of
rigorous choices, curator Apinan
Poshyananda has given an American audience
pretty much just what we would want in a
show of Asian art; a largely figurative
installation that is heavy on exotic
materials (cow dung, for example) and
unusual smells and spices, whose imagery is
drawn from folk and indigenous cultures
and whose sympathies are primarily with the
common folk whose lifestyles are fast being
eliminated by progress-happy
administrations everywhere along the
Pacific Rim.

Reasoning, perhaps correctly, that a New
York art audience would run from Bombay
knock-offs of Frank Stella or Donald Judd
Poshyananda has excluded any traces of
Modernism at all, including Minimalism and
abstraction. The show also eschews
formalism, appropriation and the whole
question of how art is sold, marketed or
displayed. (Contemporary abstraction of an
interesting and original sort can be found
in Asia, as was shown in last year's Grace
Borgenicht Gallery exhibition of
contemporary Korean artists--though many
were American-trained.)

A duo of performances by Indonesian artists
in Soho's Gallery Z gave a preview of the
flavor of the exhibition. Arahmaiani, a
Muslim woman artist, began her performance
by lying supine in a large, white packing
crate. Dressed in a gauzy dress and wearing
a high turban woven through with Christmas
tree lights, she then danced mysteriously
around a shrine made of candles, four tape
players and a Coca-Cola bottle with a
condom on its lid, while a pair of
miniature, robotic GI Joes gut-crawled and
strafed the audience's feet, adding the
right touch of mayhem. Arahmaiani's
graphically explicit painting, Linggha-
Yoni,  brought together sacred sexual Hindu
imagery (an erect penis and a vulva showing
a clitoris) and writings from the Koran
within a single frame. Considering the fate
of the author of The Satanic Verses
 one, wonders whether Arahmaiani is not taking a
deadly chance in promoting cultural and
sexual diversity within a Muslim state.

For his Gallery Z performance, Dandang
Christanto (identified as a member of the
politically-active Javanese New Art
Movement) lathered his body with white
clay, then smashed terra-cotta alien heads
with an aluminum baseball bat. (Whatever
these eclectic and rather goofy
performances might have conveyed to a
Japanese audience, one result for myself
was that I quickly realized I was not in
Kansas anymore.) In his installation at the
Asia Society, Christanto piled several
hundred of the same clay-pot alien heads in
a long Bandung-style pyramid, declaring in
a statement that their witless features and
empty heads were inevitable products of a
cultural system that took away all choices
from its constituents.

Western artists tend to deal with sexuality
almost solely in terms of how it appears in
the mass media, but the Asian artists here
used erotic imagery with a gentle, grounded
humor. Bhupen Khakhar's An Old Man from
Vasad Who Had Five Penises Suffered from
Runny Nose),  painted in broad, oil-wash
strokes, makes the whimsical (and perhaps
surreal) point that while one might expect
to see almost any strange thing in his home
village of Vasad, runny noses are rather
rare there. Khakhar is one of the few
openly gay artists in India; the ironic
subtext of his painting of a Sakhibhav (a
male follower of Krishna who traditionally
dresses in women's clothes) was that
while, Khakhar cannot openly display his own
sexuality, cross-dressing followers of
Krishna may do so with the blessing of both
government and religion.

Likewise, Ravinder G. Reddy's broadly-
caricatured, sexually-ravishing nudes are
sculpted in fiberglass in the brightly-
colored style of India's religious street
art. Reddy's women displayed not only the
sanctioned sexuality of ancient Hindu
sculpture, but with their exaggerated
breasts, hips and facial features
were disturbingly contemporary as well--one
thought not only of temple prostitutes
but, of India's newly enfranchised female office
workers. I was reminded of the erotic
"fiesta" women of Chicano sculptor Luis
Jimenez, who also works in fiberglass and
uses the bright metallic colors of pachucho
cars to bring alive aspects of barrio
street culture.

The Little Dragon artists shone brightest
when they turned their acerbic wit upon the
pretensions of the hard-core military men
(and incompetent planners) that run their
respective countries. Korean artist Choi
Jeong-Hwa's About Being Irritated--The
Death of a Robot,  a giant, bright-orange
Power Rangers-inspired blow-up toy that
staggered and puffed and tried to lift
itself off the floor of the Queens Museum
gallery, but in the end always fell back
exhausted, was a perfect parody of the
technology-first attitude upon which the
South Korean economy is literally betting
the farm. Choi also presented a bulbous 20-
foot golden pig that hung from the ceiling
of the Asia Society lobby, periodically
inflating and deflating, and a mock banquet
of plastic pig heads arranged on salad
platters. Both pieces played upon the
opposing connotations a pig has in the East
and the West (In Korea, the pig brings
prosperity, luck and health; here, it
denotes avarice, greed and self-destructive
behavior). Both works successfully needled
his country's addictive attachment to the
idea of a endless run of prosperity--an
notion that has long grown stale in the
U.S.

Many of the political works are quite
literally illustrated slogans. The artists
of the Baby Dragon's most recent baby boom--
perhaps ten years younger than our own
boomers--are a rebellious bunch who
apparently feel beholden to no one and no
thing--certainly not the U.S. art
establishment that has ignored them
certainly not their own repressive
governments or religious institutions.
Their artwork flings courageous hot barbs
at colonialism, the mutagenic process of
forced industrial development and the
ineffectual status of organized religion--
Hinduism, Islam, Buddhism, Catholicism.

Nevertheless, in countries that routinely
shoot down rebellious students and imprison
dissidents, intellectuals and artists
resort to allegory and sly wordplay to
express their frustration with current
events. Thai painter Chatchai Puipia's
humorous self-portrait, Toe-Sucking is
Best, shows the artist in free-fall
sucking his own toe, following a Thai
aphorism that approximates the idea of an
ostrich with its head in the sand.

Likewise, Jakapan Vilasineekul sculpted a
crude elephant head to illustrate the Thai
saying "Can you cover a dead elephant with
a lotus leaf?"--protesting government
censorship squashed news reports of a
massacre of student protesters in the early
'90s.

Asian artists do not spare the various
religions that in our own spiritually
parched country are often viewed
at least, from a distance, with
exaggerated awe (i.e. Hinduism, 
Buddhism). In his installation
piece, Evening of the Soul 
the Indonesian artist, Heri Dono
created a Night of the Living
Dead-like array that openly mocks
the revered ancient sites of Buddhist
sculpture in Borobudur. In Dono's version
the formerly sacred images have been
thoroughly penetrated and subverted by the
accouterments of Western capitalism
their hearts replaced by prosthetic
radios set to cheesy AM stations, their
eyes bug-like and alien, with mutant
extra breasts, hinged puppet arms and 
flicker-bulb hands.


The Philippine political collaborative
Sanggawa Group has done its best to skewer
the Pope and an unfortunately named
Cardinal Sin in a series of apocalyptic
wall murals that echo Thomas Hart Benton.

"Contemporary Art in Asia:
Traditions/Tensions" is an exhibition that
doubtless will have a broader splash back
home than it does here (where it has
received a minimum of attention) as its
younger, politically-aware artists leapfrog
dramatically over the backs of older
artists who in Asia's rigid hierarchies
have been accustomed to receiving whatever
driblets of international attention have
been available. Without erasing the
suspicion that we in the West are in some
sense being pandered to with work that is
easily digestible, this show is, 
nevertheless an important first step
and, an opening wedge into what will soon
no doubt, become an avalanche of important new
art from these hitherto overlooked Asian
countries. Its artists display none of the
sense of apology, the asterisk that one
sometimes adds on to shows of regional
artists. Instead they appear ready to be
held and judged on the world's arena right
now, along with the young artists of Europe
and the United States.

"Contemporary Art in Asia:
Traditions/Tensions" at the Asia Society

725 Park Avenue (at 70th Street), New York, NY
Oct. 4, 1996-Jan. 5, 1997; the Grey Art Gallery
100 Washington Square East, New York, NY
Oct. 4-Dec. 23, 1996; and the Queens Museum
Flushing Meadows Corona Park, Queens, NY
Oct. 4, 1996-Jan. 5, 1997.

PETER VON ZIEGESAR is a writer and filmmaker who lives in New York.