Frantisek Kupka
Localization of Graphic Mobiles
1912-13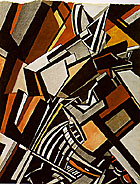 Wyndham Lewis
Composition
1913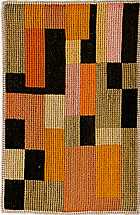 Jean Arp
(embroidery by Sophie Taeuber)
Pathetische Symmetrie
1916-17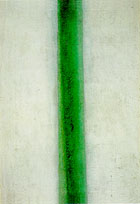 Olga Rozanova
Untitled (Green Stripe)
1917-18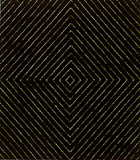 Frank Stella
Jill
1959














Wojciech Fangor
M-40
1969













Richard Long
Carrara Line
1985













Gerhard Richter
December
1989














Stripe painting
kid division:
Goober Grape













Abstract art stuff
in the Guggenheim
Soho shop window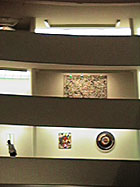 Installation view













Ilyse Soutine
Room Painting
1996














Robert Burke
Infidelities
1995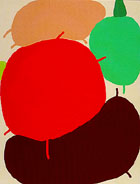 Monique Prieto
Small World
1996













Valerie Jaudon
Artists and Models
1995














Mark Dagley
Vanishing Point
1994
For a brief moment in early February 1996, the entire New York art world was flush with abstract-art fever. Everywhere you, went there were people ready and willing to talk about abstraction. The cause of the hubbub was "Abstraction in the 20th, Century: Total Risk, Freedom, Discipline" at the Guggenheim Museum uptown, Feb. 9-May 12, organized by National Gallery of Art 20th-century curator Mark Rosenthal (he used to be at the Gugg). Here laid out for all to see was the "infinitely beautiful realm of spirituality articulated in a universal visual language, " as Thomas Krens put it so well in the foreword to the, sumptious, 310-page catalogue, which I was surprised and happy to receive in the mail (though I notice the editors neglected to include a simple and clear list of the works in the exhibition).

The extravaganza is underwritten by Philip Morris, the tobacco merchant whose sponsorship of the Conceptual Art survey at, the Los Angeles Museum of Contemporary Art caused such a fuss a few months back. No such luck here on Fifth Avenue, though Rosenthal did say on the radio that in one case the sponsorship caused a problem. He didn't elaborate. How many artists in the show died of lung disease? How many not in the show died of lung disease?

Anyway, to get back to the subject at hand: "Abstraction" was six years in the making and features 136 works by 49 artists, ranging from Kandinsky, Malevich and Mondrian to Martin Puryear.

And everybody's complaining about it. The Stellas are bad, they say. Why so many Kleins? Where's Marden? Where's Noland? How could the Guggenheim leave out Hans Hofmann? The Kellys are okay, but they're the wrong ones. Where are the women? (There are four.) What about Warhol and Johns?

Since when is a bunch of rocks, that is, Richard Long's Carrara Line (1985), in the collection of the Gugg, abstract? And I myself gotta say, hey, where the hell are Richard Prince's new abstractions with their computer-generated, silkscreened scribbles?

Michael Kimmelman of The New York Times griped that you can walk from the lobby up the spiral ramp to the very top, "and not once be genuinely startled by the choice of an artist, " excepting "a lone Marsden Hartley painting or the designation of some de Koonings as pure abstractions." Kimmelman also called the age cut-off "a mistake"--none of the show's artists are, under 50 (the two youngest are Puryear at 54 and Richard Long at 50).

New York magazine art critic Mark Stevens gave the show a backhanded complement, viz.: "the criticisms that came to my mind -- concerning omissions, the depth of the presentation, the familiarity of many works, the elusive meaning of the word abstract itself -- seemed quibbling when compared with the serious pleasure provided by this show."

Robert Hughes at Time complained that the "the field is too vast" to be covered in one show. "You get a highly, conventionalized narrative of golden oldies that seems both too extensive and not extensive enough." The show's "main, virtue, " Hughes claims, is Rosenthal's "connoisseur's eye." He spent most of his space treating his readers to a thumbnail, history of abstract art. So did Arthur C. Danto at The Nation, who couldn't resist exclaiming, "Eight Rymans and not a single Motherwell or Mangold!"

"The show contains few masterpieces, " wrote Newsweek critic Peter Plagens, an abstract, painter himself. "Abstraction is treated as a kind of off-the-bolt style: Any three yards of an artist's canvas is apparently, as serviceable as any other." Plus he kvetched about the selection. "No Robert Motherwell, no Richard Diebenkorn and no, Joan Mitchell...no sculpture by Anthony Caro or Louise Nevelson." And as for Richter, Plagens noted with characteristic, wit, "He's about as committed to abstraction as Congress is to the NEA."

For Peter Schjeldahl at the Voice, "conceptually, the show can't help being a mess, because abstraction in art is a, miserable concept." It's hard to tell quite what he means by that, but he seems to have a low opinion of "newfangled religiosity, " preferring instead abstraction that emphasizes the material conditions of its own production.

The champion complainer of the mainstream press, Hilton Kramer of The New York Observer, topped them all. "Rosenthal has allowed himself to be distracted by the exigencies of museological showmanship and the pressures of special interests, " Kramer moaned. As a result, we have "neither a coherent account of the complex history of abstract art nor a persuasive account of its present artistic condition. Instead, we are treated to fragments of the subject's history alternating with a smattering of some overblown contemporary reputations." Hilton goes on to grumble about the omissions: where is Constructivism, where is De Stijl? Where is the Bauhaus, Paul Klee, early American abstraction?

So much complaining can only mean one thing: It doesn't really matter. Plagens was onto something: art in museums by, established names is by definition an "off-the-bolt style, " with one work as good as any other. As John Cage might say, "That, way's good. And so's that way." It is the institutional frame that counts.

Most of the mainstream critics, who love art and who do actually want the average Joe to go see the show, hasten to affirm, the beauty of the artworks and the connoisseurship of the curator. This lapse into a 19th-century estheticism seems to have been a cornerstone of Rosenthal's curatorial strategy, which was focused on selling a presumably difficult subject -- abstract art -- to a presumably hostile public. Unhappily, this approach --the appeal to beauty-- tends to drain the works of any serious contemporary meaning.

Selling abstraction to the public is a misguided venture, to be sure. Whatever nonspecialists might think of it (and who cares, anyway?), "Abstraction" is the common language of the art world. Everyone in the art profession has something to say about it, the same way that everyone over a certain age is an expert on dieting.

Before we go further, can we list what's in the show? There's no checklist in the catalogue:

Tatlin (2 works, both reconstructions)
Kandinsky (8)
Mondrian (10)
Malevich (6)
Kupka (1)
Balla (1)
Delaunay (1)
Wyndham Lewis (1)
Jean Arp & Sophie Tauber (2--Sophie embroidered one of Jean's designs)
Gabo (1, an original)
Rodchenko (1, a reconstruction)
Bolotowsky (1)
Moholy-Nagy (1)
Rebay (1)
Bauer (1)
Leger (1)
Rolph Scarlett (1)
Jean Xceron (1)
Brancusi (1)
Schwitters (1)
Miro (3)
Albers (2)
Calder (3)
Hartley (1)
Rozanova (1)
Kline (1)
de Kooning (6)
Frankenthaler (1)
Pollock (5)
Newman (6)
Rothko Rauschenberg (a white monochrome one)
Still (1)
David Smith (1)
John Chamberlain (1)
Ad Reinhardt (1)
Tony Smith (1, the sculpture Die viewable for once from above, so you could see its top)
Ellsworth Kelly (7)
Burri (1)
Fontana (1)
Klein (5)
Dubuffet (1)
Agnes Martin (5--in her own gallery)
Stella (5)
Andre (4)
Flavin (1)
Judd (3)
Ryman (9)
Eva Hesse (2)
Robert Smithson (1, a mirror piece)
Richard Serra (3)
Richard Long (3)
Richter (3, all muddy black ones)
Puryear (3)


As curator, Rosenthal deserves acclaim for carrying off the massive undertaking that a show like this represents. But I have to, say, as proved by the endless quibbles about its makeup, the show could have curated itself.

What are the artists saying about "Abstraction, " the unabashedly institutional product that it is? It's monolithic, exclusive, formalist, a lineup of great hits that stay carefully inside the frame inside the museum (Richard Long, with his impeccably neat hand-painted mud circles and even rectangular rock piles, epitomizes this trope). Such an exhibition holds that each work in the series of bays running up the Guggenheim's famous ramp was created in isolation by a single genius. We should all be so lucky. The presentation of masterpieces, ordered by their date of creation and ranging through the top of the art market, is exactly like that of an auction catalogue. The market rules.

Sadly, the show revives the utopian project as a museum piece -- notably at the quaint, very 1950s, Biomorphic Guggenheim --while the progressive ideal in society seems to have been completely thwarted. Risk and freedom may rule inside the museum, but discipline is the byword for Newt Gingrich's America. It's as if "Abstraction" were a kind of rear-guard action, mounted at the Guggenheim to enshrine modernism, ahistorically and asocially, at a time when modernism's progressive impulse is all but exhausted.

To have done the show from a postmodernist perspective would have been more illuminating historically and artistically, as well as a lot more fun. This notion is already contained in Rosenthal's exhibition, in the special gallery rigged up as a re-creation of the Museum of Non-Objective Painting, founded in 1939 by Solomon R. Guggenheim and Hilla Rebay. The avant-garde "period" design features unusually low-hung pictures on pleated velour walls, in a room with plush gray carpet, velvet upholstered seating and piped-in classical music. The gallery contains works by Kandinsky, Moholy-Nagy, Leger, Bolotowski and those who Danto calls "forgotten others"--Rolph Scarlett, Jean Xceron, perhaps Rebay herself and her lover and mentor, Rudolph Bauer. With its invocation of a broader social and artistic context, it's the most interesting gallery in the museum.

Other "pods, " as I would call these various groupings of work designed to give a more complex notion of abstraction, could be based on earlier museum shows--after all, why waste perfectly good work just because of curatorial competitiveness? An Op Art gallery, based on the Museum of Modern Art's 1965 "The Responsive Eye" exhibition (with works by Bridget Riley, Alexander Liberman, Agam, Victor Vasarely and Richard Anusziewicz, among many others), would have been fantastic. And I'd give a dollar to see an installation called "Color as Structure, " based on a 1970 show that Marcia Tucker curated at the Whitney Museum, featuring works by Stella and Noland but also abstract painters like Robert Swain.

And you'd want to present the entire Abstract-art thing in miniature, maybe as a collection of museum-produced refrigerator magnets. Or better, as a Richard Pettibone retrospective, abstract works only.

And you can't forget Earthworks and you can't forget body painting and jewelry. Dolmens, Stonehenge, pyramids, Spiral Jetty, Double Negative -- abstract forms have always had power, both as mystical signs and as decoration.

And you've got to have a gallery full of stripe paintings -- the form remains the same, only the movement changes. Newman (Ab-Ex), Agnes Martin, Sol LeWitt (Minimal), Noland, Louis, Gene Davis (Color Field), Buren (Conceptual), Bleckner (what, is he Postmodernist? Neo-Geo?). Do you include Matisse's French Window at Collioure (1914) from the Pompidou, four stripes, black, green and grey? And I had thought that an American had invented the stripe painting -- Barnett Newman -- but, according to "Abstraction" it was the Russian Constructivist Olga Rozanova with Untitled (Green Stripe).

I'm telling you, you could jam the whole thing into the Guggenheim, no problem.

You'd also want to include lots of artists under 50 (credit to Kimmelman), at least if you wanted to have an exhibition with some life in it. One of the great things about "Abstraction" is the sense that it extends out of the museum to every art show in town, both past and present. This is the most fun of all. Here are the abstract results of one quick gallery run around the, time of the opening of the Gugg show. At Steffany Martz, a new gallery at 580 Broadway, photographer Ilyse Soutine had, painted the entire space Prozac green, a light hue that saturated your rods and cones in that funny optical way. Over at, Petra Bungert, another new space on the third floor at 225 Lafayette, was a show of works on paper by Alan Uglow.

Minimalist arrangements of thin bars and notches on a plain ground. As Paul H-O noticed, his work looks a lot less abstract, once you find out its all based on soccer-field layouts. Paul also commended the vibrant colors and loads of work that went, into the paintings in Gary Lang's "Hague Project" at the 113 Crosby Street project space. At Tricia Collins Grand Salon were, paintings by Robert Burke; the one I especially liked was an energetic drippy splash of red and orange paint dotted with, little blue butterflies. It's not totally abstract, but what is in the Postmodernist era? Over at Bravin Post Lee there was one, little painting by Monique Prieto, filled with funny balloon-type shapes filled with solid colors and designed, I was told, on a computer; she has a solo show there Apr. 13-May 11. In the office at Mitchell Algus was a fantastic painting by Wojciech Fangor, a kind of blurry blue-and-red donut painting called M-40 (1969); a Polish national, Fangor made abstractions, throughout the 1960s and was included in MOMA's "Responsive Eye" (he now lives in Santa Fe and paints Polish figurative, subjects, Algus says).

Uptown were new paintings by Valerie Jaudon at Sidney Janis, slick black-and-grey canvases that looked like a cross between tribal tattoos and a psychedelic peppermint stick. At Joan T. Washburn were drawings by Bill Jensen that I don't really get; they were made in Italy and are very scribbly -- I guess they have something to do with nature. Mark Dagley's abstract paintings at Earl McGrath Gallery are playful in a Postmodernist way; from a field of spider-web designs to monolith of blue triangles or an Op-art orb made of yellow, red and blue dots, they give a sense of freedom and possibility that none of the ossified works in the Gugg had. Even MOMA's own abstract art show, called "Abstraction, Pure and Impure" [to May 21], assembled from its collection and presented quietly in a basement gallery, featured a range of rather more interestingly off-beat works, among them a Tony Smith painting, a Brice Marden gouache, a Sherrie Levine (after Malevich) and works by Buren, Jo Baer, Al Held, John McLaughlin and Myron Stout. Plus MOMA had up "Sol LeWitt: Prints, 1970-1995" [to May 7], a show that emphasized (to me at least) how unfair it is that one guy gets to lay artistic claim to every single simple arrangement of abstract elements you can think of and worse, gets to make a buck off of every one of them. There's got to be, more. If you actually read this far down, you should win a prize. E-mail us at magazine@artnet.com with your comments on "Abstraction" at the Guggenheim and we'll post them here.

"Abstraction in the 20th Century: Total Risk, Freedom, Discipline" at the Guggenheim Museum, Feb. 9-May 12, 1996


WALTER ROBINSON is editor of ArtNet Magazine.