The Milwaukee
War Museum and
Art Museum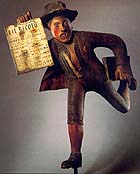 The Newsboy
1888
The Hall Collection








Entrance to the
Hall Collection,
with The Greeter








Monkey
ca. 1900
The Hall Collection







Michael Hall (l.),
Julie Hall and
Milwaukee Art
Museum director
Russell Bowman







Edgar Tolson
Original Sin
1970
The Hall Collection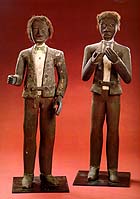 Pair of Black Figures
ca. 1880
The Hall Collection








The Sport World
ca. 1920s
The Hall Collection








Great Blue Heron
ca. 1900
The Hall Collection








Vestie Davis
Cyclone Coney Island
1976
Vogele Collection







Lanier Meaders
Face Jug
ca. 1985
Vogele Collection








James "J.P." Scott
Family Renunion ... No. 2
1995
Vogele Collection








Eugene Von Bruenchenhein
Untitled
1958







Eugene Von Bruenchenhein's
home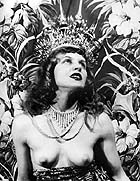 Eugene Von Bruenchenhein
Photograph of the Artist's Wife, Marie
1940s








Eugene Von Bruenchenhein
Eugene Thinks of Marie:
Montage by Eugene
1940s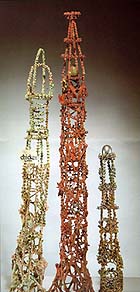 Eugene Von Bruenchenhein
Bone Towers
1970s
Milwaukee is best known for "brats and brew," but the city now boasts an energetic downtown gallery scene. Four times a year the dealers team up to promote Gallery Night, welcoming collectors, culturati and just plain folks to ramble through the galleries searching for treasures.

Perhaps because of its working-class heritage, Milwaukee is home to a number of collections of self-taught, folk or "Outsider" artists. Not least of these is held by the Milwaukee Art Museum, which made a commitment during the 1980s to build an outstanding collection of folk art. One notable acquisition was the Michael and Julie Hall Collection of American Folk Art, some 200-plus works acquired in 1989 through a combination purchase and gift. Considered second in breadth and quality only to the Herbert Waide Hemphill Jr. Collection at the National Museum of American Art in Washington, D.C., the Hall acquisition precipitated a flurry of additional donations.

After a tour of U.S. museums, the Hall Collection was recently reinstalled at the museum along with two other shows from the collection, rather single-mindedly titled "Folk Art Before the Hall Collection" and "Folk Art After the Hall Collection." Still another exhibition was on display: "Personal Voice: The Ruth and Robert Vogele Collection of Self-Taught Art," organized by the Krannert Art Museum of the University of Illinois, Champaign.

The Folk Art Society Conference
Considering that wealth of folk and Outsider art on view, the Milwaukee Art Museum was the perfect host for the 10th Annual Folk Art Society of America conference, Oct.16-19, 1997.

At the conference, museum director Russell Bowman unveiled plans to unite all the museum's folk art collections into a single department in its new facility, a fantastical winged structure overlooking Lake Michigan, due to open in 2000. Also featured would be the museum's holdings of Haitian art, the Richard and Erna Flagg Collection, one of the most important collections of its type in the country.

What works made the strongest impact? "Before Hall" had two moody Ryderesque landscapes by the self-taught Wisconsin artist Anna Louisa Miller that were the first works of folk art to enter the Milwaukee Art Museum's permanent collection, in 1951, only a few years after they were painted. Also notable were an Ammi Phillips portrait, a selection of Shaker furniture, a Pennsylvania redware plate, a wonderful pair of Prior-Hamblen School portraits and John Kane's Portrait of a Highlander from the 1920s.

The Hall Collection contains several pieces that have become folk art icons. Bruno Podlinsek's The Greeter (ca. 1982), a huge tin-man made of heating ducts, welcomed guests into the exhibition. The mysterious Pair of Black Figures (ca. 1880s), two life-size, painted and clothed carvings of men, was done by an unknown artist for an unknown purpose. Other attractions include what is possibly the largest whirligig in the country, The Sport World (ca. 1920s), and the moving tableau Fall of Man (ca. 1970) by the Kentucky carver Edgar Tolson, with whom the Halls had a long friendship. Decoys, both funky and fine, and an exuberant drawing by the evangelist artist Sister Gertrude Morgan delighted just about everyone.

"After Hall" contained acquisitions ranging from a sweet Grandma Moses landscape filled with communal activity to two drawings filled with mayhem and disaster by Henry Darger. Local Collector Anthony Petullo, whose own broad holdings of European and American folk and Outsider art were the subject of a traveling exhibition in the early 1990s, added an impressive number of European works to the Milwaukee Art Museum's permanent collection. One real eye-opener was a surreal drawing of two figures with a sexy snake by Friedrich Schröder-Sonnenstern.

Among the standouts in the Ruth and Robert Vogele collection were a procession of face jugs by Georgia potter Lanier Meaders and the cartoon-like colored-pencil drawings of Coney Island, teeming with individual figures, by Vestie Davis. Two carved critters by Felipe Archuleta of New Mexico, a vivid painting of a horse race in the home stretch by the Pennsylvania master Justin McCarthy, an enigmatic Woman Riding an Eagle carved in sandstone by Earnest "Popeye" Reed, and a colorful boat construction from James "J.P." Scott, the last more fractured that Duchamp's Nude Descending..., were notable, too.

Milwaukee Collects
Local collectors opened their homes to members of the Folk Art Society. Anthony Petullo was doubly generous in greeting people at his suburban home one day and at his downtown office the next. Both of his tasteful, modern spaces were full of works by European Outsiders, such as England's Madge Gill with her obsessive self-portraits interwoven with abstract designs and Italy's Carlo Zenelli with his unsettling double-sided drawings. Zenelli's repetitive, somber male figures in profile perforated by large holes, horses, stars and scribbled writings, all scrambled together without regard to scale, add up to powerful works. Texas Outsider Eddie Arning's richly toned abstract drawings based on magazine ads and the paintings by Kentucky-born William Hawkins, now also being shown at the Museum of American Folk Art and Ricco/Maresca in Chelsea, were some of Petullo's exciting American pieces.

What does a museum director collect? At Russell Bowman's three-story house, visitors could see a wide range of works by self-taught artists, including the drawings and glittering assemblage pieces of Wisconsin artist Simon Sparrow, blended in with works by the Chicago Imagists, a Philip Pearlstein, a wonderful, large male nude by Sylvia Sleigh in the living room, and an extensive grouping of American art pottery from the turn of the century onward.

The symposium of the Folk Art Society of America focused on folk art environments. Certain places in the United States -- California, a swath stretching from Georgia to South Carolina, and the Upper Midwest, including Wisconsin -- seem to contain more of these eccentric large-scale works than other locales. Discussions about site preservation were complemented by a bus tour to the John Michael Kohler Arts Center in Sheboygan, Wisc., one of the leaders in restoration efforts.

Wisconsin in Concrete
The Kohler Arts Center, about an hour from Milwaukee, is known for its residency program for artists, who are given access to the pottery and casting shop of the Kohler bathroom and kitchen appliance company. The residencies are administered by the Arts Center which also puts on exhibitions. At least four artists are in residence at a time.

The Kohler has also been involved since the 1970s in the preservation and restoration of several Wisconsin environments made by self-taught artists. Over the years, the center has evolved a model process for rescuing these often-problematic structures (and restoring the odd materials used to make them) and getting local groups to take over management of the sites once they have been stabilized.

One example of its work was the restoration of the 3.5-acre Wisconsin Concrete Park built in Phillips, Wisc., by Fred Smith, a lumberman, farmer and tavern owner. This well-known site, which was heavily damaged before the Kohler restoration effort, has more than 200 concrete figures, most encrusted with glass shards and found objects -- drinking cowboys, Paul Bunyan, Mabel the Milker, even Ben Hur and a huge angel. With support from the Wisconsin Arts Council and other donors, it recently became a public park, and is once again a tribute to the northwoods culture of upper Wisconsin.

At the end of a slide-lecture on the more than half a dozen sites that the center has assisted in preserving, Kohler director Ruth DeYoung Kohler was asked why there were so many self-taught artists creating concrete figure parks in Wisconsin. She responded that there were long winters and people often chose art over alcohol. Seems reasonable.

Exhibitions at the Kohler Arts Center
An exhibition organized by Kohler curator Andrea Inselmann paired works by two obsessive and very enterprising Wisconsin environmentalists. One was the self-taught, Austrian-born Nick Engelbert (1881-1962), who built a concrete figure park around his house, which he also encrusted with concrete. When he was no longer able to work on the park at age 70, he switched to creating "memory paintings."

Engelbert's environment is now being restored, though not all the concrete pieces could be saved. The Organ Grinder, one of three concrete pieces on view at Kohler, demonstrated three different stages of restoration. Engelbert's memory paintings showed how his house and grounds once looked.

The other artist was the academically trained Mary Nohl (b. 1914), who still lives in her parents' lake-front cottage. Handy with tools, she has embellished her house, inside and out, with geomorphic sculptures, and also has decorated the inside with painted furniture, paintings, watercolors, pottery and jewelry. The freshest pieces are the jewelry, especially those combining silver with carved pebbles. She fashioned many of her pieces from driftwood and found materials. For her jewelry, she melted down her family's silver.

Another exhibition at the Kohler features the work of one of Wisconsin's greatest self-taught artists, Eugene Von Bruenchenhein (1910-1983), a true visionary. "I am from another world," wrote Von Bruenchenhein. "I always felt so."

Von Bruenchenhein made a variety of works: feathery abstract oils depicting swaying organic forms or explosive galaxies; black-and-white photographs of his wife Marie, often nude and draped with fake jewels and wearing a ceramic crown of his own devising; pastel-colored towers and chairs of chicken and turkey bones; ceramic sculpture and vessels; concrete masks; plus poetry and theoretical writings, the latter often dealing with science. Poor and never recognized during his life, he retreated gradually into his own fantasy world.

Von Bruenchenhein's work came to the attention of the Kohler Arts Center shortly after his death. The Kohler transported all the pieces to the center, where they were photographed, catalogued and restored. Having received sufficient grant money to become a major owner of Von Bruenchenhein's legacy, the Kohler gave the artist his first retrospective in 1984. Since then, he has been heralded as a major talent.

Several of Von Bruenchenhein's bone towers, made from the remains of his dinners (courtesy of a friend who raised poultry), were on display. Over six feet high, these elaborate constructions have a delicacy reminiscent of the Eiffel Tower. You will never look at a chicken leg the same way once you have gazed upon one of these works.

Von Bruenchenhein was obviously gaga over his attractive wife, Marie. She posed endlessly for him in the 1940s, smiling into his camera, sometimes nude, sometimes clad in exotic garb, always adorned by the makeshift jewels that Von Bruenchenhein made just for her.

The Kohler's dedication to the care of the work of self-taught artists is being extended beyond Wisconsin, as the center itself undertakes to triple the size of its facilities. Not bad for a regional arts center and another good reason to be an art-lover in the Milwaukee area.

N.F. KARLINS is a New York art historian and critic.