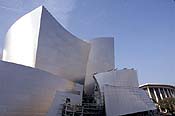 The Frank Gehry-designed Walt Disney Concert Hall in downtown Los Angeles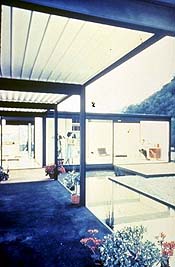 Julius Shulman
Case House Study #21
1958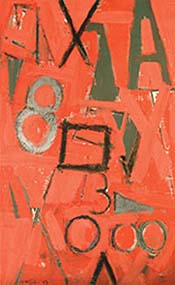 Emerson Woelffer
Slot Machine
1953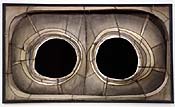 Lee Bontecou
Untitled
1959/60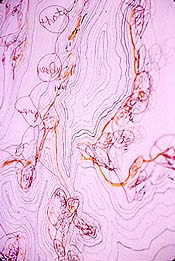 Alexandra A. Grant
Drawing with Paper (Reach) (detail)
2003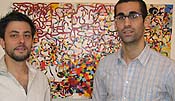 Ivan Golinko and David Kordansky co-owners of Golinko Kordansky (G&K) Gallery with Fur Trade by Will Fowler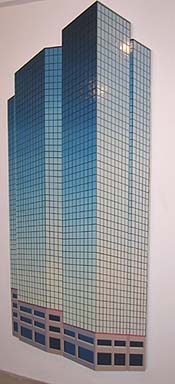 Evan Linterman
Untitled
Amie Dicke
Gisele Wants Out
2003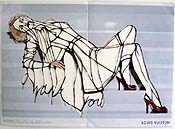 Amie Dicke
I Want You
at Angeles Penché Gallery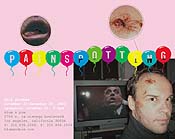 Invite to the Blum & Poe Gallery's Dirk Skreber exhibit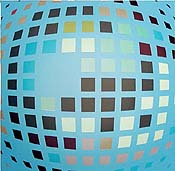 Thomas Burke
Airborne
Reviewjournal.com
Ed Templeton at Roberts & Tilton Gallery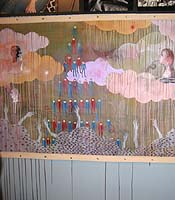 Ed Templeton painting at Roberts & Tilton Gallery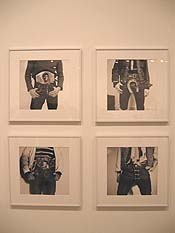 Karlheinz Weinberger photographs at Marc Foxx Gallery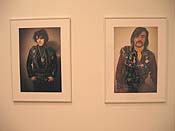 Karlheinz Weinberger photographs at Marc Foxx Gallery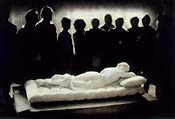 Rocky Schenck
The Art Lovers
at Paul Kopeikin Gallery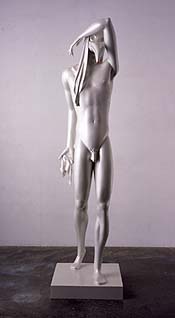 Steven Gontarski
Prophet Zero I
at the Karen Lovegrove Gallery
Steven Gontarski with Prophet Zero I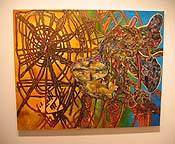 Steven DiBenedetto
Metacopter (detail)
2003
Daniel Weinberg Gallery
Andre Yi
Ghetto Birds
2003
Carl Berg Gallery

Andre Yi and Carl Berg
Lari Pittman
Untitled
2002
cs. Regen Projects Gallery

Example of work by the Clayton Brothers
www.claytonbrothers.com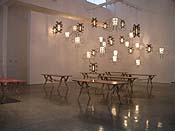 Jorge Pardo installation at Gagosian Gallery
David Schnell
Kollision in der Baumschule
2003
Sandroni Rey Gallery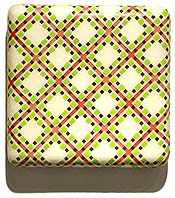 Alex Blau
Spring Mix
2001
Mark Moore Gallery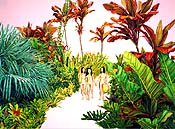 Su-en Wong painting at Shoshana Wong gallery
John Miller
Path (WBKVW-3D)
2000-01
Patricia Faure Gallery
Dean Smith
thought form #2
2003
Christopher Grimmes Gallery
Michael C. McMillien
Time Below (detail)
L.A. Louver Gallery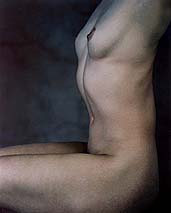 Annie Leibovitz nude at The Fahey/Klein Gallery
Annie Leibovitz nude at The Fahey/Klein Gallery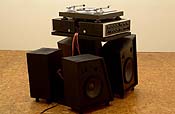 Sean Duffy
Bakersfield Smokera
2003
Susanne Vielmetter Los Angeles Projects
L.A. Confidential
by Alex Worman
The recent California wildfires, freak hailstorms, gubernatorial turmoil and high-profile arrests are nothing compared to the blazing Los Angeles art scene. While art fairs, auctions and architecture have also been taking center stage this month, art events in the City without Seasons are ebulliently abundant.

As everyone must know by now, the Frank Gehry-designed Walt Disney Concert Hall opened a few weeks ago and has already been the subject of at least two gallery exhibitions depicting it in all its photographic glory. This is one of those rare cases where you can actually believe the hype. From seemingly every vantage point, the flowering stainless steel structure (the so-called "steel artichoke") is simply inspiring, and though open for only a month, is already L.A.'s most famous landmark.

Gehry's new architectural addition to the downtown cityscape should soon rival Pierre Koenig's Case Study House #21 (immortalized by Julius Shulman) as the muse for L.A.'s Hasselblad-toting photogs. In fact, the new Gehry monument has become as ubiquitous a subject to American shutterbugs as "three Germans standing beside a mailbox" -- as recently opined by the witty Las Vegas art critic Dave Hickey -- are to German photographers.

The Walt Disney Concert Hall also boasts an art venue, the new Gallery at REDCAT (which is short for Roy and Edna Disney/CalArts Theater), located in the southwest corner of the building. Its inaugural exhibition, "Emerson Woelffer: Solo Flight," is a retrospective of the late abstract painter and teacher as selected by L.A. icon and first-time curator Ed Ruscha (whose works on paper will be featured in a 2004 retrospective at MOCA).

The Woelffer survey, located in the lobby of the new performance space, features about 50 paintings and sculptures from the influential artist who taught Ruscha and others at the legendary Chouinard Art Institute (now known as CalArts). Upcoming exhibitions at REDCAT include a pair of Los Angelenos, Mark Bradford and Glenn Kaino, in "Bounce," as well as the touring exhibition from the Ethiopian-born New York sensation, "Julie Mehretu: Drawing Into Painting."

At the L.A. museums, both LACMA ("Diane Arbus: Revelations," opening Feb. 29) and MOCA L.A. ("Street Credibility," opening Jan. 25) gear up for simultaneous exhibitions -- "twin" shows, some might say -- featuring the works of the late photographer Diane Arbus. Meanwhile, all eyes are currently at the UCLA Hammer Museum for the long-overdue "Lee Bontecou: A Retrospective" (through Jan. 11, 2004), which travels in February to the Museum of Contemporary Art, Chicago, and to MoMA in New York, opening July 30, 2004.

Many museum visitors are only now discovering the pioneering prodigal artist in an exhibition co-organized by the Hammer and the Chicago MCA. The Bontecou retrospective showcases the Pennsylvania artist's life work, including her complex welded steel mechanomorphic wall sculptures, with their mysterious black eyelike orbs, that not only influenced a younger generation of artists but are also rumored to have inspired H.R. Giger's Alien designs. Bontecou's early paintings and drawings are as timely and interesting as anything at the contemporary galleries.

On that note, let's take a quick tour of L.A. galleries, beginning our journey in Downtown L.A. and taking a circuitous 15-mile journey towards the Pacific Ocean.

At the pioneering Cirrus Gallery (542 S. Alameda Street), the first art gallery in Downtown L.A., distinguished director Jean Milant has enlisted Artnet Magazine's own resident poet and author Eve Wood to curate "Painting by Letters" (Nov. 15-Jan. 10), a group show consisting of 11 emerging artists who use language or text in their art. "The artists try not so much to conjoin the two as to understand the points of mediation where text and image inform one another," the gallery statement explains. Among the featured artists are Steve Roden, Tyler Stallings, Mark Strand, Alexandra Grant and Buzz Spector.

At the USC Fisher Gallery (823 Exposition Blvd.), located in Harris Hall on USC's University Park campus, is the independently curated traveling show "UnNaturally." Featuring works by Gregory Crewdson, Keith Edmier, Inigo Manglano-Ovalle, Jason Middlebrook, Roxy Paine and Marc Quinn, the show is a convincing survey of art that replicates nature, blurring the distinction between natural and artificial, created and constructed. It remains on view through Jan. 17, 2004.

While you're Downtown, take Hill Street north towards Chinatown, turn on your dashboard GPS navigator, and you'll eventually locate the new gallery activity on Bernard Street on a hard-to-find cul-de-sac around the corner from the Chung King Road galleries. There, in the rear of a former Chinatown Community Center building, is Ivan Golinko and Dave Kordansky's new space, Golinko Kordansky Gallery (510 Bernard Street), aka G&K Gallery. Despite their tongue-twisting eastern European surnames, Ivan and Dave met in New York through mutual friend, filmmaker Sean Dack, when Ivan worked at Friedrich Petzel Gallery and Dave was an artist and curator.

The team's inaugural exhibition is a group show featuring some of the gallery's own emerging Southern California artists, including Liz Craft, Mark Flores, Will Fowler, Penti Monkkonen, Dean Sameshima and Nicolau Vergueiro. "It was our mutual intent to open a progressive gallery, and in Los Angeles we're part of a community of so many great artists," says Kordansky. Also, the rents are cheap.

Next door in the same complex is Diannepruess Gallery, which recently relocated from Chung King Road, and is featuring work from Philip Wagner and New York painter Evan Lintermans.

At Peres Projects (969 Chung King Road) is a show by Amie Dicke, an artist from Rotterdam, called "Sensual Sadness." For the 31 works, Dicke takes pages from magazines featuring female icons such as Gisele Bundchen, Naomi Campbell and Shakira, draws on them and then, using an Xacto blade, carefully cuts them into all new gothic designs, completely changing their original meaning. The results, according to gallerist Javier Peres, "reference 16th and 17th century medieval Dutch paintings." At least half were sold by opening in prices ranging from around $1,350 to $3,900. In the downstairs basement gallery is a group show called "the rules that everyone will follow from this day forth," featuring works by Assume Vivid Astro Focus (who is included in the forthcoming Whitney Museum 2004 Biennial), Chris Ballantyne, Dan Attoe, Susan Black, Chris Caccamise, Alesha Fiandaca, Dean Sameshima and Anna Sew Hoy.

In other Chinatown gallery news, Parker Jones, former associate director with Sandroni Rey Gallery in Venice, is now the new director of Black Dragon Society (961 Chung King Ct.). We look forward to his new program.

On your way to the west side, make sure you check out the burgeoning Culver City art scene, led by its initiating duo Tim Blum and Jeff Poe. Until Dec. 20, Blum & Poe Gallery (2754 S. La Cienaga Blvd.) is featuring nine new works from moody German painter Dirk Skreber, whose prices have recently skyrocketed along with fellow countrymen Neo Rauch and Eberhard Havekost. The works, in a show entitled "Painspotting," consist of both Skreber's signature aerial views of disaster sites, such as houses fully immersed in mud, as well as tragic accidents like a car mangled around a pole in a fatal wreck (which reminded me of Swiss photographer Arnold Odermatt's vintage accident scene photos).

In case the bubble bursts on their gallery artist Takashi Murakami -- a prospect, however unlikely, recently raised by Charlie Finch -- Blum & Poe need not worry. Continuing what is fast become a tradition, all of Skreber's works were all sold by opening night (ka-ching!), with prices in the $35,000-$68,000 range. Unfortunately, Skreber's works wouldn't look good on a handbag.

Western Project (3830 Main Street) is a new gallery located on Culver City's Main Street, which has a retro "Main Street U.S.A." charm near the Culver and Sony Studios campuses. "It's like Hooterville," jokes WP's Cliff Benjamin, who partnered with his former Mark Moore Gallery colleague Erin Kermanikian on the new venture. The duo gutted a former picture-framing store to build the elegant white cube with frosted glass front windows and remarkably high ceilings, a design done by Benjamin himself. This area of Culver City, while not quite as quaint as "Petticoat Junction," has a burgeoning community/caf/hipster vibe that's ripe for more galleries.

First up at Western Project is 25-year-old Las Vegas-based artist Thomas Burke, who creates undulating jigsaw puzzle-piece airbrushed grid paintings, carefully taped to give it the patterns a hard edge and flowing with gradations of light and bright colors frequently found in the work of fellow Vegas-based artists Yek and Tim Bavington. Benjamin describes the work as "geometric LSD." A trained engineer, Burke "bases all of the curves and the arc of the waves on mathematical systems," Benjamin adds. "There's nothing arbitrary in any of the images."

The eye-catching work bears a slight resemblance -- inadvertent, I'm told -- to op-art pioneer Victor Vasarely's kinetic paintings of the '60s and '70s. Seven works are on display, all acrylic on canvas, priced at $850 for small 8 x 8 in. pieces, up to $17,500 for the large (72 x 192 in.) painting, The Hots. The show runs through Dec. 27, 2003.

As usual, the multiple openings at the 6150 Wilshire galleries have become the place to be every six weeks or so.

Professional skateboarder and self-taught artist Ed Templeton attracted a legion of his Orange County skateboarding fans (in addition to collectors and other gallery goers) for his first solo exhibition at Roberts & Tilton Gallery, a show that featured autobiographical and voyeuristic text-rich drawings, paintings and photographs. Entitled "The Prevailing Nothing," Templeton's wall-to-wall exhibition, hung salon style, partly channels the work of fellow artists such as Barry McGee and Larry Clark, but finds Templeton as an active participant in the Orange County skateboard culture, depicting the meandering existence of longhaired, sex-crazed, drugged-out surfing and skateboarding teens in the OC.

Templeton has exhibited his art since 1998, and has already taken Europe by storm and has published a few books of his work, notably Teenage Smokers. This show, consisting of over 400 works, is even sexually explicit enough to satisfy readers of the controversial, already-withdrawn new Abercrombie & Fitch Christmas catalogue! Templeton has designed a diary/sketchbook to accompany his show that is available at the gallery for $10 in a limited edition of 2,000 copies. Bennett Roberts is quickly gaining a reputation as a top dealer for new practitioners of the graffiti art, scribbling and snapshot esthetic, as well as for putting on some of the most lively, well attended and stimulating shows in the city.

Across the way at Marc Foxx Gallery, gallery partner Rodney Hill has realized his long-in-the-works passion to mount an exhibition of the vintage photographs of 82-year-old Swiss photographer Karlheinz Weinberger, whose career was highlighted with the release of the Scalo book, Karlheinz Weinberg: Photos 1954-1995 in 2000. Back in the 1960s when he was an electrical company employee in Switzerland, Weinberger started out taking beefcake photos, but then embarked on a mission to photograph the subcultures of street gangs and rebel bikers who were powerfully influenced by American icons such as James Dean, Marlon Brando and Elvis Presley.

The photos of these rebellious youth in their fashionable denim and leather presage the British punk movement by ten years, and inspired the later work of photographers such as Robert Mapplethorpe and Larry Clark. (Weinberger also currently has work on display at Nicole Klagsbrun Gallery in Chelsea). The photos are sold in editions of either five or 15, and priced at around $2,500 each.

Paul Kopeikin Gallery, the newest member to the 6150 complex, specializes in photography, but has recently been branching into non-photographic contemporary art. This month, however, he is back to his roots with a retrospective show of the haunting, blurry, toned gelatin silver prints from Texas-born, Hollywood-based photographer Rocky Schenck, whose rich, populated and unpopulated landscapes remind me of the photos of Robert ParkeHarrison. There were 15 works on display spanning the years 1990-2003, available in editions of 10, and priced at $2,350-$3,350.

At the opening it was standing room only as Schenk was also signing copies of his first monograph, Rocky Schenck: Photographs, which includes a foreword by John Berendt, author of Midnight in the Garden of Good and Evil. For $850, Kopeikin has also published a special edition of the book that is rebound, slipcased, signed and numbered in an edition of 50, and comes with an 8 x 10 in. hand-toned print.

Acme Gallery is featuring a group show of gallery artists titled "Beside," which includes photographs by Uta Barth priced at $13,500, a new canvas by Monique Prieto priced at $30,000, a polyurethane & PVC sculpture by Carlos Mollura at $10,000, and two new acrylic on mylar car crash paintings priced at $3,000 and $5,000 from newcomer Kristin Baker, who recently had a sold-out show at Soho's Deitch Projects. In the north gallery is a suite of six, small, Renaissance-style egg tempera on panel landscape paintings by Michael Norton, on view through Dec. 20, 2003.

Upstairs at Karyn Lovegrove Gallery is a grand new fiberglass sculpture, Prophet Zero I, by the Philadelphia-born, London-based artist Steven Gontarski. The seven-foot tall figure depicts a naked hard-bodied male with his left arm covering his face, but not obscuring the protruding tucan beak he has instead of a nose (or is it a mask?). According to the gallery, Gontarski's work "commemorates imaginary figures to help understand the creation of myths."

The fiberglass work is cast in an elegant shade of pearl white, like a top-of-the-line Lexus sedan. It's the only work in the main gallery so it must be expensive. Big-time collectors are hot after Gontarski's work, but he doesn't make many so the wait is long. Also, in the office are eight pencil and marker "Prophetic Drawings," all dated 2003 and priced from $2,500 to $4,200. The works are on display through Feb. 7, 2004.

Daniel Weinberg Gallery (6148 Wilshire Blvd.) is showing six recent paintings by New York artist Steve DiBenedetto in his first solo exhibition at the gallery. For these new paintings, DiBenedetto drew inspiration, imagery and painting titles (Psychopter, Metacopter) from a wide variety of diverse influences such as helicopters, octopuses, the psychedelic writings of Terence McKenna, and the Logos (a creature of "pure information," as explained by Philip K. Dick in his novel Valis). The release says the paintings "show the clash between our inner and outer selves." You won't have the opportunity to clash with your accountant as the works are all sold, priced at $15,000 each.

At Kontainer Gallery (6130 Wilshire Blvd.), owner Mihai Nicodim is featuring a two-person show, "Growth Co." featuring Los Angeles's own Hillary Bleecker and from London, Neal Rock. It's Bleecker who gets our attention. As one of the highlights at the UCLA Hammer's terrific "International Paper" show, Bleecker's first semi-solo gallery exhibition showcases her distinctive colored pencil drawings of enchanting trees surrounded by lots of space and done in an almost pointillist style. Her works range in price from about $1,400 for smaller works to $5,000 for the larger 80 x 90 in. pieces. The show is on view through Dec. 20, 2003.

Down the block at the new Carl Berg Gallery (6018 Wilshire Blvd.), Berg is showing work from Los Angeles artist Andre Yi, an MFA graduate from the Cranbrook Academy of Art. The exhibition, entitled "Floating City," features eight works, all acrylic, ink and colored pencil on paper, depicting the sort of lower middle-class homes and food stands found in the diverse melting pot neighborhoods located between Beverly Hills and Downtown L.A.

Yi's lovingly detailed structures make up only a small part of the works, which have lots of negative space (like the minimalist drawings by Toba Khedoori) and are set against a background of muted earth tones. All the works also feature distinct squiggly lines usually associated with water in Japanese wood block prints, but in Yi's paintings they signify L.A.'s notorious smog conditions. Price: $1,800-$5,000. The show remains on view through Dec. December 20, 2003.

At Regen Projects (633 North Almont Drive) in Beverly Hills, Lari Pittman, the respected artist and professor of painting & drawing at UCLA, is showing six large new oil paintings featuring complex tableaux of nightmarish domestic interiors interspersed with trees, fires, birds, gardening utensils and other paraphernalia, all done in his trademark broad color spectrum. The show runs through Dec. 20, 2003.

Pittman's canvases seem downright minimal when juxtaposed with the new work by the Clayton Brothers. That would be Rob & Christian Clayton, two of the leading L.A.-based practitioners of Lowbrow, who this month have an exhibition, a new book and a lecture at the Museum of Contemporary Art, Los Angeles. Clearly, Lowbrow continues to gain widespread fine art acceptance.

At La Luz de Jesus Gallery (4633 Hollywood Blvd.) in Hollywood, the brothers have installed a 74-foot-long, two-foot-high painting entitled Six Foot Eleven, that follows the continuous narrative in the life of fictional patriarch Charles Murphy and is populated with an assortment of strange animals, suspicious-looking humans, and strange settings that could have come from the paranormal photographs of Gregory Crewdson or early David Lynch and Tim Burton films. The work is divided into 27 paintings being sold at prices in the $1,000-$8,000 range.

Branching out of the pages of the underground comic magazine Juxtapoz, the Clayton Brothers are also celebrating the publication of their first book, The Most Special Day of My Life, which features their individual and collaborative work. The show is up through Nov. 30, 2003.

If you walked into Gagosian Gallery (456 North Camden Drive) in Beverly Hills thinking you'd stepped into the new Crate & Barrel superstore, your confusion would be understandable. The hanging lights and tables on display are actually part of the mixed media installation by Cuban-born Los Angeles artist Jorge Pardo. The first large-scale exhibition by the artist since his MOCA L.A. exhibition in 1998 features numerous light pieces, several paintings and drawings, some hung in the rear gallery, others mounted directly to the birch tables that sit under the lamps on the main gallery floor. According to the gallery statement, "All of these works, including his paintings and drawings, have this sense of luxuriousness, underscored by a rich and varied palette and a mid-century design sensibility." The exhibition is on display through Dec. 20, 2003.

At Sandroni Rey Gallery in Venice, 32-year-old David Schnell, part of the hot new cadre of young painters coming out of Leipzig, makes his solo U.S. gallery debut with a body of seven new landscape paintings featuring geometrically perfect forests, paths and grandstands, with extreme vanishing points and a sense of psychological unease. MOCA L.A recently purchased one painting by Schnell. As collectors usually follow the museum's lead, all seven works are sold at prices ranging from $8,500 to $18,000. Through Dec. 19, 2003.

At Mark Moore Gallery in Bergamot Station are new paintings by Alex Blau in her second solo exhibition at the gallery. Her square, hard-edged paintings resemble gift-wrapped packages, but made from acrylic polymer on stretched linen. "Nothing is measured; the process she uses grows organically," explains new gallery director Philip Martin, formerly with Rosamund Felsen. "Nothing's created on the computer first. The human involvement changes the patterns as she builds each panel." The show features eight small works priced at $2,500 each, and five large ones at $4,500 each. The show runs through December 20, 2003.

Part of Martin's agenda at Mark Moore is to "broaden the conversation" by bringing in more Los Angeles and international artists, beginning with an upcoming solo exhibition of new works or portrait paintings from Belgian artist Till Freiwald.

Also at the Bergamot Station gallery compound, Shoshana Wayne Gallery is exhibiting new self-portraits by Su-En Wong, while Patricia Faure Gallery is showing veteran L.A. abstractionist John Miller. Faure is currently organizing a new Project Room show of figurative works on paper by Salomon Huerta starting Dec. 6.

If the current owners of Howard Hughes' "Spruce Goose" ever want to put it on display as a work of art, they would do well with the new hangar-sized Griffin Contemporary Gallery (2902 Nebraska Ave.). Formerly in Venice next to L.A. Louver, Griffin Contemporary has taken over the space previously inhabited by architectural firm Marmol Radziner + Associates, and before that, befittingly, a manufacturing plant for Douglas Aeronautics.

The 10,000-square-foot space with 25-foot-high ceilings, just east of Bergamot Station, is currently home to an inaugural exhibition featuring several new large-scale paintings by Los Angeles artist Enrique Martinez Celaya, in a show entitled "All the Field is Ours." Most of the works were sold at my visit for prices in the $35,000 range. Meanwhile, the rear project room features three unique black & white photographs by Turner Prize-winning artist Richard Long, priced at $20,000 each. The gallery also features an elegant "VIP Lounge," populated by chic furniture and art by such well-regarded names such as James Turrell, Ed Ruscha, Joel Morrison and Peter Wegner.

At Christopher Grimes Gallery (916 Colorado Avenue) in Santa Monica, the Bay Area's Dean Smith is featured in "Transmission," his third solo show at the gallery. Smith, who must have an awful case of carpal tunnel syndrome, creates obsessive, large-scale graphite on paper drawings, featuring thousands upon thousands of repetitive lines that form fantastical Sol Lewitt-esque geometric shapes -- orbs, webs, and hyperspace perspectives -- that are as equally beautiful to admire as to how painstaking they must have been to create. With eight works on display, Smith's feats of willpower will cost you $9,000-$10,000 each. The show ended Nov. 22, 2003.

Angles Gallery (2230 Main Street) in Santa Monica features its first one-man show of sculpture, video and photo-based works by Gregory Kucera (not to be confused with Seattle gallerist Greg Kucera). The installation, "Tessellation Anxiety," includes video and wall-mounted sculptural images that "explore the artist's conscious anxiety about the infinite amount of information contained in the physical world." A personal fave is a cube-shaped sculpture made out of polyurethane and resin, Temporal Relief-Imploded (2003), that looks a like a maquette for the Borg Cube from Star Trek. The four-channel video, Line & Flight (2002), features a synchronization of fast-moving images slightly resembling Godfrey Reggio's film Koyaanisqatsi, minus the Philip Glass score. Resistance to this show is futile. . . until Dec. 6, 2003.

Through Jan. 3, 2004, L.A. Louver Gallery (45 N. Venice Blvd.) in Venice has been transformed into the "Red Trailer Motel," an installation and film by Michael C. McMillen. According to the gallery statement, "McMillen has assembled corrugated metal, tar paper, discarded signs and all varieties of odds and ends into an installation he calls 'Red Trailer Motel.' It's more an experience than an exhibition."

Some other shows in town include VF-otographer Annie Leibovitz's new body of non-celebrity work, "Nudes," at Fahey/Klein Gallery (148 N. La Brea Avenue), featuring 15 large-scale photographs of female nudes, available in editions of 25 and prices from $4,500-$15,000 each.

Also on La Brea, Jan Baum Gallery (170 S. La Brea Avenue) is featuring "Multiple Expressions," featuring the figurative work of eight artists focusing on different modes of expression, including fragile, tough, pensive, existential and humorous. It's a mixed bag of work, but two standouts are Kim McCarty's three watercolors of otherworldly children, priced at $2,500 each (McCarty was featured in the UCLA Hammer Museum's "International Paper" show), and the large-scale figurative oil paintings of Zhenya Gershman, at $2,000-$7,000 each. Other artists include Rafael Bunuel, David Eddy, Marianne Kolb and Eugene Yelchin. The show runs through Dec.20, 2003.

Finally, Susanne Vielmetter Los Angeles Projects (5363 Wilshire Blvd.) will be joining the current land rush to Culver City in January 2004. For now, in her closing exhibition at the current space, she presents Sean Duffy's "Bakersfield Smoker," a tribute to 1960's drag racing and the racecar culture surrounding it. The exhibition features a two-armed turntable playing high volume sound effects and engine sounds from drag races.

In the upstairs room is Melissa Thorne's "Superstructure," a show of new paintings that "explore the shared material and conceptual structure found in parallel fields, in this case, the visual fields of crafts and architecture." The works are realistically rendered paintings of handmade keepsakes such as Afghans, pillows, and doilies. The shows, and the current gallery space, conclude on Dec. 20, 2003.


ALEX WORMAN, who is a feature film publicist in Los Angeles, writes on art and modern design.