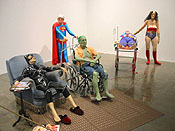 Gilles Barbier
Nursing Home
2002
in "The American Effect"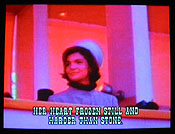 Zoran Naskovski
Still from Death in Dallas
2000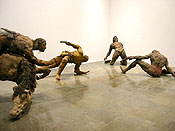 Ousmane Sow
Works from the series "The Battle of Little Big Horn"
1998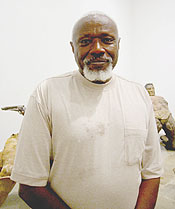 Ousmane Sow
Bodys Isek Kingelez
New Manhattan City 3021
2002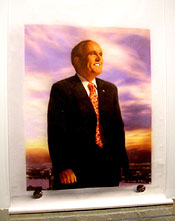 Zhou Tiehai
Libertas Dei te Serventi
2002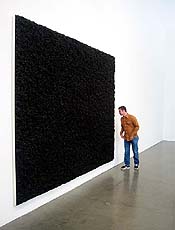 Damien Hirst
Armageddon
2002
at Larry Gagosian Gallery
Edward Krasinski
Untitled
2001-03
at Anton Kern Gallery
The Wrong Gallery, with works by Shahin Afrassiabi (top) and Alexandre da Cunha
Saint Reverend Jen at Printed Matter
Selections from Saint Reverend Jen's Troll Museum, at Printed Matter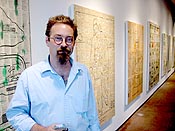 Norm Magnusson with his paintings at Spike Gallery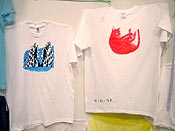 T-shirts by Nina Bovasso (left) and Kiki Smith, at Silverstein Gallery
T-shirts by Erik Parker (left) and Sherry Wong at Silverstein Gallery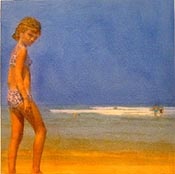 Isca Greenfield-Sanders at Wallspace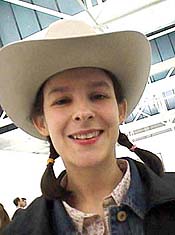 Painter Rachel Howard in London, 2000 Photo by Mary Barone
Weekend Update
by Walter Robinson
Fans of the beleaguered Whitney Museum -- there are some, we're sure -- had high hopes for "The American Effect," July 3-Oct. 12, 2003, the Biennial-type summer extravaganza of new art by almost 50 artists from 30 countries. Taking up the theme of what curator Larry Rinder calls the U.S. "global empire" was an ingenious way to introduce non-American artists into the notoriously "American Art" museum without completely abandoning its eponymous mission. And god knows the museum needs a boost in its programming -- wasn't director Max Anderson deposed in part due to bad reviews (though Carol Kino in the new Art & Auction says fundraising was a problem, too, noting that "rumor has it" that the Whit had been able to come up with only $50,000 of the show's $1 million price tag)?

But "The American Effect" turns out to be another boner. Part of the problem is the installation, a kind of respectful and leisurely placement that never achieves critical mass in Marcel Breuer's Brutalist galleries, which have come to seem increasingly impossible. (What to do? Install parquet floors and wainscoting, like at real museums? Or maybe gray carpets and booths, for the bazaar effect that works so well at the art fairs?). But mostly, the problem with the show is the art itself.

The work isn't just bad, it's dumb. Emblematic is Gilles Barbier's Nursing Home (2002), a life-size tableau of comic superheroes in an old age home, a puerile joke that D.C. Comics itself did several decades ago. How telling that this oversized conversation piece is being greeted with such success, first appearing in "Art Unlimited" at the 2002 Basel art fair, then gaining a spot in the private museum of Miami mega-collector Marty Marguilies and now landing here.

The show does include one good work, a 17-minute video projection by the Serbian artist Zoran Naskovski (b. 1960) called Death in Dallas (2000). The artist has spliced together familiar newsreel footage of JFK's life, assassination and the national mourning that followed, setting it to a Herzegovinian epic ballad sung by Jozo Karamatic and including subtitles that give a literal translation of the song's text into awkward but sincere sentiment. As the curator notes, the loss of a charismatic leader inspired sympathy the world over.

The international art circuit rewards a kind of nationalistic identity politics, so it's not so surprising that a certain neo-primitivism affects the works of two of the artists from Africa. Ousmane Sow (b. 1935), a tall and distinguished-looking man who was born in Senegal in 1935 and reportedly worked as a physical therapist before becoming an artist at age 50, has fashioned lifesize statues of tumbling Indians (an action scene from the Battle of Little Big Horn). Done with what looks like mud on chicken-wire armatures, these expressionistic "Western" statues get much of their punch from their resemblance to African fetishes (paging Picasso and Les Demoiselles).

Another African artist on the international circuit is the Congolese Bodys Isek Kingelez (b. 1948), whose candy-colored hobby-shop architectural fantasies have been included in Documenta 11, the 1999-2000 Carnegie International and the traveling show "The Short Century" that came to P.S. 1 in New York in 2002. His construction here, a futuristic circus-like model of downtown Manhattan called New Manhattan City 3021 (2002), has a special charm for its inclusion of a reconstructed Twin Towers.

Even though the museum took care to avoid strong challenges to U.S. nationalism, the Shanghai-born artist Zhou Tiehai (1966) made headlines for a day in the New York tabloids by propping his eight-foot-tall portrait of a smiling, heroic Rudolph Giuliani on a pair of imitation dung-balls, Chris Ofili-style. But this jibe at the former New York mayor's embarrassing effort to shut down the "Sensation" show at the Brooklyn Museum several years ago turns out to be utterly mild, if not entirely beside the point.

Similarly, Tokyo artist Makoto Aida (b. 1965), in his exquisitely crafted and highly patterned six-panel folding screen titled A Picture of an Air Raid in New York City shows Manhattan in flames. Does the artist seek psychic revenge for the bombing of Hiroshima and Nagasaki? Okay.

In the end, you have to blame the show's theme, too, which turns out to be so broadly interpreted that it doesn't throw off many sparks. Better to have called it "The Anti-American Effect" and selected confrontational works that really toy with post-9/11 patriotism.

* * *

Late notes from the tail end of the Chelsea art season. As part of its summer group show (now closed), Gagosian Gallery presented Damien Hirst's giant fly painting, a 9 x 12 ft. canvas encrusted with a thick, undulating carpet of dead flies, lightly coated with some kind of polymer goop. The work seems to be little more than a perverse curiosity, until a close-up sniff of the thing fills the sense with a visceral breath of organic decay that is evocative of nothing less than the gaping mouth of Hell. Shades of Revelations. No wonder Hirst calls it Armageddon.

Over at Anton Kern Gallery, the senior Polish artist Edward Krasinski (b. 1925) installed a piece that features 14 square mirrors hanging in the gallery in several rows at chest level, with a horizontal line of blue tape running around the walls and across the mirrors, too. The work drew a certain amount of praise as a heretofore overlooked conceptualism in the vein of Daniel Buren, but if you ask me, anything with mirrors is a form of Body Art. One might even say Theater of Cruelty!

Opening at Kern on Sept. 6 is a show by Ellen Berkenblit called "Batsugar von Frankenstein."

Down the street is the final installment of "The Virgin Show," a three-part exhibition guest-curated by Fernanda Arruda and Michael Clifton at the tiny "doorfront" space known a the Wrong Gallery. On view was a kind of a glimpse in a poster by London artist Shahin Afrassiabi (who shows with Vilma Gold Gallery), and a group of classical terracotta vessels by the Brazilian artist Alexandre da Cunha (who shows at Galeria Luisa Strina) -- that actually are made out of toilet plungers. That's hi-lo for you.

And next time you venture into Chelsea, be sure to drop in at Printed Matter, where the irrepressible Lower East Side icon Saint Reverend Jen has installed her one and only Troll Museum. The self-described "sex symbol for the insane" was at the gala premiere, dressed to the nines in an electric blue mini and equipped with thick eyelashes and her trademark pointed elf ears, like a cross between Jacqueline Susann and Mr. Spock. The show celebrates a new book, it's really two books in one, Reverend Jen's Les Misrabi and Reverend Jen's Really Cool Neighborhood, the latest in a series of titles published by Printed Matter.

Still on view over the summer at Spike Gallery on the westernmost reaches of west 20th Street are large storybook paintings -- Mary Magdalene, an Indian chief, a group of men surrounding Elizabeth Taylor -- by Norm Magnusson. "They're about gender imprinting," said Norm, who has two girls with a boy on the way. Spike was opened last season by a Texas firecracker named Tina Brown Chambers in a rough-hewn brick space, a former leather bar whose many picture windows look out onto the West Side Highway. "I always wanted a window gallery," said Chambers, who has also exhibited little-known sculptures by David Salle and works by Jean-Michel Basquiat borrowed from the famous Mugrabi art-collecting clan. "Norm was the first guy to walk into the gallery," she said. The paintings are $6,000.

About 40 t-shirts have been sold from "150 Artists Make 150 T-Shirts," the lively summer show at Silverstein Gallery. Among the many eye-catching examples are shirts screened with an etching of a cat in screaming magenta by Kiki Smith ($50) and a flock of Snoopy dogs in blue by Nina Bovasso ($20), and a design by Erik Parker (what's that say? "Playa haters"?) ($35) and a sew-it-yourself Fluxus shirt (including needle, thread and patches) by Artnet Magazine's own Sherry Wong.

Critic Jerry Saltz liked them (see Jerry Salz, "Out of Line," July 2, 2003), and so do many other people. Almost all of the ca. 90 drawings by James Siena at Gorney Bravin + Lee, dating from 1984 to the present, have sold, many to friends and other artists. The most detailed works are $4,800; some notebook drawings from 1990 are still available at $1,000.

At the new home of Wallspace gallery at 547 West 27th Street, small 12 x 12 in. paintings by Isca Greenfield-Sanders, summery beach scenes based on photographs, are selling like hotcakes, with five works sold at $3,000 each.

With the right wing in full control of the country, the neo-cons in Washington, D.C., no longer bother with the culture wars, says Tyler Green in his blog Modern Art Notes. Nary a peep has greeted the succession of avant-garde transgressions put on view during the last year at the Hirshhorn Museum and Sculpture Garden, which range from a talk by loud-and-proud leatherdyke Catherine Opie and a show of paintings by Cecily Brown about the joys of cocks and coupling, to the current Felix Gonzalez-Torres photowork mounted on the side of the museum building and a show of art by Fred Tomaselli made out of psychoactive pills and illegal drugs.

* * *

Speaking of outgoing Whitney director Max Anderson, on his way to a New Haven think-tank, he may have a new museum job in his future. "Yale's not my final resting place," he hazarded at the press preview of "The American Effect". . . . The same day, up the road at the Guggenheim Museum, National Public Radio correspondent David d'Arcy was quizzing museum director Tom Krens about the forces seeking to block the global Guggenheim's planned Brazilian branch. "If not Rio, then somewhere else," Krens said. A few days later, news hit the wires of a feasibility study for a Gugg Taiwan.

Longtime Village Voice performance-art scribe C. Carr is out at the weekly alternative paper after almost 20 years on the staff, in a move that downtown culture watchers take as a sign of the paper's gradual surrender to the arts mainstream. Carr plans to use her free time to finish a book based on her 1994 Voice cover story about a lynching in her hometown (working title: Clan & Tribe). The Voice is changing more than just its beats, Carr noted, saying that the paper would unveil a new design soon, one that is rumored to provide less space for reviews.

Another SoHo stalwart breaks for Chelsea, as Tony Shafrazi readies a new gallery on the second floor above Lehmann Maupin on West 26th Street. . . . Hilary Harkness leaves Bill Maynes Gallery for Gorney, Bravin + Lee. . . . The carpenters are hard at work on the new Ramis Barquet storefront space across from Gagosian on West 24th Street. . . . Kathleen Cullen, lately of Eyestorm's New York operation, opens her own gallery, dubbed Artek, in the 526 West 26th Street building. Among the offerings -- Rachel, a nude sculpture by Artnet Magazine's own Elliott Arkin.

The bellwether of the "new wave of gay-themed TV" (as the New York Times called it), Queer Eye for the Straight Guy on Bravo and NBC, is such a success that inquiries from potential buyers about the artworks of the premiere make-over star, a carpenter and artist named Brian Schepel, came flooding into the Red Dot Gallery in Chelsea. Unfortunately, the "art show" that provided the occasion for the debut of Brian's new look was a put-up job, and the gallery had to refer callers to the cable network. Meanwhile, everyone agrees that the cameo by yours truly (as an approving art critic) provided the show's climax.

Opening on Sept. 26th at the deluxe Bohen Foundation on West 13th Street is "Seven Deadly Sins," a group of paintings by Rachel Howard, each measuring seven by 10 feet. Though little known in New York, Howard is a fixture on the London scene -- in part thanks to her role as assistant to Damien Hirst, in charge of the spot paintings. Her latest show, at Anne Faggionato Gallery in the West End, was sold out. . . . Coming up at the Shirn Kunsthalle next May, a retrospective of works by Fluxus Zen master James Lee Byars. Curator is Klaus Ottmann, whose latest book, The Essential Mark Rothko (Abrams), a short bio, is in stores now.

Note from the ether: the "anonymous artists" who tricked out Tony Rosenthal's black cube at St. Mark's Place as a giant Rubik's Cube [see Artnet News, June 26, 2003] were the pranksters from Alltooflat.com.


WALTER ROBINSON is editor of Artnet Magazine.