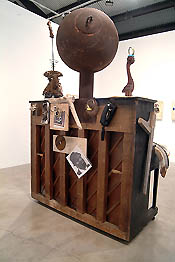 George Herms
Thelonius Sphere Monk
2004
LOS ANGELES ARCHIVES

HOT SET
by Hunter Drohojowska-Philp 3/16/05
George Herms and Walter Hopps talking in Los Angeles.

L.A. CONFIDENTIAL
by Walter Robinson 3/3/05
Robert Graham, David Hockney, Richard Prince, Kenny Scharf, Russell Crotty, James Welling, more.

OUT AT ART L.A.
Photos by Ruth Fruehauf
2/14/05
Dealer Stephen Cohen launches a new art fair in Los Angeles.

CIRCUS WITHOUT A TENT
by Abraham Orden 2/11/05
A visit to Art L.A., plus a gallery tour.

L.A. CONFIDENTIAL
by Eve Wood 2/7/05
Exhibitions of work by Skylar Haskard, Sally Elesby and Richard Meier.

THE TRISTAN PROJECT
by Hunter Drohojowska-Philp 12/15/04
Bill Viola puts his video at the service of Wagner's Tristan und Isolde.

METAL MANDIBLE MANTIS
by Eve Wood 12/15/04
German sculptor Thomas Kiesewetter visits Los Angeles.

DIGITAL SPLENDOR
by Eve Wood 9/24/04
New Ultrachrome photography in Los Angeles

MOONLIGHTING
by Eve Wood 9/3/04
Critical eye for the security guy.

SUPER-CALIFORNIA
by Patrick W. Deegan 8/16/04
Eight So-Cal art schools collaborate in one "Supersonic" exhibition.

MOJO RISING
by Eve Wood 4/29/04
A show of five women artists in Hermosa Beach.

ART MARKET GUIDE 2004
by Richard Polsky 4/23/04
Reflections on the Los Angeles blue-chip and secondary markets.

WATER EVERYWHERE
by Eve Wood 3/4/04
A look at the wet stuff in Los Angeles.

PACIFIC DESIGN
by Ruth Fruehauf 2/23/04
Mapplethorpe at Marc Selwyn Fine Art, Robert Wilson at Gagosian Gallery.

THE LIFE OF THINGS
by Eve Wood 2/6/04
Martin Kersels and the search for the self.

IN-A-GADDA-DA-VIDA, BABY
by Mary Anna Pomonis 2/3/04
Psychedelic love at Western Projects in L.A.

L.A. CONFIDENTIAL
by Alex Worman 1/23/04
Yoshitomo Nara, Wangechi Mutu, Catherine Opie, Maureen Gallace, Beat Streuli, Marcin Maciejowski, Randall Sellers, more.

RE-ANIMATOR DELUXE
by Eve Wood 12/16/03
Thomas Burke at Western Project.

L.A. CONFIDENTIAL
by Alex Worman 12/2/03
A tour of museums and galleries in the City without Seasons.

L.A. CONFIDENTIAL
by Alex Worman 11/19/03
Taschen in Beverly Hills, Sidney Felson at UCLA Hammer.

CAREER INTERRUPTED
by Irit Krygier 10/28/03
The reemergence of Lee Bontecou.

ACERBIC BEAUTY
by Eve Wood 10/28/03
Kehinde Wiley finds baroque spirituality in contemporary culture.

A RISK WORTH TAKING
by Eve Wood 10/17/03
Waylon Dobson's reductivist skins of clay.

TRAIN IN VAIN
by Eve Wood 9/18/03
New paintings by Megan Williams in Los Angeles.

L.A. CONFIDENTIAL
by Alex Worman 9/12/03
Building "Chelsea L.A."? Plus, Ai Yamaguchi, Andy Collins, Miles Coolidge, John Sonsini, Deborah Butterfield, more.

QUIETLY UNBURDENED
by Eve Wood 9/12/03
Ai Yamaguchi and the quest for innocence.

MOVEMENT TRIO
by Eve Wood 7/11/03
Drawings by Merce Cunningham, Robert Smithson and Hannah Wilke.

UNTAMED INDUSTRY
by Kristina Newhouse 7/10/03
Kelly McLane's vistas of 21st-century sublime.

OH, HARD, HAPPY DAY
by Eve Wood 6/5/03
Ross Rudel beats softly against the unconscious.

WILD AMERICA
by Irit Krygier 5/30/03
John Szarkowski and "Ansel Adams at 100."

"SEQUEL" AT DOMESTIC SETTING
by Kristina Newhouse 4/17/03
An L.A. alternative space comes back.

L.A. CONFIDENTIAL
by Alex Worman
Salomón Huerta, Alicia Beach, Adam Ross, Evan Holloway, Matthew Ronay, Hiroshi Sugito, more.

SIGNS IN THE FOREST
by Irit Krygier
The lightheartedly confrontational paintings of Laura Owens.

A LITTLE WIT
by Eve Wood 3/12/03
Liz Harvey's "shy lemons greens cool chocolates."

LUCK OF THE TIGER
by Eve Wood 2/20/03
Big cats from Tim Ebner in Los Angeles.

L.A. CONFIDENTIAL
by Alex Worman 2/14/03
Lucian Freud, Ansel Adams, Cecily Brown, Shirley Tse, Andreas Freitag, David Ryan, Michael Roberts, Julian Hoeber, more.

SEEKER IN THE FORBIDDEN ZONE
by Irit Krygier 2/11/03
Bill Viola and spirituality in contemporary art.

IMPLIED NARRATIVES
by Eve Wood 1/27/03
The character of nature in Lucas Reiner's new paintings.

YOUTH HAMMER
by Hunter Drohojowska-Philp 1/20/03
The Hammer Museum supports up-and-coming L.A. artists.

FRAGILE MONUMENTS
by Eve Wood 12/31/02
Mark Housley's frail and emotional objects.

STATIC BREATHING
by Eve Wood 12/13/02
Tam Van Tran's paintings balance the organic and the man-made.

IT'S ALL ABOUT THE GAZE
by Eve Wood10/7/02
New paintings by John Sonsini in Los Angeles.

SUBLIME LE GRAY
by Irit Krygier 8/28/02
The surprisingly modern vision of the 19th-century photographer Gustave Le Gray.

L.A. RADAR
by Eve Wood 8/5/02
Seven new artists that Angelenos are talking about.

BOOKSTORE LOS ANGELES
by Alex Worman 7/9/02
An art-bookstore tour of the City of Angels.

JESUS WAVES
by Eve Wood 7/3/02
Spirituality in new art in Los Angeles.

DARK STAR
by Irit Krygier 6/18/02
Andy Warhol and premonitions of death at the L.A. MOCA.

LATIN LOVE
by Alex Worman 6/5/02
Glamour photography from 1950s Mexico.

NAKED BUNCH
by Eve Wood 5/22/02
Low turns two with a kind of group screw.

LUMINOUS VISION
by Eve Wood 4/25/02
A survey of young women dealers in Los Angeles.

REIMAGINING PAINTING
by Eve Wood 3/22/02
Traditional art enters the digital era.

VERSIONS OF HEAVEN
by Eve Wood 2/26/02
Robert Olsen's haunting banalities.

GEOGRAPHY OF MIND
by Eve Wood 2/12/02
Charles LaBelle's scaffold of memory.

EMPTY EDEN
by Eve Wood 1/24/02
Steven Criqui photographs the evacuated landscape.

BEAUTIFUL DISLOCATION
by Eve Wood 12/21/01
Francesca Gabbiani's mysterious interiors.

CHERUBIC MINIMALIST
by Hunter Drohojowska-Philp 10/12/01
Sol LeWitt shines in Southern California.

L.A. CONFIDENTIAL
by Stephen Hilger 4/30/01
August Sander, Stan Douglas, L.A. as a stage set, Oliver Boberg and Eva Leitolf, more.

HELLO 21ST CENTURY
by Irit Krygier 4/10/01
"Public Offerings" at the Los Angeles Museum of Contemporary Art.

READING RUPPERSBERG
by Hunter Drohojowska-Philp 3/29/01
The novel that writes itself comes of age.

COLLECTING BEAUTY
by Hunter Drohojowska-Philp 3/8/01
Christie's auctions the exotic high-and-low holdings of L.A. decorator Tony Duquette.

ARCHITECT OF CALIFORNIA
by Hunter Drohojowska-Philp 3/6/01
How R.M. Schindler invented the classic California house.

PHOTO L.A. 2001
by Irit Krygier 1/22/01
A growing West Coast photography market at the 10th Los Angeles Photographic Print Exposition.

SUPERFLAT
by Hunter Drohojowska-Philp 1/18/01
Anime comes of age at the Los Angeles Museum of Contemporary Art.

THE GRAND PERSPECTIVE
by Hunter Drohojowska-Philp 12/19/00
The photography of Sheila Metzner.

THE MECHANICAL ID
by Hunter Drohojowska-Philp 11/14/00
The culturally perverse art of Paul McCarthy.

L.A. CONFIDENTIAL
by Michael Duncan 10/20/00
Constantine Kakanias, Chris Finley, Steve DeGroodt, David Grant, Sandeep Mukherjee.

HERMAN MONSTER
by Hunter Drohojowska-Philp 10/9/00
L.A. artist Roger Herman lives life large.

L.A. CONFIDENTIAL
by Michael Duncan 9/29/00
Joe Goode, Larry Bell, Billy Al Bengston, Bruce Connor, Raymond Pettibon, Kiki Smith, more.

THE TERRIBLE TRIALS OF MRS. T
by Hunter Drohojowska-Philp 9/27/00
Konstantin Kakanis takes on the contemporary art world.

HOT IN L.A.
by Irit Krygier 8/10/00
6150 Wilshire is L.A.'s central gallery destination.

L.A. CONFIDENTIAL
by Michael Duncan 7/13/00
Gabriel Orozco, Edward Ruscha, L.A. painters, Jean Lowe, Kim McConnell, etc.

GHOST ARCHITECTURE
by Hunter Drohojowska-Philp 5/31/00
The uncanny photos of James Casebere.

MINIMALIST FANTASIA
by Hunter Drohojowska-Philp 4/27/00
The idiosyncratic, oversized sculpture of Robert Therrien.

LEARNING TO DRAW
by Hunter Drohojowska-Philp 3/28/00
British painter Leon Kossoff looks to Nicolas Poussin.

EXTERMINATING PAINTING
by Jeremy Gilbert-Rolfe 4/20/00
"Examining Pictures" at the UCLA Hammer Museum in Los Angeles.

L.A. CONFIDENTIAL
by Michael Duncan 4/10/00
Yoshitomo Nara, Robert Therrien, Tim Hawkinson, Shirley Tse, Shoshana Wayne, Tam Van Tran, Susanne Vielmetter, Tony Oursler, Deborah Rothschild, Tim Ebner, Cindy Sherman, more.

GARRETT'S ATTIC
by Wendell Garrett 1/10/00
Adriaen de Vries sculpture in Los Angeles.

L.A. CONFIDENTIAL
by Michael Duncan 12/29/99
Fragmented figures for the new millennium.

MOCA'S NEW GUARD
by Irit Krygier 11/16/99
A conversation with new MOCA director Jeremy Strick.

L.A. CONFIDENTIAL
by Michael Duncan 10/12/99
The new art season in Los Angeles.

L.A. LAMBASTE
by Irit Krygier 10/8/99
Tempest in the Los Angeles critical teapot.

LETTER FROM L.A.
by Irit Krygier 8/10/99
The Absolut L.A. International Biennial Invitational.

REPORT FROM L.A.
by Irit Krygier 6/3/99
New artist-run spaces in downtown Los Angeles.

LETTER FROM L.A.
by Tessa Laird 4/28/99
The Los Angeles theme park, in shows by Mike Kelley, Nina Bovasso, Matthew McCaslin, Dennis Oppenheim, more.

LETTER FROM ROOM 28
by Shana Nys Dambrot 1/5/99
A report from the Gramercy Art Fair in Los Angeles.