Dennis Hopper
William Eggleston
Untitled...
1969-70
at L.A.'s Rose Gallery
Henri Cartier-Bresson
Martine's Legs
1968
at Peter Fetterman
Ruth Bernard
Draped Torso
1962
at Peter Fetterman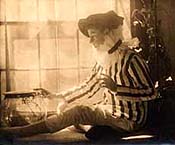 Alice Boughton
Costume Dance
ca. 1910
at Lee Gallery
Photo L.A. 2001
by Irit Krygier
The 10th Los Angeles Photographic Print Exposition, otherwise known as Photo L.A. 2001, had its short but fruitful run last weekend, Jan. 18-21, 2001, at the Santa Monica Civic Auditorium. The largest and longest running photographic art market in the West, Photo L.A. included 70 galleries and private dealers from the U.S. and Europe. It was the coming of age of the fair, which had for many years been held at the much more cramped quarters of Butterfield's auction house.

The gala opening, a benefit for the newly formed Photography Arts Council of the Los Angeles County Museum of Art, was hosted by actor and photographer Dennis Hopper (whose photographs of art personalities from the 1960s and 1970s were on view at the Craig Krull Gallery booth, priced in the $3,000-$10,000 range). Ticket sales from the opening raised approximately $14,000 for the council, which also sold 40 new memberships at $350 each.

LACMA photo curator Tim Wride was on hand at the fair entrance, greeting visitors and enthusiastically signing up new members. Everyone hopes the council will help lift local patronage of photography to a new level.

The first thing you notice is how low the prices for "pure" photography seem compared to photo-based work made by contemporary artists. The fair featured plenty of hits from the history of photography -- and the strong upside potential for signature works in the vintage area seemed especially tantalizing.

Works were certainly selling on the night of the opening. A highlight was the large stash of Weegee photos brought by Henry Feldstein, a private dealer from Forest Hills, N.Y. Top Hats, Night at the Opera (1940) was priced at $8,500, and Self Portrait with Marlene Dietrich (ca. 1950s) was $3,500. Dealer Stephen Cohen was offering a great Weegee, The Critic (ca. 1940), for $15,000.

Albert Arthur Allen, whose erotic images of rows of naked girls from the 1920s had caused the photographer to be repeatedly prosecuted for pornography, were selling briskly for $2,000 each. William Eggleston's Untitled (two men standing near car), Sumner, Mississippi, Cassidy Bayou in background (1969-70), one of his most recognizable images, was sold by L.A.'s Rose Gallery within the first half hour of the opening for $20,000

Peter Fetterman Gallery was one of the few booths to present a curated exhibition. His "Women: A Celebration," featured Henri Cartier-Bresson's Martine's Legs (1968), which sold for $4,000, and Ruth Bernhard's beautiful Draped Torso (1962), which sold for $7,500. Cecil Beaton's Charles James Dresses, American Vogue, was one of the most exquisite pieces in the entire fair.

Other noteworthy booths included Apex Fine Art from Los Angeles, which brought portraits of Hollywood celebrities from the 1950s and 1960s such as Steve McQueen by Sid Avery ($2,700) and a 1953 Marilyn Monroe by Alfred Eisenstaedt ($6,500). Lee Gallery of Winchester, Mass., had a wonderful selection of works by Stieglitz and the Pictorialists. Stand-outs in the contemporary area included Jan Kesner Gallery, Yancey Richardson from New York and Lisa Sette Gallery of Phoenix, Ariz.


IRIT KRYGIER is a writer living in Los Angeles.