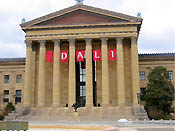 "Dali" opens at the Philadelphia Museum, Feb. 11, 2005
Salvador Dalí
Impressions of Africa (detail)
1938
Boijmans Van Beuningen Museum
Unsatisfied Desires (detail)
1928
San Fransisco Museum of Modern Art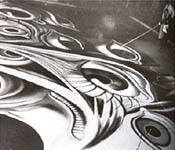 Dalí with one of the backdrops for Spellbound, 1945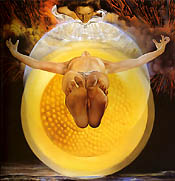 Ascension (detail)
1958
Mexico, JAPS Collection
First Cilindric Crono-Hologram. Portrait of Alice Cooper's Brain
1973
Hologram with white light
realized by Selwyn Lissack
Dalí Rules
by Elisabeth Kley
Heaven has arrived for Salvador Dalí fans. A huge retrospective of the artist's work has opened at the Philadelphia Museum of Art, Feb. 16-May 13, 2005, in honor of the Dalí centenary. The city is blanketed with Dalí posters. Dalí flags line Benjamin Franklin Parkway, the majestic avenue that leads right up to the Philadelphia Museum's monumental staircase. The museum gift shop is packed with Dalí pillows, bags, hats and t-shirts, either in the shape of a pair of red lips or marked with a red-lip logo. Dalí would have loved it.

The exhibition begins with an astonishing 1938 self-portrait, titled Impressions of Africa. Dalí gesticulates from behind an easel on one side of a desert landscape, one bulging eagle-eye visible, the other hidden behind the canvas he paints. As a ghostly image of Gala's head floats above his, Dalí stretches out a warning hand, as if ordering the viewer to be still or beware.

Early highlights include Unsatisfied Desires, a painting of two beckoning pink shapes so scandalous that its anatomical details were covered with pieces of cork when it was first exhibited in Barcelona in 1928. Dalí was well on his way to developing the lapidary Old Master style he nicknamed "hand-painted photography," which he employed to create breathtaking renditions of his fantasies, dreams and hallucinations, windows into bizarre rocky nightmares bathed in the eerie harsh light of Catalonia.

No matter how many times these iconic Surrealist images have been seen in reproduction, their accumulated banality falls away when they are experienced in such quantity in the flesh.

The array of Surrealist masterpieces on view includes the excruciating Soft Construction with Boiled Beans (Premonition of Civil War) (1936), described by Dali as "a vast human body breaking out into monstrous excrescences of arms and legs tearing at one another in a delirium of autostrangulation."

The show includes as well such arcane perversities as Delicate Sweets for Children (1931). In this drawing, carefully rendered in pencil and ink, a balding mustached gentleman is fellated by a very short girl. The work is dedicated to Paul Eluard, the former husband of Gala, who had left him for Dalí in 1930.

By the late 1930s, the outspokenly apolitical Dalí had had enough of Europe's living nightmares, and he turned his attention to Hollywood. In the exhibition, his 1945 set design for Hitchcock's Spellbound hangs alongside a screen showing the famous dream sequence from the actual film. Elsewhere in the museum, Destino, Dali's incomplete Disney animation project, can be seen as it was finished in 2001 according to Dali's plans.

In Dali's painting, his obsession with the tangled minutiae of inner paranoia gave way to a more universal interest in atomic science. Society portraits replaced the fearsome light of Catalonia, with its flattering blue skies and wrinkle-erasing sunlight. Dismembered bodies and scatological references disappeared.

Enormous paintings of religious subjects took over in the 1950s, including a large foreshortened image of Christ Ascending, dominated by His giant feet, as Gala the Virgin looks on from above. The exhibition's final gallery features his most futuristic experiment, a hologram that purports to depict Alice Cooper's brain, a work that was conceived in 1973, when Dalí was 69.


ELISABETH KLEY is an artist who writes on art.