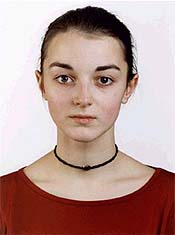 Thomas Ruff
Porträt 2001
2001
nudes bs15
2001
wh14
2000
w.h.s.01
2001
Emblems of Reality
by Pernilla Holmes
Thomas Ruff, Sept. 6-Nov. 28, 2001, at the Essor Gallery, 1 America Street, London SE1 0NE England.

The triumph of large-scale color photography, so pronounced in the studios of U.S. and German artists, has been rather less evident in low-tech London. Photography is present, of course: Boris Mikhailov's gritty realism at the Saatchi Gallery, Steven Meisel at White Cube II this summer, and our ever-present pioneers in the field, Gilbert & George. Later this month Christie's London gets in on the act with a first-time "Contemporary Arts and Photographic Works" sale on Oct. 23, 2001, comprised largely of photos.

A welcome addition to the trend is a survey of work by the German artist Thomas Ruff at London's hottest new art space, the Essor Gallery. After serving as director the cutting-edge Lisson Gallery for ten years, Sharon Essor opened her own spacious south London space with Ruff's first major solo exhibition in London.

Many of Ruff's works -- his "Portrait Photography" and "Architectural Photography" series in particular -- seem at first glance to be utterly banal. His portraits are like passport photos blown up to gargantuan size. The expressionless sitters, aged between 24 and 35, are shot straight on, posed against a neutral background. Every excruciating detail of the face is revealed. Ruff believes that photography can only capture the surface of a subject, and confronted with these massive merciless faces, it's not hard to see his point.

Ruff's images of houses and museums are similarly unspectacular. In fact, taking a cue from the early Conceptualists, Ruff sometimes hires a local photographer to take the shot, or uses an archival image. But then he manipulates the images -- background skies are made a neutral grey, compositions manipulated and colors transformed.

W.H.S. 01, for instance, renders a museum by Ludwig Mies van der Rohe with a hyper-green lawn and ultra-bronze windows that have a distinctly 1950s feel, though it dates from the '30s, Mies' heyday. Exploring notions of time and changing perceptions, this decorative photo doubles as an emblem of a sacrosanct icon of modern architecture.

Like Warhol or Richard Prince, Ruff is quite happy to use found images. His "Nudes" series, begun in 1999, features pictures lifted from pornographic websites and enlarged to the size of large paintings. Already low-res, the enlargements are further blurred and digitally softened to obscure details, giving the images an impressionistic quality that almost overrides their subject. Despite their origins, the photographs are beautiful and almost as dignified as classical art. They're nude studies for the technological age.

Ruff's series of photographs of night skies encompasses two apparently opposed genres -- abstract painting and scientific photography. For these works, Ruff purchased archival black and white telescopic photos of the starry sky from the European Southern Observatory. These images, too, were enlarged and digitally adjusted. Works like 06h 18m/ -20° (titled after the direction of the telescope) make equivalences between the awesome scale of the observed universe and the highly subjective esthetic of nonrepresentational art.


PERNILLA HOLMES is a freelance critic based in London.