Olav Westphalen
in Bruhaha








Meg Cranston
from God Love
the Tragic Artist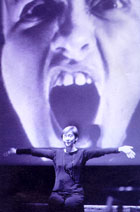 Constance DeJong
in Pink








The Therapy taxi,
with the author









Lucky DeBellevue
Pink Bubbles
1997









Annita Ström
Artist Musical









Claudia Hart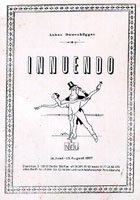 Lukas Duwenhögger
"Innuendo"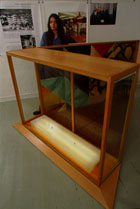 Bettina Allomoda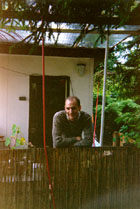 Christian Rattemeyer









Dominic Eichler's
flower clock











Stephan Hüsch's
goldfish













Time to get naked and lay in the park, it's summer in Berlin. The sunny three-month break in Berlin's usual gray inspires a range of outdoor concerts and film screenings, not to mention the city's famous Love Parade. Held at the end of July for the past eight years, the Love Parade signals the climax of the summer groove with over a million ravers congregating in the Tiergarten (central park) to the beat of techno-blasting floats. This year's Love Parade, however, was unhappily commercialized and flooded with tourists, turning it into an overcrowded, overheated event where everyone seemed to have a whistle, a Supersoaker and a Band-Aid covering a fresh nipple pierce. A "Hate Parade" occurred at the same time in the East part of town and it was rumored that the Hate people would crash the Love Parade and rough up all the shiny happy people, but violence never erupted -- and I heard that they played better music.

The highlight of the summer season was Performa 97, a series of artist's performances organized by Micha Kapinos and held in various locations around Berlin. In Bruhaha, the German artist Olav Westphalen ran out onto a stage and delivered a ridiculous five-minute stand-up routine about the suburbs, complete with a laugh-track. Fair enough for a stand-up comic, but Westphalen had more in store: he exited and returned with the same material while a recording of the last set played simultaneously. This process was repeated about eight times, with the sets overlapping into a manic cacophony of scrambled jokes and laughter. Westphalen's jokes were alternately cheesy and clever. The anxiety of perhaps "not getting it" was amplified as he turned "lite" entertainment into a weapon of aggravation.

Tony Ousler created a computer program and projected visuals which served as backdrop for Constance DeJong, whose monologue was accompanied by the music of Stephen Vitiello. Titled Pink, the performance centered on the desire to travel to the land of "lost things." Despite its sophisticated computer trappings, it felt very '80s. DeJong had a strong stage presence but seemed uncomfortable with the technology. In the show's most engaging segment, one of Oursler's trademark projection-dolls started gagging and then segued into the online archive of a doctor whose specialty was to remove and document items that people have inhaled or swallowed. Why a 35-year-old might swallow a large padlock is certainly food for thought.

Clad in sports gear, Via Lewandowsky played soccer on an empty playing field with a ball tied to his ankle and a microphone on his head into which he panted and cursed. Crowd and game noises were supposed to be blasting from stadium speakers, but the German authorities intervened so the roar was reduced to a mumble. The performance, reminiscent of the final scene in the film Blow Up, was still effective and generated a brand of enthusiasm and anticipation specific to live sports events.

The L.A.-based artist Meg Cranston delivered kind of a lecture on the life of Marvin Gaye. Set in a classroom-like space that was plastered with crude drawings to illustrate various points (a tiny Marvin squeezed between huge breasts, for instance, demonstrated his childhood experience in the bosom of the church), Cranston's delivery was a bit dry, but the sordid life of Marvin was juicy enough to keep the audience's attention.

Parked outside the building, and glistening silver in the sun, was the Therapy Taxi, conceived of by the Swedish team Bigert and Bergström. Feeling confidant about my mental condition (relative to what I'd just heard about Marvin Gaye) I decided to take the taxi to my next rendezvous point. The driver, a licensed psychologist, ushered me to a reclining lounge chair set up in the back of his mini-van. I gave him an address and the session began. Being a native New Yorker, I launched into my recent sources of anxiety before he had even pulled away from the curb, and after 20 minutes (and 20 DM) we had reached my destination. I exited the cab feeling depressed and fragile, my problems unsolved but unrepressed. Therapy takes longer than a trip across town, and I walked away wondering if such emotional trifling could be grounds for a malpractice suit.

On the gallery front, Lucky DeBellevue was in from New York and installed a series of multi-colored pipe cleaner sculptures and delicate floating tin-foil tiaras at the gallery NGBK. The works successfully teetered on the edge of childhood naivetè and deftly crafted biomorphic sculpture. At the Kunstverein Shift, Annika Ström ran a sexy Artists Musical in which she sang about the anxiety of creating and failing. Claudia Hart, who recently moved back to New York after five years in Berlin was also at Shift with large paintings from her second book, Dr. Faustie's Guide to Real Estate Development and a contemporary version of a Beauty and the Beast video. Both installations gave a strong first impression of cuteness, but their ironic undertones lent substance to a deceptively fluffy exhibition.

Lukas Duwenhögger's show "Innuendo," at Gallery Nue, celebrated camp as a style which has historically given homosexuality a context in a society built on heterosexual codes. Loosely themed on George Bernard Shaw's Pygmalion and turn-of-the-century dandyism, the space was dominated by a painted pillow fashioned as a hot air balloon and a beautifully painted image set in a garish white frame of late-19th-century ladies watching horse racing.

The strategy of turning the gallery into a complete environment proved popular this summer, notably with both Thomas Rhehberger and Bettina Allomoda. Rhehberger designed a retro geometric summer ad for Gallery Neugerreimschneider which ran in Artforum and Frieze, then for his show furnished the gallery with an over-stylized 3-D translation of the ad. At Zwinger gallery, Allomoda installed parts of the interior of a DDR Optical Museum that is being renovated to look more contemporary. She imploded the sensation of being in a sprawling museum space by constructing a counter-height triangular interior out of the original vitrine, light fixture, carpeting and scientific murals. Her recycling of these elements examined the esthetic identity of a museum whose function is primarily educational.

Christian Rattemeyer, who recently started Osmos, one of the more interesting project spaces in Berlin, organized a summer show located not his gallery but at a lakeside cabin in a city suburb. "Splendid Isolation," as the exhibition was titled, took up the theme of the Schrebergarten, a term originating from a late-19th-century landscape architect of the same name who designed a communal garden shared by weekend homes on Berlin's outskirts. (His utopian vision proved unsuccessful, and the government divided the property, resulting in a crowded neighborhood of cottages and small gardens.)

For "Splendid Islolation," Australian artist Dominic Eichler planted an elaborate flower clock accompanied by an "info-pole" illustrating other variations on the same theme from around the world. His piece poignantly revealed the tendency to impose structures of social conformity in contexts of a supposed escape-to-nature. The most humorous piece in the show was done by U.S. artist Cay Sophie Rabinowitz, who turned the tool shed into a rec-room furnished with charts, an easy chair, a spot-lit lawn mower and a screened loop of a '70s porn flick. The arrangement resembled both a Kienholzesque psychiatrist office and a naughty boys club house. The shed played on a Marcel Broodthaers' piece in which he labeled cow charts with the names of different makes of automobile. Rabinowitz replaced the cows with lawn mower varieties and labeled them after the variety of psychoses determined by Freud, who had incidentally had Schreber's son as a patient. Other works in the garden included a solar shower with meticulously coiled hoses by Marcus Wirthmann. Stephan Hüsch placed a pair of Japanese Koi in a glass aquarium occupied by two microphones. A sound track of laughter and excerpts of a Brother's Grimm fairy tale about a magic fish provided the illusion that the Koi were sharing an intimate joke at the expense of the human spectators.

The summer program was a breath of fresh air for the increasingly conventional art scene in Berlin, where the constant construction and sky-rocketing real-estate values are clearing out the artists from their ghetto. There is of yet no clearly defined market -- no one's new selling art in Berlin -- and galleries there are sticking to a safe and frequently boring agenda. The performance series and garden show liberated the art from galleries and their auras, which frequently seems to hang in the air at openings like an unseen by vaguely perceived gas. August is vacation time and most galleries went on hiatus, but it was a pleasure to see summer ushered in with such a spirit of enthusiasm, humor and fun.


MARY GOLDMAN is an American critic and curator based in Berlin.