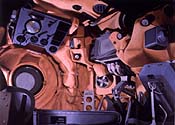 Kara S. Hammond
Voskhod Interior
1999
in "Dreams in the Void"
at Temple Gallery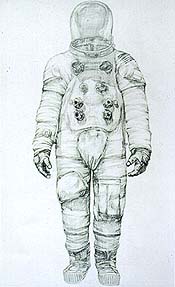 Steve Brower
Study for 50% A7L
2000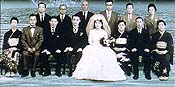 Yushio Itagaki
Honeymoon: Wedding (Group #1)
1998
Alexis Rockman
Biosphere: Laboratory
1993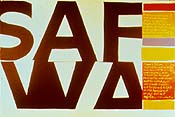 Sister Corita Kent
Someday is Now
1964
"The Big G Stands for Goodness"
at Beaver Art College Gallery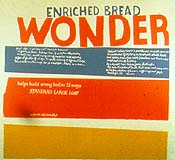 Sister Corita Kent
Enriched Bread
1965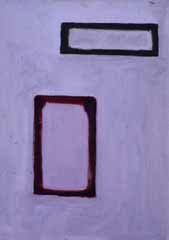 Raoul De Keyser
Templeuve
1994
at Goldie Paley Gallery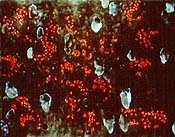 Frank Bramblett
Mind Mine
1997-98
at Levy Gallery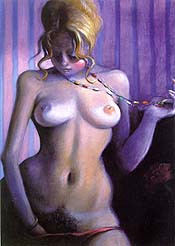 Lisa Yuskavage
Beads
1999
at the U. of Penn's ICA
Hella Jongerius and Jurgen Bey
Kokon/Double-chair
1999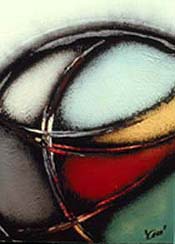 Coco
Por poco te piedro
1986
in "Reality, Rites, Respect: Passages of the Graf "Writer" at the Painted Bride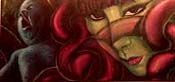 Lady Pink
China: One Child Only!
1992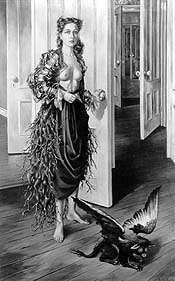 Dorothea Tanning
Birthday
1942
at the PMA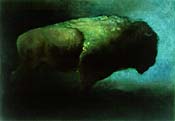 Kate Javens
O.N.n2
2000
at Schmidt-Dean Gallery
Philadelphia Story
by Roberta Fallon
Philadelphia closed out 2000 with several hot museum shows. Over at the Philadelphia Museum of Art (PMA), everybody's favorite sunflower painter Vincent van Gogh is breaking attendance records via the beautiful and poignant "Face to Face" exhibition of portraits. But the real action has been at the city's several college-affiliated galleries.

From Deep Space, it's NASA and Roger that...
Temple Gallery, Tyler School of Art's large, two-story space in Philadelphia's Old City district, "beamed up" its metaphoric, outer-space-themed "Dreams in the Void" in November. The eight-artist exhibition, which sprawls across both floors and the entryway, is a space-y rumination about failed dreams and bottom line realities. It's NASA-savvy and bittersweet.

Among the eight artists in the large show (most of them New Yorkers), Tyler alum Kara Hammond's dead-pan renditions of spacecraft like Sputnik 3 and Skylab are high points, offering up spacecraft like they're insects under a microscope. Hammond's "just the facts, ma'am" drawing of every nut, bolt, hose and button on the International Space Station (ISS) toilet, as well as her pink and blue oil on wood painting of the interior of a Russian Voskhod space capsule, are interiors for the new millennium, icy and weird.

The best work in the show is Brooklyn-based artist Steven Brower's sculpture 50% A7L, a half-sized replica of an Apollo space suit made just for the show. The perky little free-standing sculpture has scuffed moon boots, dirty gray gloves and an overall rumpled look. Like thrift-shop space-wear, it evokes second-hand dreams -- poignant, spoiled and soiled.

Japanese-born, Queens-based Yoshio Itagaki's digital color photographs portraying a Twilight Zone lunar theme park make you dread a hostile takeover of NASA by Disney.

The award for sneakiest installation goes to Brooklynite Stephen Antonson's Project Armstrong, a video projection on the floor of a close-up of an Armstrong-brand ceiling tile that invites you to walk on it like astronaut Neil Armstrong walked on the moon.

And New Yorker Alexis Rockman's painting Biosphere: Laboratory does a good turn for the People for the Ethical Treatment of Animals. Rockman's dystopian sky-lab, where animal head-grafting is the foul order of the day, is a strident anti-technology rant and an outlier in an otherwise nuanced show.

From Out of the Past and out of Los Angeles
Beaver College Art Gallery, a short drive from Center City Philadelphia in Glenside, is respected for its smart mix of local, national and international programming. Last month Beaver reached over to the West coast and into the past with "The Big G Stands for Goodness," a show of the 1960s pop art posters of Sister Corita Kent (1918-1986).
Kent, an activist and teacher, made hot, earnest works. Appropriating Madison Avenue slogans ("put a tiger in your tank"), she made humanistic, Christian word art that exposed the promises of the advertisers for what they were -- airy as white bread.

Some of the posters have the look and feel of late 1960s church basement art, yet they look fresh today. And, as the companion show of 17 West coast artists who also make text-based art points up, Kent's work is kin to the word art of Ed Ruscha and Robert Heinecken, and may well be an influence on a few West coast artists working today, notably Raymond Pettibon. The big, traveling show was curated by Michael Duncan.

From Belgium to Philly's own Backyard
Moore College of Art and Design, located between City Hall and the Philadelphia Museum of Art on the Ben Franklin Parkway, has a long tradition of focusing on local art -- as well as nationally and internationally renowned artists. (Last year, Moore brought the work of Austrian phenom Valie Export to town for her first American solo exhibition.)

Most recently Moore hosted a show of self-taught Belgian painter Raoul De Keyser. De Keyser, now 70, was a journalist and sometime Sunday painter when he turned serious about art in 1964. His paintings mix the mundane (tree branches, boats, windows and sky) with the abstract, and deliver it with a fine, almost tentative touch and reverberant color.

De Keyser, who rarely speaks publicly about his work, participated in a public Q&A with Whitney Museum of American Art curator Lawrence Rinder at the opening. Sweet and earnest, the artist was like his paintings, a little shy.

And in Moore's Levy Gallery, devoted to local artists, longtime Philadelphia abstract painter Frank Bramblett serves up another side of abstract. Bramblett, one of this year's recipients of a $50,000-purse Pew Fellowship in the arts, makes voluptuous pattern and decoration paintings.

From the Galaxy Outrageous
The University of Pennsylvania's Institute of Contemporary Art (ICA) in West Philadelphia is known for courting outrage. ICA gave Andy Warhol his first museum show in 1965. Since then, ICA, a cavernous, two-story kunsthalle with no permanent collection, has taken on the controversial works of Robert Maplethorpe, Andres Serrano and others.

This month ICA presents the paintings of Philadelphia native and Tyler grad Lisa Yuskavage (now a New Yorker) in her first solo museum exhibition. Yuskavage's erotic cartoons -- 18 large works and 40 smaller sketches of anatomically extraordinary females in states of undress and arousal -- cover the walls with their confectionary colors, big body parts and blank stares.

A curatorial favorite, Yuskavage's paintings were featured in the last Whitney Biennial and have been linked to big boys out of art history's past like Bronzino and Bellini, and even Degas and Philip Guston. Toute le monde, or at least 1,550 people, showed up at the opening for the opening party in recent ICA history. Notable friends of the artist spotted in the crowd were Kiki Smith, Cindy Sherman and John Currin.

Upstairs in the ICA's intimate Project Space is the mechanized installation "Silkworm Grind" by Philadelphia artist and 1998 PEW Fellow Mei-ling Hom. Also gracing the upstairs concrete floors are the 3-D designs of Dutch artists Hella Jongerius and Jurgen Bey, affiliates of the Dutch Droog Design Group.

They Came to Write ...but Not on Your Walls
Now in its 31st season, The Painted Bride, Philadelphia's oldest alternative venue, is home to all things "fringe" in the worlds of music, art, dance, theater and poetry. An Old City anchor, this winter the Bride hosted the multi-media "Hip Hop 2 Da Head" festival with six regional graffiti writers as the visual arts accompaniment. "Reality, Rites, Respect: Passages of the Graf Writer" took over the Bride's small two-floor open-loft gallery space in a gentle way, with the "Wild Style" writers working "tame" this time -- on paper and canvas.

New Yorker Roberto "Coco 144" Gualtieri's spare, insect-like creatures, made using the four letters of his nickname are spare, and somehow touching in this quiet context.

While you might expect some political content in the show, you don't get much. New Yorker Sandra "Lady Pink" Fabara, and Philadelphians Dan "Dan One" Polanco and Markus W. "Wars/Wys" Mazza, are the three who seem to embrace politics and activism in their work. Fabara, who took up the spray can in 1979, one of the few women to do so, makes works whose punchy edge is consistent with an apprenticeship in the streets.

Surreal Neighbors, etc.
Up on museum hill at the PMA, the quietly raucous paintings and sculpture of American surrealist Dorothea Tanning, now 90, talk amongst themselves in the gallery next to the van Gogh "Face to Face" exhibition. The PMA recently acquired Tanning's 1942 Surrealist icon Birthday.... Surrealism also graces Old City galleries across town, notably in the swirling, mystical paintings of Annelies Van Dommelan at Rodger LaPelle Gallery.... and in Susan Howard's painted animal universes at Rosenfeld Gallery....

Yet more animals roam, some thunderously, some playfully in Center City galleries. Kate Javens' atmospheric oils at Schmidt-Dean Gallery portraying birds, a bull and a buffalo continue her exploration of somber themes of death and memory.... Jim Houser's anthropomorphized octopi, monkeys and other creatures at Spector Gallery weave their way through a space-filling installation notable for its poetic use of words. The self-taught Houser's "straight-from-talk-radio" layered word-and-image art moves to the ICA as part of a group show this spring.

Finally, it was drawings, drawings everywhere. Emily Brown, another year 2000 PEW Fellow, captures the Maine woods and beaches in inky, transcendental meditations at Gallery Joe.... You get the woods, Edward Hopper, Jacob Lawrence and more in the comprehensive, two-century-spanning, 160-work exhibition "American Watercolors" at the Pennsylvania Academy of the Fine Arts' (PAFA), a show that draws from PAFA's holdings and from private Philadelphia collectors....

And down the road at the region's new Delaware Center for the Contemporary Arts (DCCA) in Wilmington, Del., a venue long a showcase for Philadelphia and regional talent, "Obsessive Drawing" presents the works of 18 local, national and internationally-known artists. Among the high points are award-winning South African artist William Kentridge's charcoal drawing Coma, from his animated video History of the Main Complaint and Philadelphia artist Paul Santoleri's To Your Island, an eight-panel conte crayon delight.


ROBERTA FALLON is an artist and writes about art for Philadelphia Weekly and Art on Paper magazine.