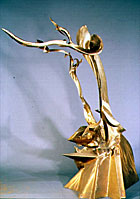 Richard Hunt
Growing Forward
1994





© ArtNet Worldwide 1997
david ebony's
new york top ten


Richard Hunt
at the Studio Museum in Harlem

Dec. 18, 1996 - June 29, 1997


Richard Hunt is widely recognized as one of America's great metal sculptors. An heir to Julio Gonzalez and David Smith, Hunt is an artist/welder--Chicago's Vulcan. He transforms metal into a life-like substance. His abstractions feature spiky and sleek organic forms (evocative of those in Graham Sutherland's thorn-tree paintings of the `40s and `50s), which reference African farm implements, jewelry and weaponry. They seem to simultaneously pierce and envelop space as they twist and writhe through it. Hunt's work is about regeneration, perseverance and the dynamics of survival.

This stunning exhibition, titled "Growing Forward" and co-curated by the Snite Museum of Art at Notre Dame, presents 11 large-scale sculptures, 14 maquettes, five corten steel pieces displayed outdoors in the courtyard, and 13 works on paper, marking Hunt's first show in New York in many years. He has been too busy working on monumental outdoor pieces to concentrate on works for gallery shows. Since 1957, when Hunt was 22 and his work first entered the collection of the Museum of Modern Art, he has received over 100 public commissions. (A good example can be seen at an intersection on 125th St., not far from the Studio Museum.) He is sure to speak about some of them when he gives a talk at the museum on Feb. 13 at 7:30 p.m.