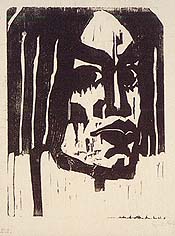 Emil Nolde
Woman's Head III
1912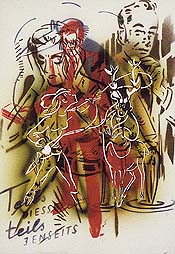 Sigmar Polke
Partly on This Side, Partly on the Other Side
1979
Joseph Beuys
Untitled
1962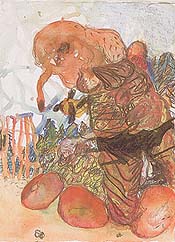 Georg Baselitz
Untitled (Saxon Nose)
1963-64
Rosemarie Trockel
Untitled
1996
Gerhard Richter
Youth Portrait
1988
from October 18, 1977 series
Gerhard Richter
Hanged
1988
from October 18, 1977 series
Gerhard Richter
Record Player
1988
from October 18, 1977 series
Gerhard Richter
Self-Portrait
1996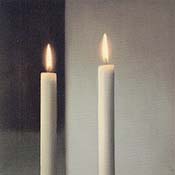 Gerhard Richter
Two Candles
1982
Gerhard Richter
Paul Valéry
1971-72
from 48 Portraits series
Gerhard Richter
Woman Descending the Staircase
1965
Kunst Fest
by Victor M. Cassidy
"With reunification, [German] artists have defined a new relationship to their country's past. Out from under the burden of the Holocaust . . . they are now free to engage with all of German history as well as with art, media, society, and politics on a global scale . . . Instead of a burden, the past is now a tool, a powerful device through which to conjure a new art that reflects a new identity and a new chapter in Germany's long, complex, and colorful history."

These words, from History by Degrees, an essay by Stephanie d'Alessandro of the Art Institute of Chicago, summarize the direction of German art since the fall of the Berlin Wall in 1989. They help to explain why the Art Institute is presenting three concurrent exhibitions of German art this summer: "German Art and the Past: Prints and Drawings from Friedrich to Baselitz," "Postwar German Works on Paper: Gifts of Susan and Lewis Manilow" and "Gerhard Richter: Forty Years of Painting."

Together with these shows, the Art Institute has published an issue of Museum Studies, its in-house scholarly periodical, with five essays on "German Art and the Past." Also available is the Gerhard Richter catalogue from the Museum of Modern Art. Three art exhibitions and some 450 pages of serious prose make quite a swallow, but fortitude brings enlightenment.

These shows demonstrate that the Nazi and postwar eras, which have received abundant critical attention, are neither the only nor the most important times in German history. Contemporary German painters have been influenced by all of German art and political history, not just a portion of it. To understand the present, we must know more than the immediate past.

Romanticism to the Postwar
During the past 200 years, Germany's borders and political allegiances have undergone radical transformations. In 1780, at the beginning of the Romantic era, the German nation as we now know it was part of the Holy Roman Empire and fragmented into more than 300 territories. Germany was not unified until 1871. For 40 years after 1949, it was a divided nation.

The work in "German Art and the Past" is said to demonstrate "artists' often precarious attempts to "negotiate history" and reveal "long-term struggles to define a distinctly German art." Forty prints and drawings represent a bewildering variety of esthetic tendencies -- Romanticism (Caspar David Friedrich, Carl Wilhelm Kolbe, Philipp Otto Runge, Karl Friedrich Schinkel, Friedrich Overbeck and others); Neo-Idealism (Arnold Bocklin, Max Klinger, Hans Thoma), Die Brücke (The Bridge: Erich Heckel, Ernst Ludwig Kirchner, Karl Schmidt-Rotluff), Neue Sachlichkeit (New Objectivity: George Grosz, Otto Dix) and more.

"German Art and the Past" covers a tremendous amount of ground and we would have liked more work from each artist. Visitors can enjoy this show for its attractive variety, but to get the best from it, they should read Museum Studies and see the show more than once. Romantic art is particularly challenging because it comes from a world that is so different from our own.

"Postwar German Works on Paper" comprises 30 drawings and ten prints by Joseph Beuys, Rosemarie Trockel, Martin Kippenberger, Anselm Kiefer, Sigmar Polke and Georg Baselitz. Much of this art deals with German war guilt, so it's no fun to be with and visitors spend little time at this show.

Baselitz' ugly watercolor Saxon Nose depicts what appears to be an armless man with a trunk-like nose standing among rocks in a sandy landscape. We see scribbled bushes behind the man and a picket fence in one corner. Polke's Partly on This Side, Partly on the Other Side consists of busy, layered images of men and women that the artist made with stencils and spray paint. Kiefer's Ways of Worldly Wisdom: Hermann's Battle (1980) is one of his historical portrait-head woodcuts. Heavy Water (1991), also by Kiefer, is a book of gelatin silver prints bound with a lead cover.

Who is Gerhard Richter?
Gerhard Richter is the star of the Kunst Fest. His work is so literary and he talks about it so much that we must constantly remind ourselves that he is an artist -- and that paintings, not words, are his most important product. Richter can paint as beautifully as Titian or Vermeer. He can transform banal imagery into powerful paintings. When he experiments with abstraction, he succeeds at everything he tries and, seemingly by accident, discovers that he is a superb colorist.

Congenitally ambivalent, Richter can hardly make an image without wanting to wound or deny it. Many of his paintings respond to the stylistic excesses of other artists and he needs the art world as a foil -- at least that's what his words suggest. Like Picasso, Richter pillages art history. His remarkable gifts allow him to take huge risks. With Richter, everything comes back to painting. That's what he does.

Born in Dresden, Germany, in 1932, Richter joined the Hitler Youth in boyhood, witnessed the Allied bombing of Dresden, and later made murals for East Germany's Communist government. Escaping to the West in 1961, he settled in Düsseldorf and began to create the work for which he is now known. We see almost 120 Richter paintings at the Art Institute.

Richter's experiences with Nazis, Communists and the rabid leftists he encountered in Western Germany made him wary of political fanaticism. He exalts human values.

The artist's testimony to this is October 18, 1977 (1988), his 15 paintings of the Baader-Meinhof gang. These six German revolutionaries committed robberies, planted bombs and murdered people until they were captured in 1972. After a trial that lasted nearly five years, all the gang members were convicted. According to official reports, they committed suicide in prison soon after. Ideology carried to insane extremes brought these results. There are better ways to work for peace and justice.

This is the narrative behind October 18, 1977. We see blurry, shadowy scenes, taken from black and white photographs, which suggest the harsh, isolated prison environment and the sense of unreality that accompanies death. The Baader-Meinhof gang made war upon society and had to be locked up. The suicides have human form but no life.

Richter wants to paint the history of his time; he uses magazine clippings and family snapshots as sources. As he paints, he blurs the outlines of these images, suggesting an artistic formula. A close look tells us that he transforms these source materials into paintings that make a personal statement.

He presents ordinary people without comment (e.g., Mrs. Marlow, 1964) and paints objects or scenes from daily life -- toilet paper (Toilet Paper, 1965), candles (Two Candles, 1982), and a cityscape (Cathedral Square, Milan, 1968). We also see the stuff of newspaper headlines -- Eight Student Nurses (1966), which shows the Chicago murder victims; and Woman Descending the Staircase (1965), a picture of Iran's glamorous Queen Soroya. When Richter paints the famous, as he does in his 48 Portraits (1971-72), he depicts philosophers, authors, musicians and scientists, not show people or celebrities.

Warplanes (Mustang Squadron and Phantom Interceptor, both 1964) are another part of Richter's world. In the mid-'60s, when he made these paintings, nuclear war was a distinct possibility and Germany knew that it would be pulverized if the cold war turned hot. With direct, recent experience of bombing raids, Germans had an adult's understanding of war. Roy Lichtenstein, by contrast, painted warplanes from comic books.

All this bespeaks Richter's gravitas and humanity. He never mocks plain people but just presents them. His Jacqueline Kennedy is a weeping widow, while Andy Warhol makes her into a fashion icon. Warhol's Mao looks harmless and silly, but Richter, a grown-up, paints the Baader-Meinhof suicides.

Talk, Talk, Talk
Artists love to have people write about their work -- as long as they write what the artist wants! Richter is one of many artists to evolve a strategy for getting publicity, controlling much of what is said about him, and still protecting himself.

Richter talks and talks about his work. Robert Storr's exhibition catalogue concludes with a 22-page interview and lists 33 more interviews in its bibliography. Michael Kimmelman, the New York Times art critic, said in a recent lecture at the Art Institute that he spent days traveling and talking with the artist.

Richter tells critics what he wants them to hear -- and sometimes he just lets them talk. The Storr interview is 1,523 printed lines in the catalogue. Richter speaks for 771 lines or barely 51 percent of the interview and Storr talks for 752 lines for 49 percent-plus. Richter gives monosyllabic answers to some questions from Storr that are two paragraphs long.

Everyone has much less to say about Richter's abstractions of the '90s, which are his most visual, intuitive work. He makes these modern masterpieces by layering colors on top of each other -- and he uses a squeegee to create a marvelously tense, active surface. His colors are simply ravishing -- no other word for it. There are many variations among these paintings as Richter experiments and challenges himself.

Recent art school graduates installed the Richter show at the Art Institute. These young artists had the right idea. At lunchtime, they chose a Richter painting, sat around it on the floor, ate their sandwiches and tried to figure out how the artist made it.


VICTOR M. CASSIDY writes on art from Chicago.