Jin Lee
Leg 1
2003
at the Museum of Contemporary Photography, Chicago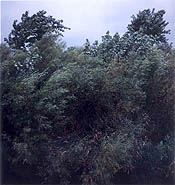 Jin Lee
Wind 1
2003
Jin Lee
Winter 1
2003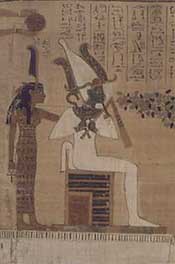 Book of the Dead (detail)
provenance unknown
New Kingdom, ca. 1336-1294 BC
painted papyrus
British Museum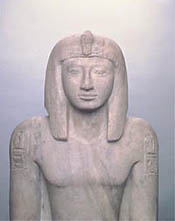 Sety II Seated, Holding an Emblem of Amun-Re
Thebes, Karnak Temple
New Kingdom, ca. 1200-1194 BC
sandstone
ca. 65 in.
British Museum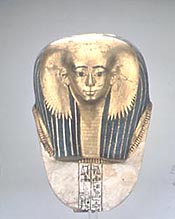 Mummy Mask of Satdjehuty
provenance unknown
New Kingdom, ca. 1500 BC
cartonnage, painted and gilded
13 in. tall
British Museum
artist unknown (American)
Six Women
ca. 1845
daguerreotype
Hallmark Photographic Collection, Hallmark Cards, Inc.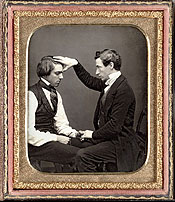 artist unknown (American)
The Mesmerist
ca. 1850
daguerreotype
Hallmark Photographic Collection, Hallmark Cards, Inc.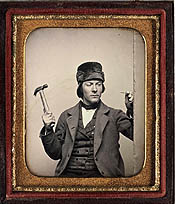 artist unknown (American)
Man with Hammer and Nail
ca. 1850
daguerreotype
Hallmark Photographic Collection, Hallmark Cards, Inc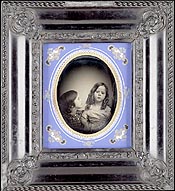 artist unknown (American)
Two Girls
ca. 1855
daguerreotype
Hallmark Photographic Collection, Hallmark Cards, Inc.
Prairie Smoke
by Victor M. Cassidy
A walk in the prairie
To know the prairie, walk through it very slowly, observing the vegetation and the sky. If you're a naturalist, you may identify 200 different native plants. If you're not, you'll be swept up in the prairie's vitality.

Jin Lee, a Chicago-area photographer, has discovered the Illinois prairie and tells us what she sees there. Her photographs show the profuse vegetation, the crowding as plants fight for sun and moisture, and the action of the wind. Lee had a one-person show at Chicago's Museum of Contemporary Photography in May and June.

Prairie topography is generally flat and many of the plants are low, which makes us notice the sky. Lee shoots on overcast days when the sky is gray or papery white. She varies the height of the camera to control the contents of the photographic rectangle. "A prairie is a spacious place," she says. "I feel small there and get very close to the landscape. I don't have that feeling on a mountain."

Prairies are filled with flowers in summer, but we see few of them in Lee's photographs. She is telling us that plants have lives and personalities even when they are not blooming. "Some plants are sober," she says. "Others are playful." There's "tremendous diversity" in a prairie, with "plenty to see, even in winter." The artist's latest project is to photograph the prairie in all four seasons.

Lee's images often nod to art history -- botanical drawings, Romantic landscapes, Japanese scrolls, and more. Some photographs show women's limbs amidst vegetation, but Lee warns us not to connect them to the traditional nude in the landscape. The women are always clothed and we see only a portion of their flesh, a surface that contrasts with vegetation.

Scars and other details in these photographs suggest that the women are older and that they have histories and personalities. Instead of the nude in the landscape, which she views as "passive," Lee gives us an active woman whose interest transcends sex. "Mine is an alternative way of showing a woman in nature," she states.

Eternal Egypt
"Eternal Egypt: Masterworks of Ancient Art from the British Museum" is on view at the Field Museum of Natural History until Aug. 10, 2003. This exhibition of 144 sculptures, reliefs, papyri, jewels, cosmetic objects and items of funerary equipment is touring to eight venues in the U.S. while the British Museum is being rebuilt. We see the cream of the British Museum's ancient Egyptian collection -- work that has not left England since it was acquired in the 19th and early 20th centuries.

The exhibition includes several papyri from the Book of the Dead. In the detail shown here, Osiris is seated with the goddess Maat standing by his side. Above their heads are the breasts and arms of the sky goddess Nut, who receives the sun at the end of the day. Beautifully drawn and colored, these papyri convey a sense of ritual and death's mystery.

Sety II Seated, Holding an Emblem of Amun-Re is one of the most complete Ancient Egyptian sculptures to have survived. There's hardly any damage at all to this 5.5-foot-tall work in sandstone. Sety is imposing and very stiff. Equally impressive is the gilded Mummy Mask of Satdjehuty, which was placed over the head of a female mummy.

Many of the works in "Eternal Egypt" were quite beautiful, but the show as a whole was dull, with too many visually dead pieces. Ancient Egyptian artists had to observe strict religious conventions in their work and produce flattering likenesses of the powerful. Artists throughout history have confronted such restrictions and triumphed over them to fill their work with life. For some reason, this did not happen often in Ancient Egypt.

The best thing about "Eternal Egypt" is the catalog, which contains excellent essays and commentary by Edna R. Russman of the Brooklyn Museum, who was the moving spirit behind the show. Her accounts of the art are more engaging than the work itself.

American Daguerreotypes
"Unknown Maker: The Art of the American Daguerreotype" is up at the Art Institute of Chicago until Sept. 28. The show comprises more than 160 daguerreotypes taken from the Hallmark Photographic Collection, Kansas City, Mo.

Introduced in 1839 by the Parisian painter and entertainer Jacques-Louis-Mand Daguerre, daguerreotypes came into widespread use about 1843 and enjoyed their greatest popularity in the United States where traveling photographers in studio wagons made images of ordinary people. Daguerreotypes were replaced by simpler, less expensive technologies in the early 1860s.

Daguerreotypes were mostly small studio portraits with razor-sharp focus, rich tones, and a sense of physical depth. Other processes that European photographers explored during the 1840s, 1850s, and later produced a far richer variety of images. "Unknown Maker" is really a vernacular social history show that provides glimpses of small-town America before the Civil War.

The people in the daguerreotypes -- almost all are completely anonymous -- had attained a level of prosperity that permitted them to have their portraits made. We see couples and families in their Sunday best -- dark jackets for the gentlemen, black silk for the ladies -- with serious expressions, severe hairstyles and no cosmetics or jewelry. There are portraits of manual workers -- carpenters, masons, and gold miners -- along with a mesmerist and a phrenologist. Two riverboat gamblers could have inspired Mark Twain.

The sexes had separate and more traditional roles in those days. We see men playing cards and drinking, a woman breast feeding her baby and a mother with her child. People lived according to certitudes: there are striking images of clergy. Mourning portraits of children who died before their time suggest how secure modern medicine has made us.

"Unknown Maker" shows us our ancestors, people who worked very hard just to stay alive. They built this nation. We owe them much.


VICTOR M. CASSIDY writes on art from Chicago.