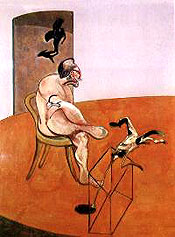 Francis Bacon
Two Figures Lying on a Bed with Attendants (left panel)
1968
Two Figures Lying on a Bed with Attendants (center panel)
1968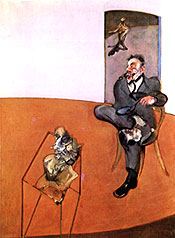 Two Figures Lying on a Bed with Attendants (right panel)
1968
Tate Goes after the Bacon
by Joe La Placa
Iran's hard line Ayatollahs were not amused when they came across a Francis Bacon triptych bought by Farah Pahlavi, the widow of the last Shah of Iran. Two Figures Lying on a Bed with Attendants, its central panel featuring two spooning male nudes, was one of dozens seized and banished to storage when the fundamentalists came to power after the 1979 revolution. Bacon's masterpiece languished for nearly a quarter of a century, a victim of the sensitivity of depicting the flesh. Even today, it's still regarded indecent by Iran's conservatives.

But negotiations are now underway for the painting to be lent to the Tate Britain. With Bacon triptychs now commanding as much as £6,000,000 on the market, the painting would form the centerpiece of a small exhibition planed for this spring.

The current discussions began two years ago. Stephen Deuchar, the director of Tate Britain, was on holiday in Tehran. He visited the Tehran Museum of Contemporary Art and was made warmly welcome by its director, Ali Reza Semiazar. He showed Deuchar a Bacon in storage. "I thought it would be rather great to see it in Britain -- in the context of other Bacons," said Deuchar. "I hadn't seen this one reproduced before. It hasn't been exhibited in this country." The work was sold to Iran by Marlborough Gallery in New York shortly after it was made in 1968.

The Tehran contemporary museum was founded by the last Shah's widow, Farah Pahlavi, in 1977, and became a big player on the contemporary art market, thanks to Iran's immense oil revenues. The museum houses Iranian art alongside works by Picasso, Monet, Dal and Warhol. The collection includes important British work -- works by Henry Moore, Ben Nicholson, and two Bacons.

And Iran isn't completely uninterested in art from the West. In return for the loan of the Bacon, the British Council is sending the Tehran museum a show titled "British Sculpture in the 20th Century," which opens there in February.


JOE LA PLACA is Artnet's representative in London.