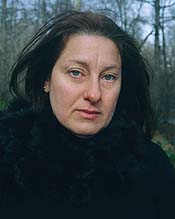 Jane Hart of Lemon Sky Projects
Photo Tim Hailand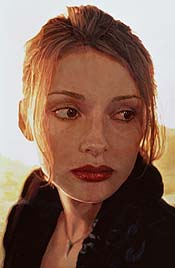 Robert Standish
Untitled (Woman 5:45 am)
2000
at Lemon Sky Projects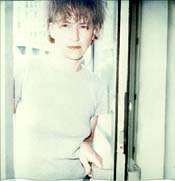 Susanne Vielmetter
Photo Stefanie Schneider
Amy Sillman
Blue Painting
2001
at Susanne Vielmetter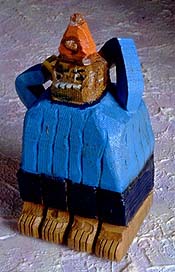 Paul Cherwick
Untitled
2001
at Vielmetter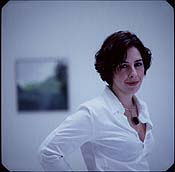 Karyn Lovegrove
Photo Emily Mott
Polly Apfelbaum
Crazy Green Bruised Orange 2
at Karyn Lovegrove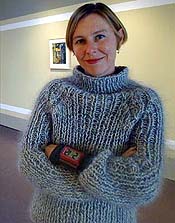 Christine Nichols
of works on paper gallery, inc.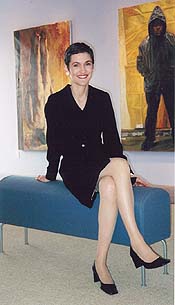 Susan Schomburg with paintings by Domenic Cretara.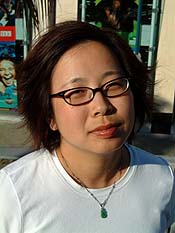 Kris Kuramitsu, Norton Family Office curator and director of arts programs
Luminous Vision
by Eve Wood
It could be said that women have a precise and often luminous vision. They rarely, if ever, suffer "vertigo of the heart," and seem inherently to know what they like and what moves them -- in life, in love and in art. Currently, the Los Angeles art world is seeing an upsurge of women gallerists and curators, women whose personal vision, coupled with a fierce dedication to their own sensibilities, mark them as true mavericks, a term once reserved only for gun-slinging renegades of the Old West. We're in the West, all right, but these ladies definitely do not carry guns, but the simple power of their convictions.

Jane Hart and Lemon Sky Projects
Jane Hart, who is originally from New York, started Lemon Sky Projects with a mind to opening a space that combined traditional notions of the gallery with a more experimental model. From its beginnings in her apartment, the space had a spirit of collaboration and investigation. Artists created installations there, had poetry readings and were allowed the freedom to experiment and investigate new media. Hart also incorporated a regular print publishing program into her venture; she had been the heartbeat for four years at Muse X Editions, where she worked with artists John Baldessari, Uta Barth and Charles Long, among others.

Six months ago, Hart opened Lemon Sky Projects and Editions on Wilshire together with business partner, Robert Grahmbeek. Ever a maverick thinker, Hart seeks to support the enigmatic and transformative qualities in an art practice that resonates beyond the rigidity and staid precepts of the gallery environment. As a publisher, her vision is mutable. As an art dealer, her sense of adventure is burgeoning. When asked if there was one thing she could change about the art world, Hart replied, "I see that the spirit of collaboration is very much alive in this city, and this is quite heartening. I would encourage this process of growth and continued expansion. It should be embraced. We should all welcome the new shifting technologies and the possibilities they afford us."

Currently on view at Lemon Sky are the beautifully rendered realistic paintings of Robert Standish. In the project room is the T. Kelly House by T. Kelly Mason. Coming up are installations by Chan Scatz and Chris Birchby. For more information about Lemon Sky, check the website at www.lemonskyprojects.com.

Susanne Vielmetter L.A. Projects
Two doors down from Lemon Sky Projects is Susanne Vielmetter. Born in Cologne, Vielmetter received a degree in art, literature and German studies from the University of Cologne. In 1990, Vielmetter came to L.A. and began working for a gallery and curating exhibitions for several spaces, sharpening her singular vision over the course of seven years. Two and a half years ago, Vielmetter decided to open her own space, Susanne Vielmetter; L.A. Projects, on Wilshire Boulevard.

Vielmetter is committed to the work of younger, emerging artists, and at the same time collaborates with collectors. For Vielmetter, art is as much a necessity as shelter or food. "Art keeps the gray cells moving and challenged," she says. With her gallery, Vielmetter seeks to provide artists with a viable financial foundation as well as a space where they can explore their own creative possibilities. When asked what she would about the art world, Vielmetter replied, "Artists are played like stocks, and are often commodified -- they're hot one moment and dropped the next. The artist's desire to create is unique, and is an admirable and vital impulse that should be celebrated."

Current exhibitions at the gallery feature paintings by Amy Sillman in the main space and the idiosyncratic, painted figure sculptures of Paul Cherwick in the project space. Vielmetter's website is located at www.vielmetter.com.

Karyn Lovegrove Gallery
Up the road a spell is the Karyn Lovegrove Gallery, located in the 6150 Wilshire Boulevard complex. Karyn Lovegrove, a transplant from Melbourne, where she had her own gallery, moved to L.A. and opened her doors in 1999. She cut her curatorial teeth working with several high-profile corporate collections, including those of British Petroleum and IBM, where she was given full rein to show more experimental work. Lovegrove said she made the conscious decision not to "work to live" but rather to "live to work," and so threw over her aspirations of becoming a lawyer to pursue a career in art, which encompassed both a deeply passionate personal investment as well as an interest in documenting and collecting.

For Lovegrove, the role of art dealer is rich and multifarious, and includes an extraordinary ability to respond to and facilitate the development of each artist's own esthetic. She also derives joy from working with collectors, forging relationships and building their collections over time in accordance with each person's individual passion and commitment. "I wish museums had more funding available for the acquisition of more contemporary works," Lovegrove says. "Most artists working today are excluded from museum collections, which, sadly, only reflect a sliver of the good work being produced today. My own dream is to have my own little museum where I might support a single artist or two, and collect those artist's works in depth."

An exhibition of work by Ingrid Calame just closed; coming up is a floor installation by Polly Apfelbaum, Apr. 27-May 25. Lovegrove's website is www.karynlovegrovegallery.com.

Christine Nichols, works on paper, inc.
In the same complex is Christine Nichols' works on paper, inc. Nichols received a degree in art history and journalism from NYU and in 1992 moved to L.A. to work at Tom Solomon's Garage. "Tom is an artist's advocate, and one of L.A.'s true cutting-edge dealers, raising the bar for good shows." Nichols specified her passion for working with drawings early on, and in 1998 spring-boarded into opening her own space. Nichols is interested in exploring drawing as a form in an of itself, imbuing it with a kind of prescience and importance as necessary and integral in its power to affect as any painting or sculpture.

Nichols, definitely a free spirit, enjoys the openness and flexibility that working in the art world affords. Having time to look at art is vital. Because she works solely with drawings, Nichols thinks of herself as a kind of editor in the more literary or epistolary tradition. She starts projects far in advance throughout the year, and then culls 15 or so drawings from the artist's daily practice to arrive at a comprehensive representation of that artist's oeuvre.

Nichols' vision as a dealer is most definitely 20/20, and she says if she could change about the art world, it would be the practice of discounting prices in the contemporary market. "No discounts. Discounts on art should be extended, not expected. It's not built into the price of a single piece, and the artists should not have to suffer the loss."

works on paper, whose website is on Artnet, is currently featuring exquisitely rendered fashion drawings by Graham Little. Next up is Konstantin Kakanias.

Susan Schomburg's Schomburg Gallery
Further west toward the setting sun can be found a new and energetic addition to the sometimes sober landscape of the Bergamot Station Arts Complex. Susan Schomburg opened the Schomburg Gallery last year after years of working as a research director for William A. Karges, the veteran L.A. dealer of California Impressionism. Schomburg comes from an art background -- her grandfather was a celebrated illustrator whose work graced the covers of Captain America and books by Isaac Asimov and Arthur C. Clarke. He was the first artist hired to do drawings for Stanley Kubrick's 2001: A Space Odyssey.

Schomburg learned the art business from Whitney Ganz, whose family owns what may be the most important private collection of 19th-century American art in the world. Schomburg is interested in showing work that reflects an international esthetic. She describes her vision as wide-reaching, and the desire to become completely immersed in a single artist's imagination is thrilling.

Schomburg's approach is unorthodox, even daring -- she shows traditional work (in December she will present a show on Russian iconography) in the midst of the "hot topic" galleries like Track 16. "I wish some of the pretensions so prevalent in the art world could be done away with," Schomburg says. "I think dealers should give more time to people who walk into their galleries, and take time to answer questions. Curiosity and a genuine interest in the work should be supported and encouraged."

Currently on view at Schomburg Gallery are painting by Domenic Cretara, which memorialize the haunting tragedy of the O.J. Simpson murders. Schomburg's next show is titled "Francis & Francis," which features works by Margaret Smith Francis and debuts the work of Augustus Francis, son of famed Abstract Expressionist Sam Francis. Schomburg Gallery is online at www.schomburggallery.com.

Kris Kuramitsu and the Norton Family Office
Pushing still ever westward, we come nearly to the ocean's edge, and to Kris Kuramitsu, the only curator in the lineup who works for a private collection -- she is the central vision and motivating force behind both Eileen Harris Norton's and Peter Norton's private collections. Kuramitsu is simultaneously pursuing a Ph.D in art history at UCLA. Kuramitsu began working for the Nortons six years ago as an assistant, and has since become the chief curator for the collection. She able to follow a single artist's career over time, since both Peter and Eileen Norton have always taken a keen interest in the process by which an artist might be supported over the course of his or her career.

Kuramitsu essentially curates for a domestic space, which presupposes its own challenges. She must, in essence, formulate her own curatorial language in collaboration with the esthetics of two highly evolved and discerning minds. Kuramitsu enjoys seeing an artist grapple with ideas and visual problems over time, exploring new ways of approaching work. She focuses on the "process" by which artists come into themselves, rather than a specific and encoded esthetic. One thing she would change about the art world: "There are so many enclaves and cliques in the art world, from the commercial to fine art. I'd like to see greater crossover. We should really mix it up, and get involved with art for the sake of art across the boards."


EVE WOOD writes on art from Los Angeles. She works at art on paper, inc.