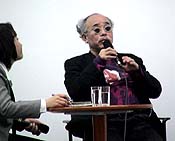 Nobuyoshi Araki discussing his work
SEOUL ARCHIVES

LETTER FROM SEOUL
by Joan Kee1/27/03
New art spaces jostle with established galleries in a lively local scene.

PAUSE FOR THOUGHT
by Jina Park 4/24/02
The 2002 Gwangju Biennale.

REPORT FROM KOREA
by Carolee Thea 4/24/02
The Gwangju Biennale moves toward the future.

LETTER FROM SEOUL
by Joan Kee 3/3/99
Artsonje Seoul, Gallery Savina and the Ho-Am Gallery forge ahead, despite economic turmoil.

ART AND SEOUL
by Fred Stern 6/22/98
A delectable new Korean gallery opens at the Metropolitan Museum.