Record price for a painting:
Untitled
1985
$341,000 at Sotheby's,
May 8, 1990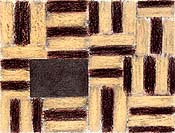 Record for a work on paper:
Untitled
1989
$28,600 at Christie's
May 8, 1990
Now
1987
$99,000 at Sotheby's
Nov. 17, 1992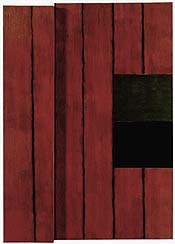 Close
1986
$82,250 at Christie's,
May 17, 2000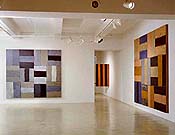 Installation view at Gallery Lelong, New York, 1999.
Art Market Guide 2001
by Richard Polsky
It is difficult for most viewers not to like the work of Sean Scully, with its tasty paint application and irresistible rich colors. His stripe motif is memorable and instantly recognizable. However, Scully's work goes beyond mere decoration. He creates tension in the work by skillfully playing conflicting colors off one another. He also occasionally inserts small canvases or sheets of blued steel within the main canvas, creating architectural references (doors, windows, etc.). Both strategies are effective.

So, it's a given that the work looks good, but how did it perform in the marketplace during the 1990s? To answer that question you have to go back to the boom market of the late 1980s. It's hard to believe now, but Scully was once considered one of the surest bets at auction because his paintings were so incredibly difficult to acquire -- which made them seem even more desirable. This was due to some very astute marketing by the artist's former dealer, David McKee.

Back in the 1980s, McKee decided that he would only sell Scully paintings to collectors. The strategy was to keep the work out of the hands of other dealers to avoid speculation. The problem with speculators is that they often flip works at auction, which raises prices on the primary market. This, in turn, contributes to pricing serious collectors and museums out of an artist's market. As work becomes more expensive, the pool of applicants shrinks, thus depriving the dealer and artist of income. Unless the dealer and artist have held onto key early works, they only benefit minimally from rising prices on the secondary market.

Around 1985-86, a large Scully would have cost a collector $45,000 if purchased from one of the artist's dealers. By 1989, the same painting would have easily brought five times that if placed at auction. At the peak of the market, the mega-collector Charles Saatchi sold a group of six Scullys to a European speculator (allegedly Bo Alveryd) for an average price of $400,000 a canvas, or $2.4 million for the group.

In the short term, McKee's strategy worked. The Scully market had a sense of strength and order. However, ultimately, none of this mattered as the crash of the art market during the early 1990s affected virtually every artist. For example, I know of a collector who purchased the painting Now for approximately $350,000 at the top of the market. He eventually lost interest in Scully and sold it not long after for $99,000 (Sotheby's Nov. 1992). This experience, while extreme, was not that unusual in the Scully market.

During the art market's recovery, which began around 1995, Scully's prices gradually stabilized. While his quarter-of-a-million-dollar and up prices were a thing of the past, his work eventually found its price range, with major paintings mostly selling for $75,000-$150,000. The most recent painting to come up at auction was Close, which measures 96 x 68 x 9 inches, and was estimated to sell for $60,000-$80,000. It wound up bringing $82,250 (Christie's May 2000). Scully's pastels and watercolors remain a good deal at auction, although they appear infrequently. Pastels sell for $15,000-$25,000 and watercolors for $7,500-$15,000.

So why is Sean Scully a "hold?" For a while, it seemed like he was well on his way to becoming the "heir apparent" to abstract painters such as Brice Marden and Robert Ryman. Many critics saw Scully's work as an update of Frank Stella's early stripe paintings. He was also viewed in some quarters as a bridge between the Minimalist masters and a younger generation of abstract painters such as David Row, Jonathan Lasker, Terry Winters, Chuck Arnoldi, Richmond Burton, Caio Fonseca and others.

The problem is that Scully continues to crank out virtually the same painting over and over again. The only new twist that he's managed to add was to substitute squares for stripes. He put this checkerboard motif to good effect, producing his usual handsome paintings. But other than that, there really has been little growth in the work over the last 15 years. That's a long time for a relatively young artist to not evolve.

Sure, Scully makes some of the most attractive paintings around. Yes, the work looks sensational in a home or institutional setting. However, I once heard a rival artist refer to his work as "necktie" art. It was both insulting and an accurate comment. If Scully wants to rise above merely being a "hold" artist, it's time for him to really dig deep and push himself to go beyond what has become routine for him. Being on automatic pilot is a safe move for airplanes, but for an artist it almost always leads to a crash.


RICHARD POLSKY is a private dealer specializing in post-1960 works of art. Questions or comments can be directed to him at Polskyart@aol.com.