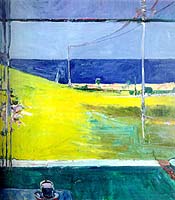 Record price for a painting:
Horizon-Ocean View
1959
$3,962,500
at Sotheby's
Nov. 17, 1998
Record price for an "Ocean Park" painting:
Ocean Park #40
1971
$1,760,000
at Sotheby's
May 8, 1990
Record price for a figurative painting:
Coffee
1959
$1,430,000
Sotheby's
May 2, 1989
(Edwin Janss, Jr., Collection)
Record price for an "Ocean Park" on paper
(not illustrated):
Untitled
1972
$198,000
Sotheby's
Feb. 27, 1990
[gouache on paper, 28 by 23 in.]
Record price for a figurative work on paper:
Seated Woman, Dressing, #35
1964
$154,250
Sotheby's
Nov. 15, 2000
Art Market Guide 2001
by Richard Polsky
It wasn't that long ago that you could mention the name Richard Diebenkorn in Europe and draw a blank response. It's not that European collectors and dealers hadn't heard of him -- it's just that he wasn't on their radar. Those that knew of his work often responded, "Diebenkorn? Oh, he's a good regional artist in California." Even in New York, Diebenkorn was an overlooked artist. They were aware of him but he simply wasn't part of their consciousness.

Europe's indifference is easy to explain. During Diebenkorn's lifetime, with the exception of the Venice Biennale, he rarely showed overseas. For an artist to be considered truly important, he or she has to show internationally.

For example, the four biggest names to come out of California are Sam Francis, Ed Ruscha, Wayne Thiebaud and Richard Diebenkorn. Francis exhibited his paintings extensively in Europe and Japan. Ruscha also had numerous exhibitions in Europe. As a result, both of these artists developed major reputations at a much earlier age than Diebenkorn or Thiebaud -- who rarely showed outside of America.

New York's tardiness to recognize Diebenkorn is harder to understand. The likely reason is that the work never appeared to be trendy or even of the moment. Diebenkorn began producing mature work around 1951. As he developed during the decade into a significant painter, his work had little in common with Abstract Expressionism. With the approach of the 1960s and Pop Art, Diebenkorn's paintings obviously bore scant relation to Warhol's and Lichtenstein's. With the advent of the 1970s and Photo Realism and Minimalism, Diebenkorn, yet again, marched to his own beat.

His work was traditional, having its roots in Matisse. Diebenkorn synthesized what he learned from the master and emerged with paintings that emphasized deft paint handling and pure beauty. Diebenkorn's figures and abstract landscapes worked because of their human quality. Diebenkorn always left in his errant marks -- evidence of his struggles to get it right. By doing so, he freed many painters to enjoy the physicality of the paint and the act of painting for its own sake. His work is an inspiration to the many artists who aren't concerned with making art that seems to exist primarily for the sake of drawing attention to itself.

Sometime during the 1990s, the Diebenkorn market began to catch fire. Collectors and museum curators realized there were relatively few canvases that ever came on the open market. Prices started to gain momentum at auction, cresting with the sale of a painterly abstract landscape, Horizon-Ocean View, for an impressive $3.9 million (Sotheby's Nov. 1998). Oddly enough, his most famous body of work, the "Ocean Park" paintings from his Santa Monica days, have yet to peak at auction.

The record for an "Ocean Park" canvas is "only" $1.7 million. The record for one of his more numerous examples on paper is a ridiculously low $198,000. Since a good "Ocean Park" on paper hasn't appeared at auction in ages, the record has little meaning. In private transactions, the best of these paintings routinely trade for $250,000-$450,000.

Perhaps the only real bargains left are Diebenkorn's figurative ink drawings. You can still find one of these for $50,000-$150,000, but that may be changing as well. One of these drawings just set a record during the last round of sales. Seated Woman, Dressing, #35, recently sold for $154,250 (S. Nov. 2000).

If you're a collector who's obsessed with owning a Diebenkorn but can't afford the tariff for a unique work, his prints aren't a bad option. His great prints are the color etchings, of which the finest is arguably Touched Red, currently in the $35,000 range. If that's still too pricey, many of his early small black and white etchings can be had for only $3,500-$7,500. But if you have the money, it would be a shame not to buy color.


RICHARD POLSKY is a private dealer specializing in post-1960 works of art. Questions or comments can be directed to him in San Francisco at at 415-885-1809 or Polskyart@aol.com.