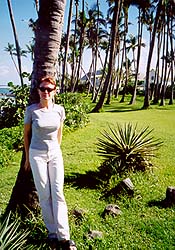 The author, on the grounds of the Golden Lemon Inn, St. Kitt's, West Indies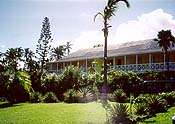 The Golden Lemon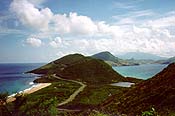 St. Kitt's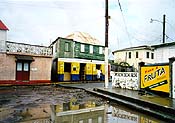 St. Kitt's
Ann Magnuson and the Golden Lemon's Arthur Lyman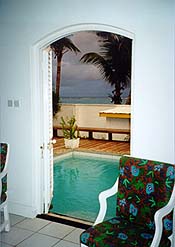 Ginger's bungalow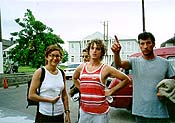 From left, Elizabeth Peyton, Tony Just and Maurizio Cattelan
Vacating at the Biennial, from left: Tiravanija, Eliasson, Rehberger, Jens Hoffmann, Rist & Cattelan.
Photo Vanessa Beecroft.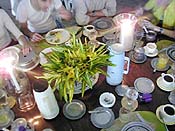 Breakfast
Photo Vanessa Beecroft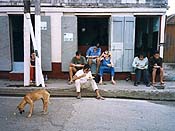 Lunch
Photo Vanessa Beecroft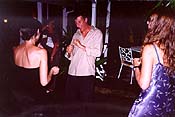 Party
Monkey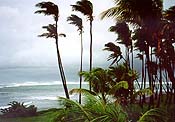 Uh-oh!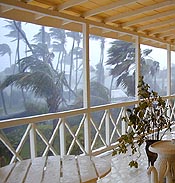 Hurricane.
More hurricane
Photo Armin Linke
Hula!
From left, Olafur, Pipilotti, Gabriel, Rirkrit and Tobias.
Photo Elizabeth Peyton.
Sung to the tune of The Theme from Gilligan's Island
(with apologies to Mad Magazine)

Sit right back and you'll hear a tale
a tale of a fateful trip
to an island in the Caribbean
with artists who are hip
the curator was a prankster smarty pants
his young partner liked to smirk
they hosted a Biennial
but there would be no work
there would be no work

(thunder crash)

The weather started getting rough
Hurricane Lenny was on the way
if the all the artists died on St. Kitt's
what would their galleries say?
what would Artforum say?

Their all-expenses-paid vacation turned into an Irwin Allen disaster film
featuring:
Gen X art stars
from around the world
A Kennedyesque patron
and his "friend"
a displaced performance artist (me)
the local ex-pat Brits and sexy Rastafarians
here at the Sixth International Caribbean Biennial!

Okay, maybe I have to sing it for you to make all the words fit the tune. Or maybe it will make more sense after I fill in the blanks. All I know is that my week in St. Kitt's at the Sixth International Caribbean Biennial felt like an art-world version of Gilligan's Island.

It all started with a simple phone call. It was my best friend. "Wanna go to St. Kitt's with me?" she asked, bubbling over with enthusiasm and extra frequent flier miles. "There's this art biennial going on from November 10th through the 17th," my gal pal explained, "and we can get this great deal on the hotel rooms from the guy who is helping sponsor it."

"Right on! Sign me up!" I squealed, and rushed out to renew my passport, anxious to frolic on the white sand beaches, swim in the tranquil turquoise sea and wrestle under the Milky Way with the dreadlocked dude who rents the snorkeling equipment.

And, more than anything, I was anxious to hang out with artists again; desperate to talk to people who cared about something more than celebrities, weekend grosses and percentage points.

However, except for Elizabeth Peyton and Mariko Mori, none of the names listed in the press release for the Sixth International Caribbean Biennial rang a bell. I had been lollygaggng around Hollywood too long. Who was Olafur Eliasson, Gabriel Orozco, Tobias Rehberger, Pipilotti Rist, Vanessa Beecroft and Rirkrit Tiravanija? And who were these curators, Maurizio Cattelan and Jens Hoffman?

After a series of frenzied calls to my New York artist friends I learned more. So-and-so's really nice. So-and-so's an asshole. So-and-so's work sucks. So-and-so is only famous because they have so much money. So-and-so has a problem with other women. So-and-so is really talented. So-and-so is cute. So-and-so I've never heard of.

But one thing everyone agreed on was that this particular roster of names was top drawer; the hottest of the hot.

So, loaded with insider gossip, a string bikini and a sunscreen with the highest SPF money can buy, I boarded the plane with my friend and headed for the warm waters of the Caribbean where the biennial press release promised that "a major international contemporary art event open to the public" was under way on the island of St. Kitt's, West Indies.

The fact that there was no artwork on display at the exhibition entitled "Blown Away" didn't bother me as much as the icy reception the four of us who were not officially affiliated with the biennial received upon our arrival. That gang of four would be me, my gal pal Pilar, Jenny Liu the journalist and her friend-along-for-the-ride, Janet. Yes, all four of us were female and, as I discovered later, all four of us were assumed to be lesbians.

Sad to say, none of us were. Because Mariko Mori did look fetching as she sat, Geisha-like, at the rustic dinner table dressed in head-to-toe Prada (even if she did answer all my questions with monosyllabic indifference). I also felt a definite chill from most of the others (except Elizabeth Peyton and her friend Tony Just -- the nicest kids on the block) but simply chalked it up to the fact that we were all strangers. Give us a few hours and some more piña coladas, we'll all be naked in the pool having a million laughs.

That did eventually happen, but only after being "iced out" for the first couple of days. Seems that the presence of a journalist was definitely not welcome -- in spite of the fact that Jenny had been invited by one of the galleries involved and there were full page advertisements in Artforum and elsewhere for a biennial that the press release did say, after all, was "open to the public."

After a fair amount of "drama" (the art world ain't so different from Hollywood), Jenny agreed not to use any of the video or the still shots from the Saturday night party where everyone eventually let down their guard and danced away their differences to a 17-piece all-female steel drum band that played a bizarre Calypso version of Cher's Believe.

Maybe it was the magic of Cher or maybe it was the endless supply of the local, kick-ass sugar-cane rum that flowed freely but it was that night, on the patio of the Lemon Tree Inn, that I began to imagine everyone as the cast from Gilligan's Island.

Head curator Maurizio Cattelan -- an affable jokester who reminded me of Yves Montand in a Jacques Tati movie -- was, obviously, the Skipper. And his slender 20-something cohort, Jens Hoffman, was just as obviously Gilligan.

Naturally I wanted to take the role of Ginger but was willing to share it with fellow redhead Vanessa Beecroft. Mary Ann also had to be double cast, alternating between the always-smiling Elizabeth Peyton and that always-peppy Swiss Miss, Pipilotti Rist (who charmed me with her enthusiasm for my home base Los Angeles -- "I love this city! It is so democratic! All the street corners are the same!").

Rirkrit, Olafur, Gabriel and Tobias all seemed rather "Professorial" and our Gucci-heeled, Kennedyesque travel agent cum art collector (who had arranged our accommodations at the Lemon Tree Inn) was a natural for Mr. Howell. His shapely, blonde friend in the low-cut dress was equally perfect as "Lovey."

(I would have cast Mariko Mori as the forgotten WWII Japanese soldier who is also stranded on the island and who still thinks that the war is on but, alas, she had left the day before.)

After a commercial break, and more rum, the party really started to swing. That's when Gilligan and the Skipper, egged on by Mr. Howell, stripped it all off and jumped into the pool. The rest of us, some in thongs, others fully clothed, followed suit.

Everything was going well. Lots of innocent fun was had by all as we found ourselves in various states of undress playing chicken in the pool. Until Mr. and Mrs. Howell changed the channel from an art-themed MTV travelogue to something more likely to be shown late at night on the USA Network.

"Are those two on ecstasy?" I asked in a faux German accent as Mrs. Howell ping-ponged her attentions between our two young curators and Mr. Howell swam after my unsuspecting and astonished friend, chasing her from one end of the pool to the other with an enthusiasm that was apparent to anyone brave enough to open their eyes under chlorinated water.

Wow! Bohemian artists! Decadent rich people! How La Dolce Vita!" Now this feels like a REAL biennial!

Actually, I found the absence of any real art at the Sixth International Caribbean Biennial quite liberating. Anyone can walk into a gallery or click on an art-dot-com site and see "the work." How much more interesting to get to see the artist without the interference of art-world politics. Without the interference of his or her art. Without the interference of clothes.

And in this new millennium of sexy, celebrity-driven news, isn't the artist more important than the art? Isn't the work just something that sits behind you like a disposable prop while you're posing for your Vanity Fair photo spread?

If the curators' conceit was that exhibitions like an international biennial are less about the work and more about the personalities involved (and the notoriety they generate) ... well then, the "prank" known as the Sixth International Caribbean Biennial seemed to be working.

Or it would work once the photos taken by the Italian Vogue photographer who was also along for the ride were published. To tell the truth, I wasn't too sure that the pictures Mr. Italian Vogue had been taking the last few days were going to amount to much. Up until then, the whole event seemed pretty damn lackluster and, because the rest of the castaways were actually taken aback by the hardcore activities promised by the Howells, nothing truly newsworthy happened.

Until Hurricane Lenny arrived.

I had decided to stay an extra day while my gal pal Pilar and the other "outsiders," Jenny and Janet, left that morning, leaving me as the lone gate-crasher among the artists.

But everyone (or mostly everyone) was friendly to me by then and we had a very lovely beach day on the other end of the island where everyone was terrorized by the local, soda-pop swilling monkeys. When we returned that night to the inn, owner Arthur Lyman informed us that the airport was closed indefinitely because the hurricane was on its way.

Suddenly a closer bond developed between all of us. Now that we were all stuck on St. Kitt's together, with no idea as to when we could leave, I finally felt free to "vacate" -- as the press release had initially suggested. After all, pledging blind allegiance to the whims of nature can be a very liberating experience.

It was then that the other promises in the press release were finally delivered. As written, we were given the "freedom of suspending creative activity in order to engage in a series of reciprocal confrontations" (playing Trivial Pursuit for hours on end by candlelight, each game growing more entertainingly hostile than the last); "dialogues" (arguing over the fascist America-centric prejudices of the Trivial Pursuit questions as well as learning the words to the Communist "Internationale" in Spanish, French and German); "barbecues" (communal vegetarian outrage over the $25 hamburgers served at the Inn not to mention the debate over whether the emergency generator should be used to power the blender for piña coladas); "panel discussions" ("Was Cindy Sherman really dating Steve Martin?"); and "conferences" ("Are we going to die? Are we going to die? Are we going to die?")

The press release promised all this and more: "Each day, the artists will explain a work of theirs to the most diverse local audiences" (the maids), "often unaware of the international art world trends" (all we could get was the CNN weather report online when the emergency generator was on).

I felt blessed when the electricity went out and we had to burn candles and kerosene lamps and double up in rooms in "the big house" in case the storm that was destroying St. Martin and St. Barth's would do the same to St. Kitt's. (By the way, the Howells had left for St. Barth's two days earlier -- ha ha ha!)

By the time the hurricane's tail swiped our end of the island, Pipilotti Rist had left her "will" on her boyfriend's answering machine and Vanessa Beecroft was freaking out while furiously faxing her assistant instructions for her next installation should she get out alive. We ate a 'final" supper early and then, after more candlelit "panel discussions," retired to our shared bedrooms and attempted sleep as the wind howled like a Santarian banshee outside.

Then, later that night, my favorite episode of Gilligan's Island ("Ginger Ends Up in Bed with Gilligan") came on.

While groping my way to the bathroom in the pitch black, I passed Jens "Gilligan" Hoffman's bed. At that moment the lightning flashed and Gilligan woke up and thought I -- Ginger -- was the evil voodoo villain from one of those Roger Moore-James Bond movies he was dreaming about.

His scream scared me more than the Biblical thunder crashing over our heads like two 747 jetliners colliding in mid-air.

He was shaking, half asleep, half awake. I was shaking, half asleep, half awake. I needed a hug. He needed a hug. So I crawled into bed with him where we both clung on to each other and shook in fear. The thunder exploded again and again. I have never in my life heard anything like it. The sound seemed to reverberate for thousands of miles in all directions. The exhibition was titled "Blown Away" and the hurricane was promising to do just that. It was at that moment I thought, "We really could die."

And I was digging it.

"I don't want to die!" Jens kept repeating. "I don't want to die!"

"We're not going to die," I assured him, feeling like a mother fox who had sneaked into the hen house and was now lying to a baby chick.

The sound of the wind was positively supernatural -- like the wind blowing out of the mouth of one of those muscular gods in a Renaissance painting. I thought to myself, one big blast and this 17th-century Huguenot plantation house is gonna go flying off to Munchkin Land.

I didn't want Jens to see that I was scared. But what I really didn't want him to see was that I was disappointed we didn't get to see any real "action."

I was expecting the worst but the worst never came. The hurricane blew over and eventually petered out. The next day we were able to venture out and survey the damage. It was then I noticed that even though there was no official art at the start of the biennial, there was sure to be plenty of it long after it ended.

You can't stop artists from making art. Throughout our three days with Hurricane Lenny, everyone was creating. Elizabeth Peyton was drawing, Rirkrit Tiravanija was filming, Gabriel Orozco was shooting with his digital camera and Pipilotti Rist was organizing a conceptual auction (my favorite was Tobias Rehberger's overly ironic contribution, a conceptual piece called Your Poverty Pisses Me Off; performance: laying on orange beach chair on the balcony of the Lemon Tree Hotel and Resort, St. Kitt's, Hurricane Lenny (1999).

When the storm passed, Olafur Eliasson -- who said he did all the work on his computer that he would've done anyway had he been home -- meticulously placed the odd seashells that the hurricane had swept onshore into neat rows onto one of the felled palm trees. Olafur later explained "the work" to a passing tourist who was captivated by his "installation."

All of us castaways survived the storm and, though we were still stranded on the island, American Airlines was doing all it could to reroute us home -- whether it be New York, Mexico City or Munich -- the next day. Unlike the original cast of Gilligan's Island, we wouldn't have to wait 10 years for our final "rescue" episode.

The biennial was over and even if there wasn't any art, there would be reruns of the experience -- in the form of a six-page spread in Italian Vogue and a catalogue that Maurizio and Jens would create as a souvenir of the trip. As for the artists, it seemed to me that they did what they probably would have done at any other biennial -- compare ideas, share resources, strengthen relationships and inspire one another.

In fact, in spite of my limited experience with biennials, this one seemed better than the others because of the hurricane. The aptly named Lenny (whether it be Bruce, Kravitz or Steinbeck's idiot man child from Of Mice and Men) was the wild card -- the ultimate "oblique strategy" that unblocked the commercial and creative log jam that had turned the concept of the "biennial" into something that the curators, who have been around the biennial block, obviously found the need to lampoon.

I certainly got what I wanted out of it -- couple of blissful beach days, a wild new experience and a bunch of new, cool art-world friends who not only inspired me to do better things than run around Hollywood auditioning for bad movies but can get me into Gavin Brown's swinging discotheque.

And I'm still curious to see their art.

Credits roll as The Theme to Gilligan's Island
concludes:

No phone, no light, no motor car
Not a single luxury
Like Robinson Crusoe
It was primitive as could be
So next time you go to a Biennial
Make sure and do your part
Write a check to your artist friend
Even if there's no art
Especially if there's no art!


annmagnuson.com is a writer, actress, singer, part-time performance artist and future multi-millionairess about to go public.