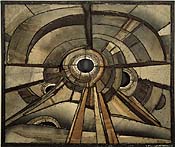 Lee Bontecou
Untitled
1960
Untitled
1961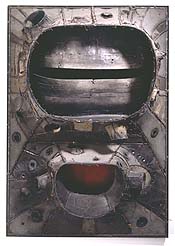 Untitled
1961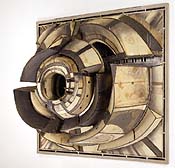 Untitled
1962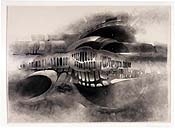 Untitled
1966
Untitled
1968
Untitled
1970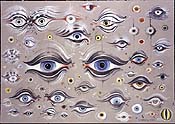 Untitled
1989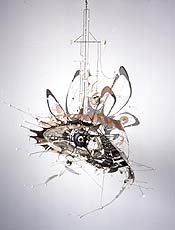 Untitled
1998 (begun in 1980s)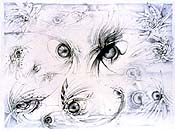 Untitled
1997
Lee Bontecou in her Pennsylvania studio, June 2003
Photograph by Josh Titus
Career Interrupted
by Irit Krygier
It is one kind of skepticism to make the work so strong and material that it can only assert itself. This assertion ignores all the forms of solipsism, natural, moral, social and the other generalizations which exceed their basis. Bontecou is obviously unimpressed, for example, by artistic generalizations. Skepticism towards ideas of art equates to skepticism about the social attitudes with which those ideas are involved. Bontecou's reliefs are an assertion of herself, of what she feels and knows. Their primitive, oppressive and unmitigated individuality excludes grand interpretations. The explicit power which displaces generalizations is a new and stronger form of individuality. Bontecou's work has an individuality equaled in the work of only a few artists.

-- Donald Judd, Arts Magazine, April 1965


"Lee Bontecou: A Retrospective" is the long-anticipated and most comprehensive exhibition to date of the work of one of the art world's most influential yet elusive artists, a breathtaking and powerful presentation of approximately 70 sculptures and 80 drawings, spanning five decades of work from the late 1950s through 2003. The exhibition is on view at the UCLA Hammer Museum in Los Angeles Oct. 5, 2003-Jan. 11, 2004. Organized by Elizabeth Smith, chief curator of the Museum of Contemporary Art, Chicago, in association with Ann Philbin, director of the UCLA Hammer Museum, it is a joint project of both museums. The show subsequently appears at the Museum of Contemporary Art, Chicago, Feb. 14-May 30, 2004, and ends its tour at the Museum of Modern Art in New York, July 30-Sept. 27, 2004.

Lee Bontecou is an artist who had steadfastly refused to have her production categorized. Throughout her career, she has objected to interpretations critics have made of her work. This position continues today -- and in fact a controversy has arisen regarding the catalogue for this current show. The beautiful 240-page book, published by the MCA Chicago and the UCLA Hammer Museum in association with Harry N. Abrams, contains essays by exhibition curator Elizabeth Smith, Tate Modern senior curator Donna De Salvo, art historian Mona Handler and the late artist Donald Judd (the catalogue reproduces his glowing 1965 review of Bonecou's work from Arts Magazine, which helped launch her career).

The catalogue also includes an essay by former Museum of Modern Art curator Robert Storr, which has apparently has particularly upset the artist's husband, William Giles. With the support of the artist, Giles has sent out an e-mail to members of the press chastising Storr for his attempt to contextualize the work, which cites influences that Bontecou and her husband dispute. Storr apparently had the audacity to come to his own conclusions.

At any rate, Bontecou's biography is intriguing and enigmatic. Her early success came in 1960, with her first solo show at Leo Castelli Gallery in New York, a sensation that catapulted her to the top rung of contemporary artists (and made her the only woman of her generation to be represented by the gallery). She was included in many important group exhibitions, including the 1961 So Paolo Bienal, the 1963 "Americans" show at the Museum of Modern Art and Documenta III in Kassel, Germany. She was awarded the coveted commission of a 20-foot-long lobby sculpture for Philip Johnson's New York State Theater at Lincoln Center.

Bontecou's public career ended with a final show at Leo Castelli Gallery in 1971 and a 1972 mid-career retrospective at the Museum of Contemporary Art, Chicago. Surprisingly, at the height of her celebrity, Bontecou departed from the public stage. Subsequently, and for the past 30 years, she has worked in privacy at the studio adjacent to her home in rural Pennsylvania, where she lived with her husband, raised their daughter and cared for her aging father. She declined or ignored invitations to exhibit her work. She did, however, teach art at Brooklyn College throughout the 1970s and '80's, a position she kept under the radar until her retirement in 1991.

Much of the credit for Bontecou's return is due to the persistent efforts and passion of this exhibition's curator, Elizabeth Smith. In 1993, Smith, who was at the time a curator at Museum of Contemporary Art in Los Angeles, was able to convince Bontecou to cooperate with an exhibition of her early work, entitled "Lee Bontecou: Sculpture and Drawings of the 1960s," which traveled to the Nelson-Atkins Museum of Art in Kansas City and the Parrish Museum in Southhampton, N.Y.

In 1995, Daniel Weinberg mounted a show of early drawings in his San Francisco gallery, and mounted another drawing show when he moved his gallery to Los Angeles in 2001. That show, which presented drawings dating from 1962 through 1998, was the public's first glimpse of Bontecou's later work. It marked Bontecou's reentrance into the art market, and was a triumph. Since then she has been represented by Knoedler Gallery in New York. Elizabeth Smith was able to persuade Bontecou to end her exile, and cooperate with this exhibition.

"Lee Bontecou: A Retrospective" is an astonishing comeback. Organized chronologically, the exhibition includes a large selection of drawings as well as sculpture. Bontecou asserts complete command of both mediums, displaying an unusual dexterity and ability to navigate a wide range of both scale and touch, from the delicate, intricate and intimate to the powerful and heroic. From the beginning she took the position that the works were complex and spurned interpretation. For this reason, she employed the device, used particularly of the Minimalist artists of her generation such as Judd and Flavin, of keeping all of her oeuvre untitled.

The exhibition opens with a room of sculptures of birds and other animals from 1956-58, made while she was living in Rome on a Fullbright scholarship. Quite large and Cubist in nature, the works look dramatically different from angles, and reflect an influence of the sculpture of Julio Gonzalez, an artist whom she respects. Though Bontecou had not quite found her voice, these works reveal her early interest in abstract figuration and the represent initial stages of her signature technique of creating forms over a welded frame.

Some of Bontecou's early works use terracotta over a welded frame with wire mesh or are done in lost wax bronze. This room also displays her early experiments with drawing, in which she employed web-like forms to show the structures underneath the terracotta surfaces of her sculptures. Displaying the internal complex mechanisms of her works in precise detail is a characteristic of her drawings. The drawings often depict many variations on structures she is investigating for her sculpture.

The exhibition continues with two large rooms of Bontecou's most renowned works, those made between 1959 and 1967. Primarily wall-mounted, three-dimensional artworks that juxtapose machine elements with organic forms, these pieces -- a combination of painting and sculpture -- use canvas and other found materials stretched over welded steel frames. (Bontecou grew up in a mechanical family -- her father and uncle devised the first all-aluminum canoe, and her mother worked in a factory wiring submarine transmitters during WW II). A dark receding circular inset made either in black paint or of dark velveteen was a recurring motif.

Critics of the period were unfortunately inclined to read these shapes as vagina dentate, the product of an angry protofeminism. According to Elizabeth Smith, "Bontecou has consistently emphasized that her intention in the use of blackened voids as an integral and compelling element within her sculpture was to evoke mystery and a range of emotive responses to the unknown, the wondrous and the sublime. At the same time, her work also refers to the underbelly of human nature, encompassing fear, violence, brutality and war. As a young artist at work in the late 1950s, she was fascinated by with the scientific and technological advances surrounding exploration of outer space."

The phenomenon of "black holes" in space had been newly discovered and the launch of the Sputnik had awakened Bontecou's interest in the frontiers of science. Many drawings and sculptures from this time refer to airplanes and airplane parts, and her works can incorporate found objects such as guns and parts of airplane fuselages, her commentary on Cold War paranoia. A constant misinterpretation of Bontecou's work by critics, and her ghettoization in categories reserved for women artists, frustrated the artist and sowed the seeds from her withdrawal from the scene.

After the birth of her daughter in the late 1960s, Bontecou abandoned the brutal forms and dark tonality that had caught the public's imagination, developing instead an ethereal and delicate body of work fabricated from translucent plastic. Her subjects were nature and biological life, her sculptures depicted fish, cocoons, shells and flowers (works that predate the fish sculptures of Frank Gehry). These pieces were savaged by critics when they were shown at Castelli Gallery in 1971, but they are today among the most breathtaking in the exhibition.

The show ends with two large rooms of recent work. Particularly spectacular are a series of intricate recent porcelain and wire sculptures based on images of outer space, science fiction with natural and figurative forms. Celebratory in mood, it shows the artist in full command, ready to reclaim her rightful place at the pinnacle of the art world.


IRIT KRYGIER is a Los Angeles writer and art advisor. She can be contacted at irit@verizon.net.