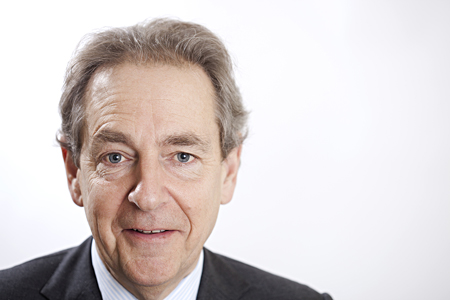 George Bailey, co-founder of the Auction Room
The Auction Room, founded by George Bailey and Lucinda Blythe, is a new online auction platform. Mr. Bailey joined Sotheby's in 1979 and was appointed chairman of business development for Sotheby's Europe in 2008, a position in which he assisted Sotheby's most important clients across Europe and the far East. The Auction Room will focus on the middle range of art, a sector of the market from which Sotheby's appears to be moving away, in favor of high-end works.
Located in the heart of Mayfair on Dover Street, the Auction Room has a team of specialist art consultants, most with auction house experience, who cover categories such as jewelry, watches, stamps, Chinese ceramics and works of art, and Middle Eastern Contemporary Art.
Sales will commence in early June. Clients will be able to both bid online and view lots via a fully-illustrated catalogue list available two weeks before the sale. The works will also be available for private viewing prior to the auction. Mr. Bailey hopes that his new venture will be able to deliver value by cutting auction deadlines and settlement dates, and reducing the process to four or five weeks.
Simon Todd: Mr. Bailey, after all of these years with Sotheby's, why have you decided to launch a solely online venture?
George Bailey: I have worked for Sotheby's for nearly 35 years, and whilst I am no longer involved in the management of Sotheby's business, I continue to advise clients for them on a part-time basis. I see the online business as a venture in a different market, providing a service to clients, both sellers and buyers, by using the benefits that online auctions can provide, which will allow us to operate effectively in the middle market value bands and in markets where Sotheby's is no longer selling.
ST: There are a growing number of online auction platforms. What will distinguish the Auction Room from the competition?
GB: We intend to distinguish ourselves by using specialists in the categories we are selling, to catalogue and authenticate each lot so that buyers purchase with the comfort of a guarantee of authenticity. We also plan to offer live viewings before the sales, so that bidders can see the works before they place a bid.
George Bailey
ST: Is there a specific market that you are aiming for? If so, why?
GB: We have started with jewelry, silver, and watch auctions for June and July, and will also hold an auction of Middle Eastern Contemporary works on June 24. We intend to expand into other categories in the second half of the year.
ST: What is the unique selling point of this new venture?
GB: Our unique selling points are our offering of specialist sales, with a guarantee of authenticity, the speed of our sales, from consignment to pay out to the seller, and our competitive pricing structure.
ST: Do you think that online auctions are the future for all levels of the art market?
GB: Online auctions will not replace the international auction sales offered by the large auction houses, but as users become more familiar with the Internet, the apparent growing interest in online bidding, both in online and traditional auctions, seems to indicate that there will be many opportunities to expand online auction sales in the future.
Simon Todd is a sales consultant for artnet.